Naira Woes: Nigerian Man Shows up at ATM with Bed, Pillow, Gas Cooker and Pot in Funny Video, Enjoys His Meal
A young man caught the eyes of many people following the stunt he pulled at an ATM stand located in Asaba
Without any shame, he showed up with his bed, pillow, gas cooker and pot and made himself feel at home
While an acquaintance also took out his own meal, the young man could be seen having breakfast as well
A young Nigerian man has gone viral after he took his bed, pillow, gas cooker and pot to an ATM stand.
The incident which happened at an ATM stand situated in Asaba, Delta state capital stunned many persons who had queued to use the machine.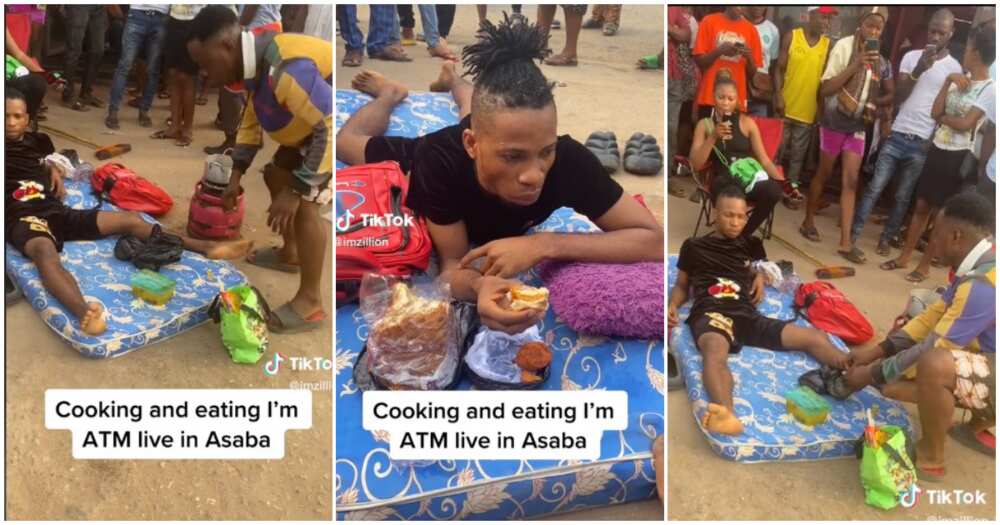 In a short TikTok video, the young man made himself at home as he enjoyed a meal of bread and bean cakes.
Another person with him could be seen taking out uncooked noodles from a nylon as if getting set to cook with the gas cooker.
ATM users took out their phones as they videoed the young man and his colleague. Hilarious reactions have trailed the video.
When Legit.ng contacted the young man to ascertain what inspired his action, his response showed it was not a result of any issue with the bank or the ATM. He said:
"I just felt like doing it..."
Watch the video below:
Social media reactions
glorynwoke619 said:
"Nawaoo, the fun is getting to another level, abege mek dey shift the election more cuz am beginning to enjoy the fun more."
Dr.Ikuku_alusi said:
"I saw you at uba bank at kowa plaza asaba when I was driving by."
user5309050608166 said:
"Lets have patience plz its just a little time but Emefiele and mr president did the right thing at the wrong time."
Mercy said:
"Another endsars loading in election month. this is not a good sign. They want to postpone the election."
comfortpius1 said:
"That's the reason I love this country, what kills other nations can't kill us? because we always find a way of giving ourselves peace instead of h.b.p."
user4674739860854 said:
"CBN give enough new notes to commercial banks but they refused to give it because of their own personal interest."
Justme.Nnamdic said:
"The mega one is coming on election day. we go carry our kitchen go polling boots."
Nigerian man shows up at a bank with bed, gas cooker and pot
Meanwhile, Legit.ng previously reported that a man had stormed a bank with his bed, gas cooker and a pot.
In a TikTok video, the unhappy man loudly lamented that he was tired of visiting the bank everyday with no success. According to him, he wanted nothing more than to get assess to the money in his account but is always disappointed.
Joining others in the seated queue, he ordered that the bank be opened, saying they must give him his money.
Customers showed him support as they helped him seat down. Someone suggested that he placed the bed on his head.
Source: Legit.ng