"No Mini-skirts, No Cars": Nigerian University Threatens Suspension Over Indecent Dressing and Automobiles
The Chukwuemeka Odumegwu Ojukwu University, Anambra state, has threatened to suspend students over indecent dressing
In a memo which has gone viral online, the school has prohibited female students from wearing mini-skirts and revealing dresses
Apart from the new dressing rules, students have also been prohibited from bringing cars into the school with a one-semester suspension as the penalty
Henceforth, students who wear revealing dresses to the Chukwuemeka Odumegwu Ojukwu University will be suspended.
In a memo released by the school, female students are banned from wearing mini-skirts, show bellies, show-chest, and show-backside dresses.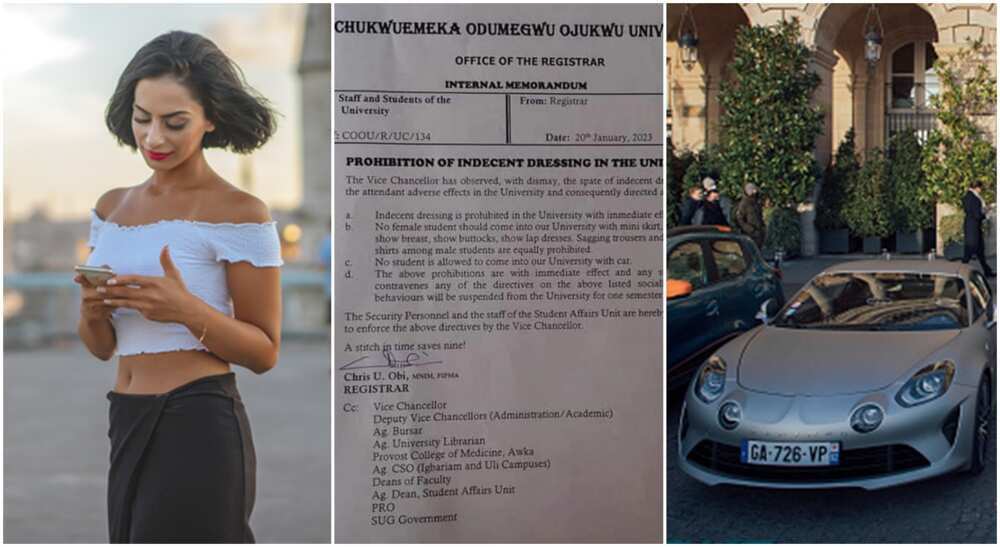 Students who go against the latest directives will be slammed with a one-semester suspension.
Anambra university bans cars
Apart from banning indecent dressing, it equally prohibited all students from coming into the school with cars.
The same punishment of a one-semester suspension awaits students who bring cars into the school premises.
The latest rules applied by the school are said to be authorised by the vice-chancellor and the rules apply at its Igbariam and Uli campuses, as well as the school of medicine.
A lot of reactions have trailed the rules after a copy of the memo was posted on Facebook by Uche Nworah. See a few of the reactions below:
Chukwuemeka Ezeakonobi said:
"Perilous times. Umu ogwugwu oge are using all manner of cars at our institution of learning."
Kenechukwu Val Isika reacted:
"I understand the reason why they made these laws. But a student who has a car should be allowed to drive his car to school. If their is a disorder or suspicion as regards the acquisition of the car the appropriate authority should be alerted."
Henry Somtochukwu Ebigbo said:
"These boys don intimidate their lecturers too much."
Henry Maduabrochukwu commented:
"Good moves to bring sanity...other High institution of learning should pls follow suit."
Boy enters class with confidence on first day of school
In a related story, Legit.ng reported that a kid walked into class like a boss on his first day of school.
Many people may have expected him to cry, but that was not to be as he confidently stepped in like a boss.
Many people refered to him as the education minister because of his unwavering confidence.
Source: Legit.ng