"She's a Good Mother": Nigerians Celebrate Policewoman Who Dresses School Kids on the Road, Photos Emerge
A Nigerian policewoman has become a viral sensation owing to her moral gesture towards school children
At her duty post in Sabo, Yaba area of Lagos, the officer would always make corrections on school kids who aren't properly dressed
Many Nigerians have showered encomiums on the lady, describing her as a good mother and worthy of emulation
A Nigerian policewoman who always makes corrections on school children at her duty post in Sabo, Yaba, Lagos has earned the admiration of Nigerians.
Oyedeji Justin Oso, a business development manager, shared pictures of the officer on LinkedIn as he sang her praises.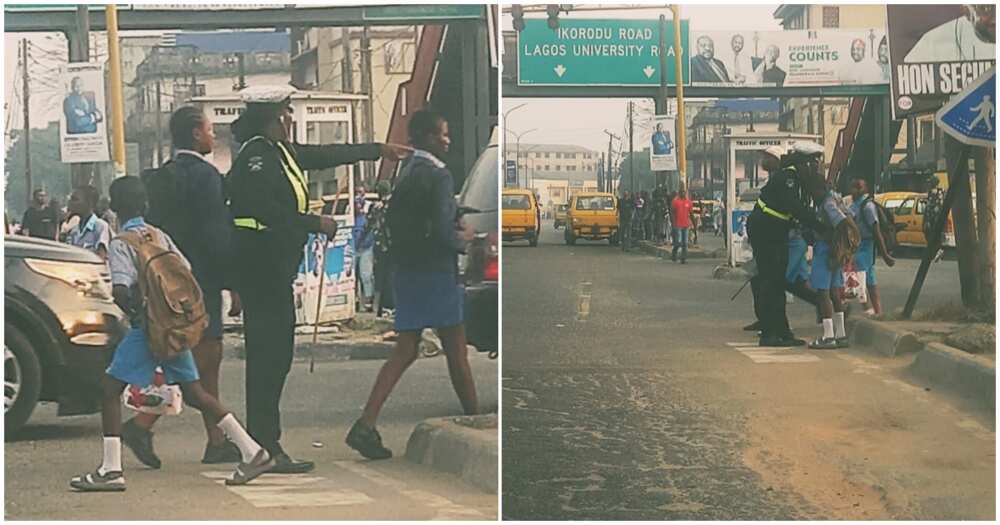 Oso said that each time he passes Sabo, he couldn't help but notice the officer making corections on school kids not properly or neatly dressed.
He said she goes as far as dresing them up as well as loudly encouraging them to hurry up to school.
"Everytime I pass by Sabo, Yaba, I can't help but notice this Police woman who would always make corrections on students who aren't neatly and properly dressed. Many times she goes as far as dressing them up as seen in these pictures. At times I hear her loudly prompting the kids to hurry as their resumption time is almost up. I wish I knew her name though," he wrote.
Oso urged the Nigerian police to take a cue from the policewoman, maintaining that the role of a police officer should also include inspiring the citizenry and also to make people love the uniform.
Legit.ng gathered that the policewoman's name is Ruth Omogbai. When Legit.ng contacted her to find out the inspiration behind her gesture to the students, she refrained from commenting on it and directed that we contact her DPO. In her words:
"If you want to interview me, you can easily come to the office and meet the DPO. He will be in the best position to tell you to interview me and what and what to do. Because I can tell you anything through the phone. Come to Sabo Division. You will meet me there."
Social media reactions
Aloaye John Momoh said:
"This is the standard and should be encouraged by the instance of reward for followup emulators with the view that doing the right and correct actions comes with rewards. The statuesque is not encouraging hence the reason why some of our officers indulgence in bribery and currupt practices because they feel disgruntled and unhappy."
Engr. Desmond Ezeugwu said:
"Even as a policewoman, it shows she is a good mother and model for all women. My advice is when next you pass Sabo, try and get her name so we can make her go viral for the right reasons. #GoodPolicewoman@SaboYaba. #Modelmother."
OLAJUMOKE OSHINOWO said:
"Wow! I hope the Nigerian police force and lagos state government celebrates, award and rewards her so others can emulate her, we must not only celebrate big brother naija celebrities, in my book this woman is a celebrity because what she is doing is called impact, many of these students will not forget her kindness in a hurry."
Temitope Shotunmbi said:
"This is so true. I see her every day and I smile, she even bought stocks for some student."
Policewoman builds a house for poor widow
Meanwhile, Legit.ng previously reported that a Nigerian policewoman had built a house for a widow.
Prince Ozed who shared the wonderful development in a Facebook post on November 8, 2021, said the building project for the widow was kick-started on the 10th of October 2021.
According to him, the PPRO took interest in the poor widow's situation after an appeal post he made on Facebook and has come clean on her promise to build the woman a house.
While sharing photos of the completed house, he appreciated the policewoman for her kind gesture and revealed it has been handed over to the widow.
Source: Legit.ng