CBN Naira Redesign: What APC, PDP Governors Told Buhari in Top-level Abuja Meeting
Nigerian governors from the 36 states have intervened in the naira redesign crisis which has encumbered citizens
During a meeting with President Buhari in Abuja on Tuesday, February 7, the governors suggested that old and new notes should be used simultaneously
This position was revealed by Governor Nasir El-Rufai in a video clip shared by Joe Igbokwe
Major resolutions reached during the meeting held between President Muhammadu Buhari and the 36 governors across Nigeria have been revealed.
In a video shared on Facebook by Joe Igbokwe on Wednesday, February 8, Governor Nasir El-Rufai of Kaduna revealed that governors pleaded with President Buhari to allow the old naira notes to co-exist with the new one amid the swap initiated by the Central Bank of Nigeria (CBN).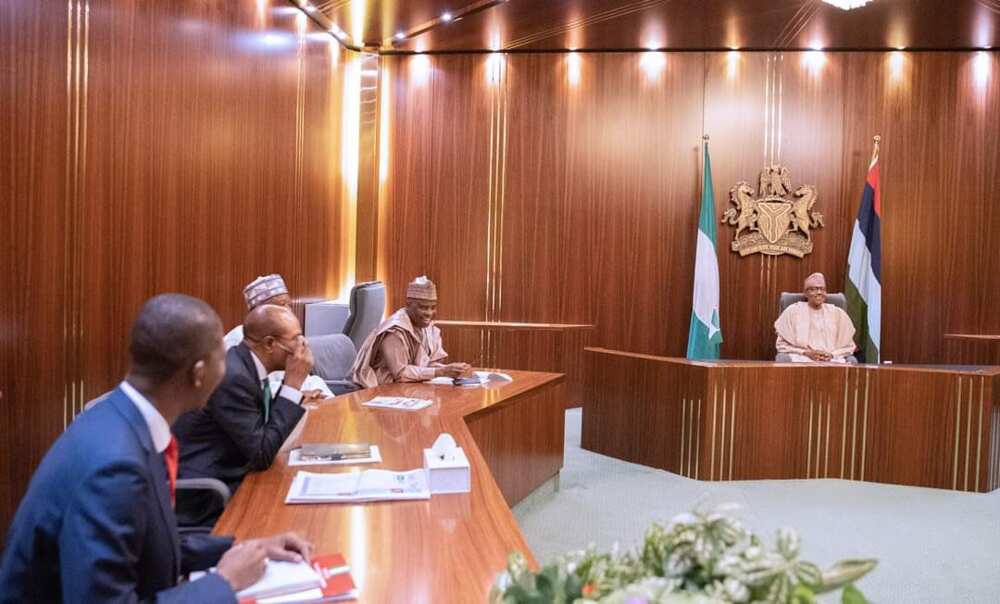 According to El-Rufai, Nigeria is not the first country in the world to introduce currency redesign.
He noted that there should be an influx into the system, while the old ones are systematically withdrawn until they are no more.
The Kaduna governor gave instances of Saudi Arabia and the United Kingdom where the currency swap has been carried out successfully without necessarily putting citizens through rigour and ordeal.
Streams of supporters storm CBN, back Emefiele, Buhari over naira redesign policy
Amid the ongoing exchanges over the Central Bank of Nigeria (CBN)'s decision to implement the deadline for the old naira notes, concerned Nigerians under the aegis of the Pro Nigeria Group (PNG) trooped out in their numbers to back the policy.
According to Legit.ng's regional reporter, who was present at the protest, many were seen carrying placards with inscriptions backing President Buhari and the CBN governor, Godwin Emefiele.
Speaking to pressmen before commencing their advocacy, the PNG convener, Isaac Balami, said the essence of the exercise was to support the CBN and Buhari over the new monetary decision to redesign the naira.
Balami said that the CBN disbursed enough money to banks to meet the needs of Nigerians, but politicians are sabotaging CBN's efforts by conspiring with banks to buy the money from them in a bid to perpetrate voter inducement on the day of the election.
Source: Legit.ng