Obasanjo Finally Reveals What Southwest Youths Want While Demanding for Yoruba Nation
Former president Olusegun Obasanjo says southwest youths want devolution of powers from the federal government
According to the former Nigerian president, this is the main reason for agitation for new nation by southwest youths
Meanwhile he said there is a need for youths to acquire skills which will provide empowerment and employment
Former President Olusegun Obasanjo on Wednesday, disclosed that all the brouhaha emanating from South Western Nigeria is nothing but a demand for the devolution of power from the centre to the constituents.
Obasanjo stated this yesterday when he received in audience leaders of the Yoruba Council of Elders (YCE) at his Penthouse residence located within the precinct of the Olusegun Obasanjo Presidential Library (OOPL), Abeokuta, the Ogun State capital.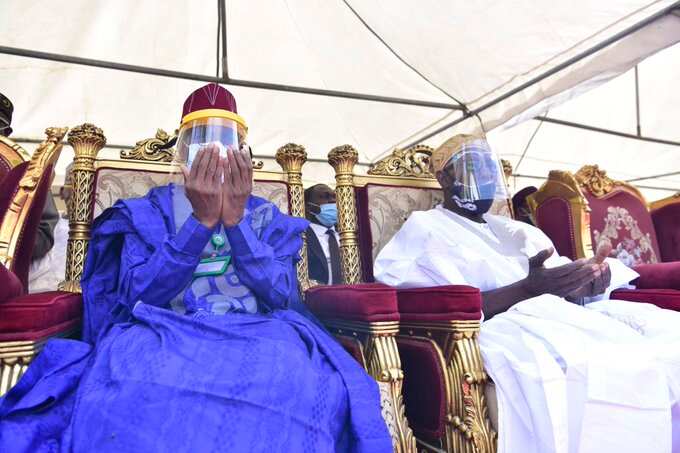 The elder statesman said he had studied the agitations of the various groups in the region, particularly the youths and declared that such devolution of power which was being demanded by those groups was not too much of a thing for them to ask.
Led by their new chairman, Chief Ajibade Oyekan, YCE pleaded with Obasanjo to work for the growth and development of the region, with emphasis on youths' reorientation, agriculture, Yoruba agitation and culture among other issues.
PAY ATTENTION: Follow us on Instagram - get the most important news directly in your favourite app!
But responding to the YCE's plea, Obasanjo said it just dawned on him that what those agitators wanted was simply "devolution of power."
He however warned that youth development and education without required skills to provide for empowerment and employment would not bring the desired results.
He also called for truthfulness, sincerity, unity, decency, diligence and bluntness on issues at all times on matters of the region and nation.
"These youth we are talking about have education, but they have no skills. And, education without skills in this age and time is nothing. This skill is what we know as ise owo (handwork) and they are also talking about the Internet Age. If we fail to give them these skills and we are blaming them, that will not be right.
"An individual is planning to bring 30 young persons today. They called them "Area Boys (girls). I was impressed, because these people are used by politicians and if we have individuals doing this, such a person deserves support in whatever form to bring these people out from their situation.
"When I interviewed 12 persons on their understandings of what restructuring is all about, what I got was different from the 12 persons. Some said they wanted 3, 4 regions and some said they wanted 12 states. But, in all I got to understand that all they were asking for is devolution of power and this is not too much to ask for."
"Woe Betides Anyone", Obasanjo places curse concerning his eldest daughter
Meanwhile, Obasanjo narrated how his childhood expereince influenced his decision to prioritise girl-child education in the Olusegun Obasanjo Foundation (OOF).
Speaking on Tuesday, November 15, during the commemoration of the World Diabetes Day, Obasanjo recounted that himself and one of his sisters were doing well in school when they were young.
However, the former president revealed that along the line, his father, with the notion that females have the kitchen as their place in life, withdrew his sister from school while he went ahead with his education. According to him, this is what made the difference between him and his sister.
Olusegun Obasanjo sends another important message to Nigerians
Obasanjo has advised Nigerians to be united in purpose to attain development in every sector.
Obasanjo who is the chairman of the Aig-Imoukhuede Foundation Leadership Council gave this advice, at an event hosted by the foundation in Lagos.
"It is important that Nigerians have unity of purpose or a common objective towards which everyone is working before an elite bargain for development can occur. Right now, everyone is focused on their agenda and the country is suffering as a result."
Source: Legit.ng