Travel Ban: Lai Mohmmed Angry With UK, Others, Says Action Discriminatory Against Nigeria
The minister of Information and Culture, Mohammed, condemned travel bans by the UK, Canada, Indonesia, Hong Kong and others
According to him, the ban against Nigeria over the Omicron variant of the coronavirus is discriminatory
Recall that Britain banned Nigerian travellers after it said it discovered 21 cases of the Omicron variant in people who recently visited Nigeria
The Minister of Information and Culture, Alhaji Lai Mohammed, has condemned travel bans by the UK, Canada, Indonesia, Hong Kong and others.
Lai Mohammed who made this known at a press conference in Abuja on Monday, described the travel ban as discriminatory.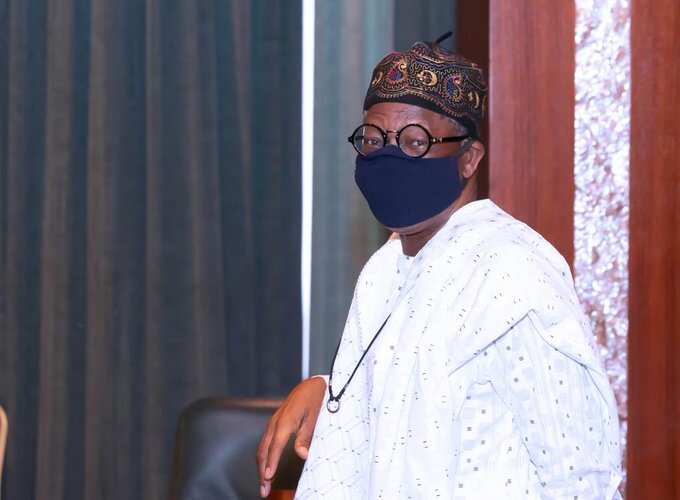 Recall that Britain on Saturday, December 4, banned Nigerian travellers after it said it discovered 21 cases of the Omicron variant in people who recently visited Nigeria.
Also, Canada banned Nigerian travellers after the detection of the variant in persons who visited Nigeria.
Mohammed who is also a member of the steering committee, said:
"As you are aware, Britain has put Nigeria on its red list and banned foreign travels from our country.
"Let me say straight away that it's up to the Presidential Steering Committee to respond to this action by the British government and others, and I have no doubt that the committee will respond appropriately."
He insisted that the decision of Britain was based on discrimination and prejudice and not science because so far, no one had died of the Omicron strain.
He said it was obvious that many in the West were upset that their predictions on COVID-19 infections had failed to materialise.
The minister noted that many from the UK had also tested positive in Nigeria but Britain was not banned.
Trouble as 2 Nigerian travellers test positive for Omicron COVID-19 variant in Canada
In another report, a medical expert has warned on the risks of travel bans for Nigeria following the recent detection of the COVID-19 Omicron variant on two Nigerian travellers in Canada.
Speaking on the situation, the chairman of the expert review on COVID-19, Professor Oyewale Tomori, said the Nigeria Centre for Disease Control (NCDC) has failed to coordinate genomic sequencing of COVID-19 samples collected across Nigeria.
Tomori alleged that the NCDC has been bypassing samples to South Africa for testing despite having laboratories with the capability to run the process of genomic sequencing. Noting that the committee had sent a proposal to the federal government on the issue of genomic sequencing, Tomori said a request was made by his team to put NCDC in charge of the process.
Source: Legit.ng