AFLPM: Aisha Buhari Gets Presidential Position in Africa
The African First Ladies Peace Mission (AFLPM) on Monday, November 22, elected Aisha Buhari as their president
The election was conducted at the 9th General Assembly of the AFLPM in Abuja and was attended by President Buhari
Speaking on her new position, Nigeria's first lady said she will carry out her duty with total commitment and honesty
Abuja - Nigeria's first lady, Aisha Muhammadu Buhari, was on Monday, November 22, unanimously elected as the president of the African First Ladies Peace Mission (AFLPM).
The election from which Aisha emerged unopposed and as such victorious, was conducted during the 9th General Assembly of the AFLPM.
This welcome development was announced by a presidential media aide, Femi Adesina, via Facebook.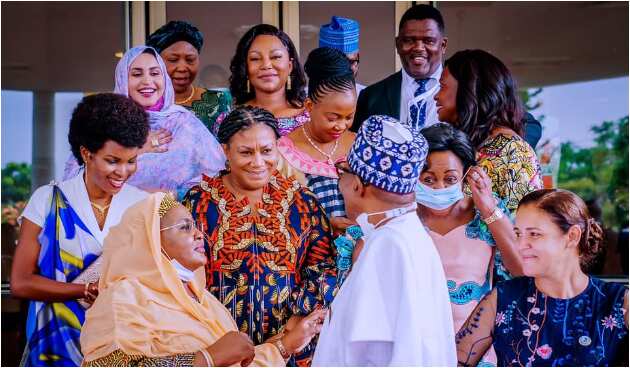 In her acceptance speech, President Buhari's wife vowed to execute her new responsibility with utmost commitment adding that her tenure will be marked by honesty, dedication, and inclusivity.
She, therefore, encouraged her colleagues to work in unison towards a glorious destiny for the continent.
Aisha added:
''My dear colleagues as we conclude this Summit, let history guide us to ensure that the Africa we bequeath to our children today is better than the one we inherited.
''Let us commit ourselves to working together towards achieving a glorious destiny for all Africans."
Earlier, the president congratulated his wife on her election and used the medium to appreciate her effort in acquiring a piece of land on behalf of all First Ladies for the development of a secretariat for the Mission in Abuja.
Buhari said:
''It gladdens my heart to know that when completed the secretariat will serve several purposes including creating employment opportunities as well as generating income for sustainability."
Aisha Buhari declares war on women, girl illiteracy as president prays for Nigerians in Saudi Arabia
Meanwhile, Aisha had expressed readiness to strengthen collaboration with other development partners to provide the needed support for the advancement of women and girl-child education.
She made this vow on Thursday, October 28, when she received members of the Nigerian Association of Pharmacists and Pharmaceutical Scientists (NAPPSA), from the US, who paid her a visit in Abuja.
Aisha said her foundation, through the collaborative effort of development partners, provided support to women, youths and other less privileged families, especially on medical outreaches, building maternity clinics and improved girl-child education.
Source: Legit.ng News