BBTitans: "We Were Surprised We Got Evicted" -Juicy Jay & Olivia Speak About Their Experiences, Relationships
Big Brother Titans stars Juicy Jay and Olivia were part of the housemates evicted from the house on Sunday, March 5,
Juicy Jay spoke about going back to Rugby, while Olivia told her fans to expect everything about fashion from her
On relationships, Olivia said she wouldn't trade what she has outside the house for what she had while on the reality show
The Big Brother Titans (BBTitans) eviction show, which took place on Sunday, March 5, saw Juicy Jay and Olivia join Nelisa and Yemi Cregx as the four housemates to leave the house.
During an interview with Legit.ng, Juicy Jay, and Olivia spoke up about their experiences, relationships, their plans after the show, among others.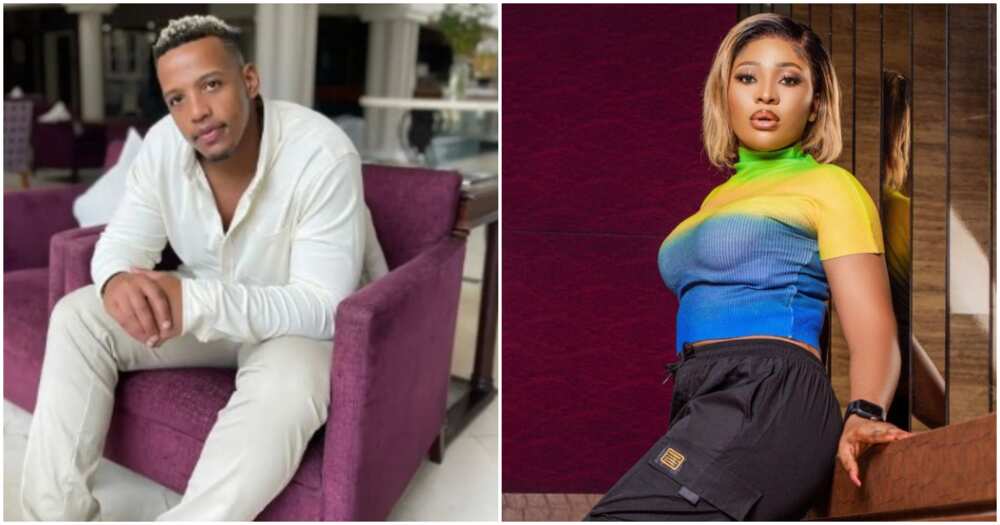 Juicy Jay, a rugby player in South Africa, revealed he would be returning to the game and adding a spice of entertainment to his future plans.
He said:
"My rugby team always say I need a TV reality show. There is more to me than being an athlete. I am ready explore everything, I am willing to push the Juicy Jay brand. I feel like I have a personality that inspires a lot of people, I want to continue. I want to keep growing."
While speaking on her thoughts on relationships in the house, Olivia hinted at having one outside the house.
She said:
"I can't trade what I have outside for what I have in the house."
Juicy Jay said he is sure his dad was proud of him, irrespective of what he did in the house.
He said:
"I know my dad is proud of me, he has always been."
Juicy Jay expressed his love for the Igbo tribe in Nigeria as he spoke about how he loved their traditional attire. Speaking on how attached he was to the tribe, he said:
"Miracle gave me the name Ikenna. I guess I am an Igbo man."
While speaking on her plans after her eviction from the reality show, Olivia said she would be going into fashion.
"I am going into everything fashion. I want to open my own outlets. I am open to working with any brand to push my career."
Speaking on their eviction from the reality show, both Juicy Jay and Olivia said they didn't expect it. Olivia said:
"We were surprised we got evicted. While watching the show outside the house, we could hear others saying, they are taking people with the energy out of the house. It shocked me. Our pair with Nelissa and Yemi Cregx were two of the most powerful pairs in the house."
Juicy Jay speaks on his relationship with Yvonne as he expressed how much he loves her while hinting about them leaving when she leaves the house.
"I love her, but it is harder that I am not there now. I want her to pick herself up and get that bag. I am confident about our relationship, we will talk things out when she leaves the house."
Olivia and Juicy Jay said they would miss Saturday house parties the most.
"I will miss the pool parties, they are usually special with my brothers and sisters," Juicy Jay said.
"Saturday night party is an opportunity to dance away your sorrows," Olivia added.
While speaking on who was likely to emerge as the reality show winner, Olivia said she thinks Khosi would win while stressing that she is rooting for Yvonne.
"From what I am seeing I think Khosi, but I am praying Yvonne. I am actually voting for Yvonne but the fans have the final say."
Juicy Jay revealed his highest point in the house was singing a song with other housemates, as it gave him a sensational feeling.
"Sometimes I like my time to myself but people thought I was going through something. My highest point was singing with others in the house. It became a unification song."
Olivia said she doesn't see Blue Aiva as a betrayal for nominating her despite their friendship.
"I don't see Blue Aiva nominating me as a betrayal, it is all a game, there is no bad energy for me."
Marvin welcomes Yaya to Nigeria from the airport
Meanwhile, Legit.ng reported that the friendship between the two ex-Big Brother Titans housemates, Marvin and Yaya, grew stronger even though they had left the show and lived in different countries.
The South African housemate came to Nigeria and was welcomed by Marvin at the airport.
The fitness enthusiast made a video of his preparations to pick up Yaya from the airport.
Source: Legit.ng