"So Disappointed": Video As Nigerian BBTitans Star Yvonne Says She Is Not One With South African Housemates
The Big Brother Titans show is already making headlines less than a week since its inception over the lack of bonding between the Nigerian and South African housemates
Nigerian housemate, Yvonne, caused an online buzz after she was heard gossiping with fellow Nigerians about her South African counterparts
Yvonne was heard telling Jenni O and Olivia that she is not one with the South Africans and she can see through them
On the other hand, the South African housemates were heard talking about how they were finding it difficult to bond with the Nigerian girls but were willing to give it a try
The Big Brother Titans housemates recently made headlines after some of them expressed their difficulty in bonding with their colleagues from the other country.
Recall that on January 16, 2023, 10 Nigerian and 10 South African housemates were introduced on the reality show.
A particular video has now made the rounds online of three of the Nigerian housemates, Yvonne, Olivia and Jenni O, expressing how they do not get along with the South African housemates.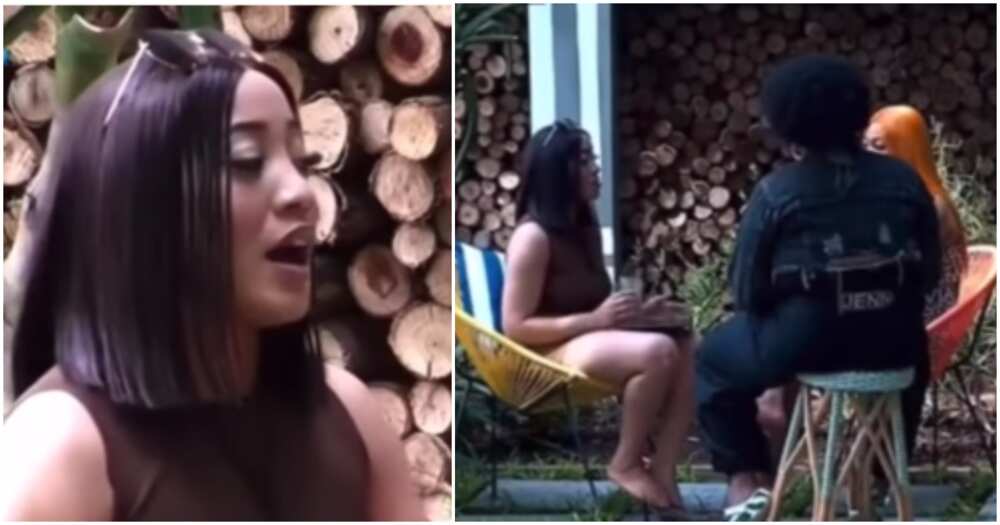 In the viral video, the three ladies were seated somewhere in the Big Brother mansion when they started to express their feelings.
Nigeria's Yvonne was heard saying she called bullsh*it to the faces of the South Africans and claimed that she could see through them. According to her, it is why she is not even trying to get close to them.
In her words:
Yvonne: "I called bullsh*it on their faces, I said I can see through all of them, that's why I'm not even trying to go close."
Jenni O then cut in by adding that even their fellow South African, Juicy Jay, does not even connect so much with the ladies from his country.
She said:
"Juicy Jay no dey even connect with them like that because I think he sees the bullshi*t in which they have."
Yvonne then resumed speaking and made it clear that she was not in for the whole 'Africans, we are one' narrative in the house. According to her, she is not one with the South Africans.
She said:
"These ones saying that we are one, we are not one o, like this whole 'we are one', I am not one with you people."
See the video below:
South African ladies finding it hard to bond with the Nigerian girls
In another video that went viral, some of the South African housemates, particularly the ladies, were seen showing concern at not yet bonding properly with the Nigerian girls.
Ipeleng was heard noting how she has been finding it hard.
She said:
"I'm finding it really hard, even when I see Yvonne, I don't know what to say to her."
See the video below:
Netizens show disappointment over lack of bonding between Nigerian and South African girls on BBTitans
The two videos showing the different conversations went viral on social media and it got a lot of people talking. Many of them showed disappointment at Yvonne's hateful words.
Read some reactions below:
rubyyy9941:
"The 4 came to represent the Mommies who don't understand why Nigerian men are dating SA women.this is personal."
olakunbiabimbola:
"Why will Dey say we are not one, wetin happen ☹️☹️"
orise_faith:
"They are saying what they are observing no be everything camera go show you, they are the ones in the house so they know wassup, you guys should rest Abeg."
kilali_godwin:
"I don't think Yvonne is used to not being the center of attraction…"
whendy_x:
"This show should sha not lead to burning of properties cos I don't like the way una dey react and week 1 has not even ended."
somkelee:
"No be must say yemi go like you yvonne."
oloridamilola_:
"Play ur game, it hasn't reached a week and u are gossiping and brewing imaginary beef already… make I no talk say, God punish the person wey select this Nigeria girls… because what is this."
cute_bizz_1:
"This once just like wahala cause nobody did anything wrong to them."
lwandle_zwezwe:
"The whole point of two countries combining is for more entertainment and unity. Hate how they are segregating and pushing that narrative . So disappointed "
fulundou:
"It's difficult to sit and chill with Jenny o and Olivia because they don't even hide the fact that they don't like them."
ibeneskitchen:
"This is how to actually put word out not the Nigerian girls being condescending and calling them things like tf???? Nahhh those ones need to do better."
Nigerian housemate Yemi Cregx and SA star Khosi kiss in BBTitans house
Yemi Cregx, a Nigerian housemate in Big Brother Titan's house, was seen recently kissing a South African female housemate named Khosi.
The video was taken when the two met somewhere around the laundry room, and before netizens knew what was going on, the pair began to lock lips, leaving viewers with the sounds of the action.
After some seconds, they shared a warm embrace and continued their discussion.
Source: Legit.ng