Lady Relaxes Her Lush Natural Hair After 8 Years, Viral Video Sparks Mixed Reactions
A video of a lady switching from her natural hair to permed hair has gone viral on social media
Identified as Brenda on TikTok, the lady recorded herself applying relaxer on her long tresses
Several people who watched the video have taken to the comment section to share their thoughts
One beautiful lady decided to quit the natural hair journey, and her video has left many people talking.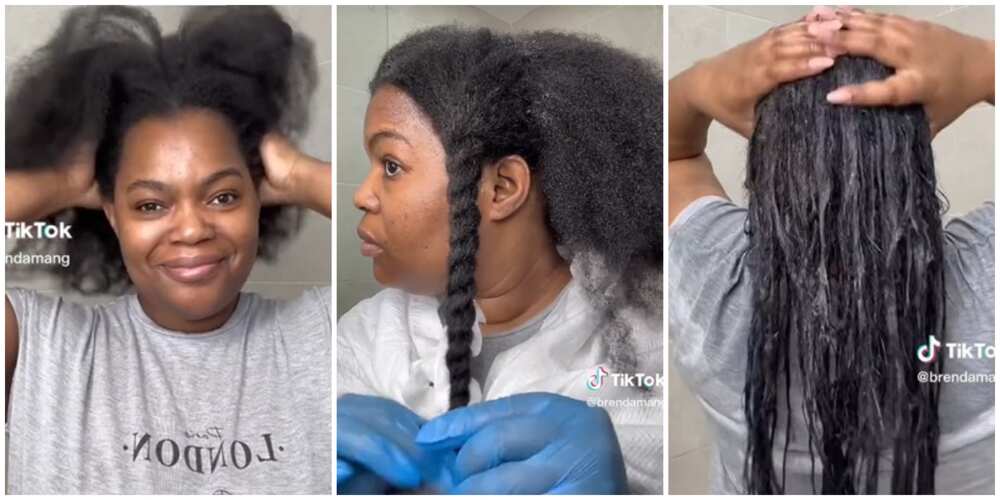 Identified as @brendamang on TikTok, the plus-size fashion and lifestyle content creator made a video capturing her journey back to the relaxed hair gang.
In the video, she was seen prepping her thick and long natural hair before applying the chemical to her tresses.
At the end of the video, Brenda is seen with silky straight hair.
Reacting to someone who said she probably felt free after relaxing the hair, Brenda wrote:
"Trust me, I do! And it took such a short time to wash and dry it etc, I am so excited to spend less time on my hair."
Watch the video below:
Netizens react as lady relaxes natural hair after 8 years
Mercy Mulemba:
"Beautiful and I'm here thinking of chopping my relaxed hair to go natural.. Anyways different goals for everyone."
alevkraai:
"We lost another soldier."
Mel:
"Once my hair gets this long I'm also jumping ship."
Demetria Charmain:
"I went back to relaxed in January after 7 years I couldn't do it anymore this is easier for me especially dealing wit a toddler."
Vanna Black:
"Man I been natural since 09…this has me wanting to make the switch."
alismirac:
"My heart is bleeding…. WHY."
CeeCee:
"Girrllll I'm about to do this same thing next week."
Sharmmaine:
"Welcome sis! I relaxed mine and haven't looked back since. Best decision ever. Your hair looks amazing."
Nylatice:
"I been thinking about it it's hard to maintain natural 4c hair."
:):
"I hate how people are judging cause it's so difficult to maintain 4c hair. Let her be a queen … she knows what she is doing."
Kamilahh✨:
"I promise it's not worth it in the end."
rebeccasorensen:
"It looked great natural and it looks great now too! Both is beautiful on you."
Osei:
"Proceed to repeat the process every month, so tiring almost not worth it."
Stylist shows off hairdo on client, netizens react as video goes viral
Lace frontal wigs are pretty popular, and many style lovers are jumping on the trend.
One video shows a woman sporting a newly done frontal wig style featuring a very interesting laid edge.
The video posted by @chinnysblogofficial sees a woman sporting a high bun wig with huge baby hair laid from almost the centre of the hair.
Source: Legit.ng