This Walk for Peace Sounds Like a Joke: Falz and Mr Macaroni Slam Sanwo-Olu's Invitation With a Big No
Singer Falz and comedian Mr Macaroni have got Nigerian hailing their reaction to Governor Sanwo-Olu's invitation online
The governor stated that Lagos state deserves true healing from the unfortunate incidents of the End Sars protest
Sanwo-Olu then called for a walk of peace to herald the healing of the land and specifically invited comedian Macaroni and Falz
Singer Falz and comedian Mr Macaroni have both declined Governor Sanwo-Olu's suggestio for a walk of peace following the End Sars protest.
Taking to his Twitter page, Falz stated that the suggestion sounds like a joke and a very disrespectful one, adding that the governor was aware of how youths were harassed and killed at the protest.
Noting that the governor said Lagos has to be just to be a smart city, Falz asked if Sanwo-Olu wants to sweep the unjust of the End Sars protest under the carpet.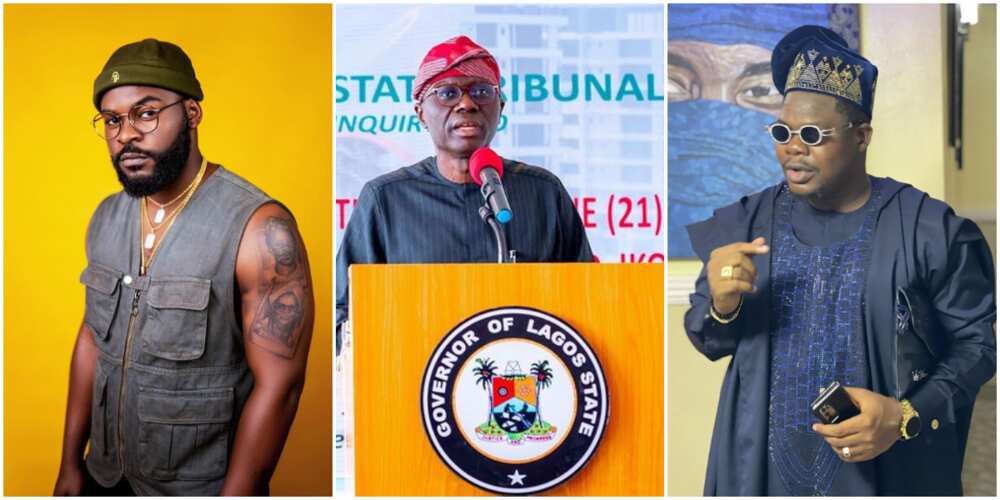 He said:
"How can there be peace without justice?"
Read Falz's full statement below:
Mr Macaroni also declined the governor's invitation, stating that the state should follow the recommendations of the End Sars panel if they truly want peace.
He recalled how he was brutalised during the walk against police brutality, asking if the plan to do the same thing to him during the walk of peace.
Read his full statement below:
Meawhile, check out Sanwo-Olu's invitation to the Nigerian entertainers below:
Nigerians react
As expected, Nigerians had something to say about Falz, comedian Macaroni and Sanwo-Olu's posts.
helendgreat2:
"Good one. proud of these generation. Peaceful walk ko,patient walk ni."
okpokpoinnocent6:
"E don red oh..our mumu don too much."
teeto__olayeni:
"You no suppose humbly decline you suppose parafully decline...They are mad."
gatsegwasi:
"I so much love the boldness and consistency of Falz on this fight against police brutality. I love that he isn't shaken by whoever is requesting for the senseless walk."
tojuvike:
"God bless u falz."
mrlukeson:
"We should stream more of falz songs and watch more of Mr macaroni's skits. These guys have sacrificed so much for us. Falz and Mr Macaroni deserve more award than anybody in the entertainment."
kwinololade:
"We no go ever forget."
Nigerians react as skit makers visit Osinbajo
Skit makers like Taaooma, Josh2funny, Woli Agba, Mr. Hyenana,Yemi Elesho, among others paid a visit to the vice-president Yemi Osinbajo.
Among the issues discussed were the issue of policemen and other antigraft agencies harassing the Nigerian youths, the popular Twitter ban, and improving the Nigerian public education system.
The visit was greeted with mixed feelings by Nigerians as some believed the skit makers are incomplete without Mr Macaroni and Broda Shaggi while others applauded Osinbajo for meeting with some representatives of the youths.
Source: Legit.ng