Epic Music, Epic Vibes: With the Meisters Expression Concert Live in Ibadan
Are you ready for the best night of your life yet with the ultimate Ice Kuhl experience? Ibadan, brace yourself as the Meisters Expression concert train is coming to your city! Hosted by premium liqueur brand Jägermeister, the one-day event, happening on the 28th of May 2023 promises to be a mesmerizing display of skill and talent, featuring an impressive line-up of artists, DJs, and amazing performances.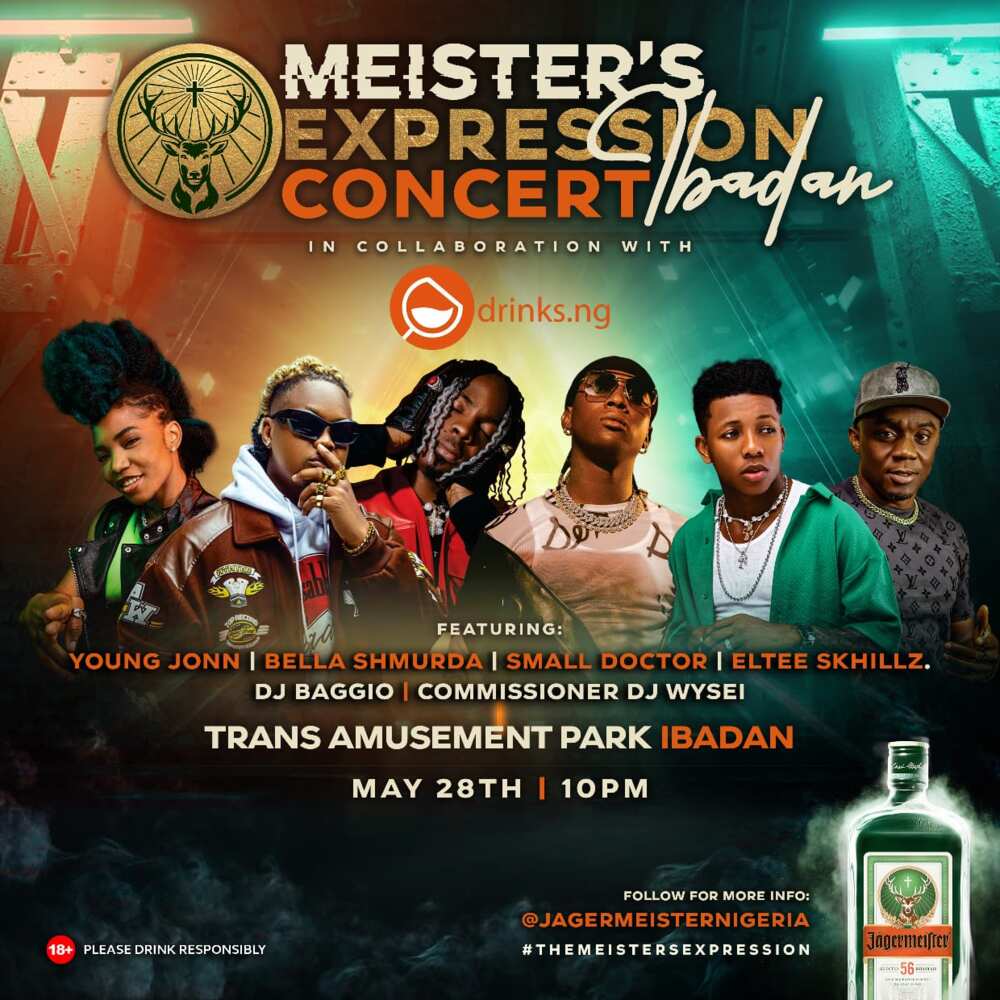 The Meisters Expression concert in collaboration with Drinks.NG boasts of an exceptional lineup featuring renowned acts such as Young Jonn, Bella Shmurda, Small Doctor, Eltee Skhillz, and many more. With such an impressive roster, your musical cravings are certain to be satisfied as you revel in a night of unforgettable performances.
Beyond the music, guests can also look forward to international performances from stilt walkers, fire breathers, aerialists, LED shows to art/fashion expressions, adding an extra layer of excitement and diversity to the event. And let's not forget the incredible DJs, Baggio and Commissioner Dj Wysei, who will keep the energy high and the crowd moving with their electrifying mixes.
The Trans Amusement Park, Ibadan, is where the magic of the Meisters Expression Festival will come alive. To secure your spot at the biggest concert in Ibadan this year, all you have to do is purchase a bottle of Jagermeister 70CL which admits a squad of four at any of the following retail stores: Richbalm supermarket, Polat supermarket, Sunrise supermarket, O.A supermarket and Marcbim supermarket. You can also purchase your tickets online from Drinks.NG to get an invite for you and your tribe. You can also purchase tickets for single admission at N2,000 only
There's more! Watch out for the Jagermeister Pop-up stand at a location near you, for complimentary Jägermeister cocktails when you purchase tickets.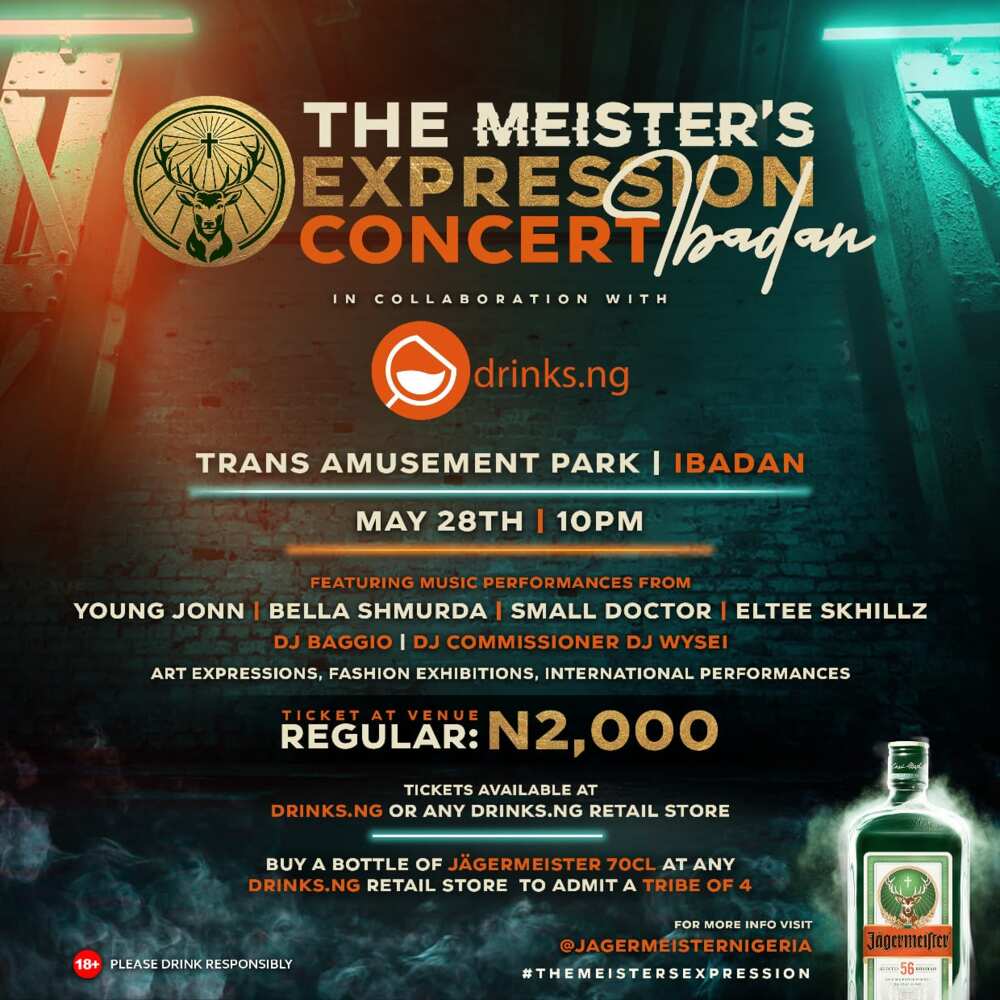 So mark your calendars, Ibadan! The Meisters Expression promises to be an unforgettable experience you won't want to miss. Whether you're an art enthusiast, a music lover, or just looking for a fun and engaging cultural experience, the Meisters Expression Festival has something for everyone.
Jägermeister is more than just a premium liqueur brand. Meister's Expression is a movement committed to empowering consumers to take charge of their lives and become masters of their craft to #BeTheMeister.
Join the conversation on social media using the hashtag #TMXIbadan or #TheMeistersExpression, and follow @jagermeisternigeria for all the latest updates. Remember, #BeTheMeister, do not conform to the norm and be the best version of yourself. Cheers to the best nights with Jägermeister.
[Sponsored]
Source: Legit.ng