N1,235 per £1: Naira Weakens Against Foreign Currencies as CBN Fails on Promise to Clear FX Backlog
The CBN is yet to fulfil its promise of clearing the FX backlog weeks after it made the promise
Amid this, foreign currencies have depreciated at both official and unofficial market
As a result, several institutions are forced to halt several foreign exchange operations temporarily
More than two weeks after the Central Bank of Nigeria pledged to pay off more than $10 billion in foreign exchange obligations owed to the Deposit Money Bank, the central bank has still not done so.
Meanwhile, Bureau de Change agents in Lagos, Abuja, and Kano on Friday and Saturday said the naira continues to depreciate against the dollar and other currencies.
However, the naira strengthened on the Investor & Exporter FX window on Friday, September 22, 2023, rising to 747.76/$ from 772.98/$ on Thursday.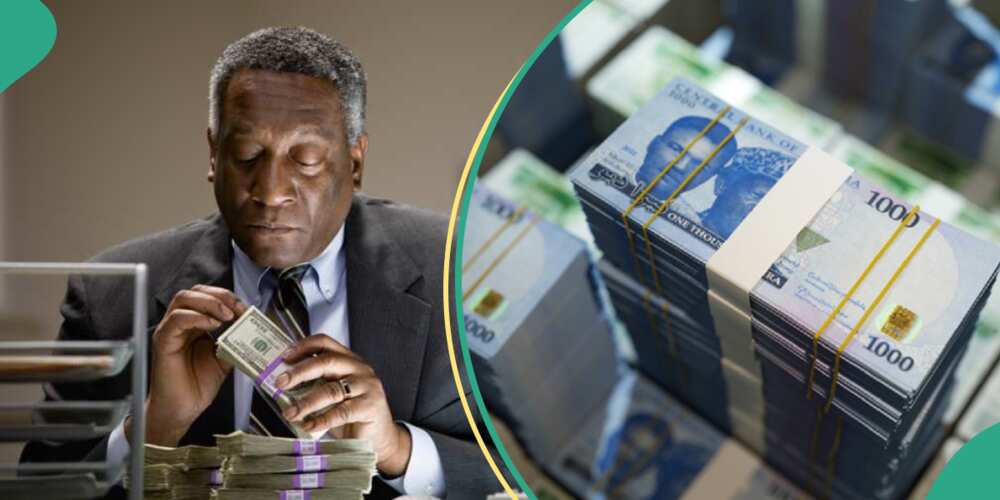 The naira weakens against foreign currencies
According to Punch report, BDC operators in Lagos, Abuja, and Kano complained about the scarcity of dollars on Friday, adding to the pressure on the naira on the illicit market.
Sanusi Ibrahim, a BDC operator in Abuja, stated:
On Saturday, we sold the naira for as much as 1,000/$. We were buying and selling for $980 and $995 on Friday.
The naira was sold for 995/$, according to Yusuf Kareem, another Ikeja-based BDC operator, who explained that the dollar is scarce and he cannot sell for less because he also paid a high price.
According to traders in the market segment, the Pound Sterling was purchased and sold at the parallel market for N1,235 and N1,250, while the Euro was bought and sold for N1,025 and N1,028 against the naira.
CBN made promise
On September 6, 2023, the immediately preceding acting CBN Governor, Folashodun Shonubi, announced that all backlogs in foreign exchange would be resolved within one to two weeks after the apex bank had finalized negotiations on dollar obligations with commercial banks.
He claims that deposit money banks have helped the central bank pay off most of its past-due FX forward contracts when they come to maturity.
He claimed that the CBN had agreed to pay the lenders back within one or two weeks due to lengthy debt restructuring negotiations that lasted for a long time.
"In response to questions about the backlogs, the banks have been working with the CBN on various structures to clear them. So, what happens is that at maturity, they make the foreign exchange available to those who need it.
"We are discussing with them so we can structure their own. So, we are working towards clearing them in the next one or two weeks. It is something we have been discussing for a while," Shonubi had told an audience at a forum in Lagos.
What bankers are saying
Several senior bank executives informed Punch that the apex bank has not followed through on its pledge over three weeks after it was made.
They claimed that the development had placed banks in a precarious position regarding foreign exchange liquidity, forcing several institutions to temporarily halt foreign exchange operations, including applications for personal travel allowances and school tuition.
Findings indicate that while bank customers turn to the unofficial market for their foreign exchange needs, the situation has worsened for dollar liquidity on the parallel market.
The executive director of a commercial bank said that the FX backlogs have not cleared. The banker said the promise had not been fulfilled.
The banker added that it is expected that the new CBN governor will begin a discussion with banks on it or clear them immediately,
Also, a top official of a Tier-2 bank privy to the development said:
"We have yet to see the FX backlogs cleared including the overdue forward contract obligations. We don't know when this will be cleared. Unfortunately, the situation has worsened our FX position, making many banks put some FX demands of their customers on hold."
Naira Fall, Dollar Supply Top CPPE's 10-Point Agenda for Acting CBN Governor Olayemi Cardoso
The Centre for the Promotion of Private Enterprise (CPPE) has outlined a 10-point agenda for the new management team of the Central Bank of Nigeria (CBN), Legit.ng reported.
On Friday, September 22, 2023, the apex bank announced that Olayemi Cardoso will take over from Godwin Emefiele as the new governor in an acting capacity pending senate confirmation.
In a statement made available to Legit.ng and signed by the managing director and CEO of CPPE, Muda Yusuf, emphasis was placed on addressing the challenges in Nigeria's financial system.
Source: Legit.ng