Finance Minister Wale Edun Explains Why Naira is Exchanging at N1,000 Per Dollar
The minister of finance said $6.8 billion in overdue forward is responsible for the decline in the naira
According to him, the issue needs to be solved before the naira can be stabilised
He noted that the administration plans to maintain the existing reforms and improve them
Nigeria's Finance Minister, Adebayo Olawale Edun, has said up to $6.8 billion in overdue due forward payments on the foreign exchange market are to blame for the naira's decline and must be resolved for the local currency to stabilise.
According to a Bloomberg report, the minister said the unpaid contracts, when addressed, would strengthen the naira and open the door for additional foreign exchange flows.
The development comes as the naira fall against the dollar is taking a toll on FG's economic plans.
In response to worries about postponing the Monetary Policy Committee meeting, the naira continued its wild plunge on Thursday, falling to a record low of 1,050 per dollar on the black market.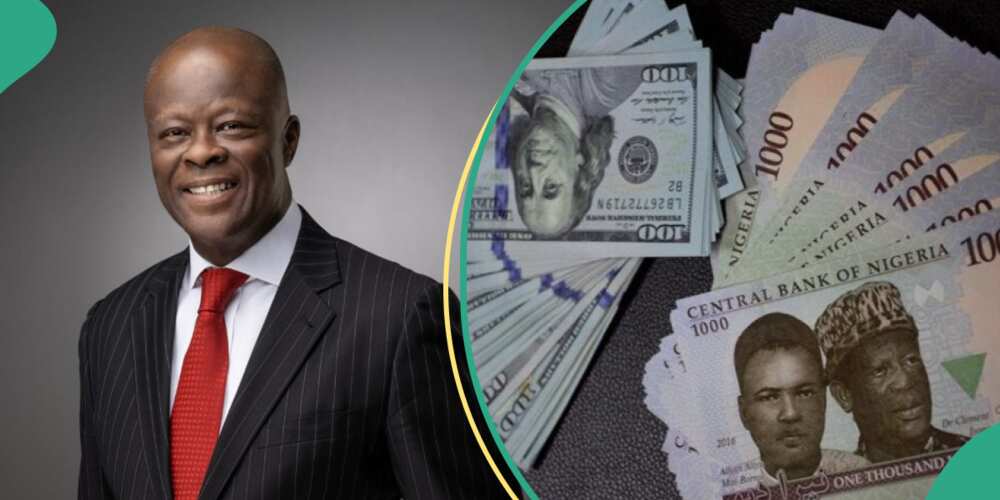 Not enough liquid in the market
In a recent interview in New York, Edun attributed the recent naira crisis to the fact that the market was not liquid enough.
He said:
"We are committed to encouraging liquidity based on reforms that have been made at the moment, on the fiscal side and the monetary side. And together with the restoration of trust and confidence, we think the FX flows will return."
The country is plagued with various issues affecting its economic stability inherited from the previous administration.
As the scarcity of dollars persists, many are forced to take to the streets for foreign cash since the central bank is not giving enough dollars.
Nigeria's inflation is at its highest level in more than 18 years. Committing to improving these, the finance minister said:
"The commitment is to maintain the existing reforms and improve them. Improving the FX market further so the gap narrows. Looking at all options for boosting supply so the one-way bet of speculators that we are seeing at the moment is reversed."
Tough Christmas ahead as Naira crashes to all-time low of N980 per dollar
Legit.ng recently reported that the naira hit a record low of N980 per dollar amid rising demand for dollars in the black market.
The local currency depreciated by 0.34% at the Investors and Exporters (I&E) window, trading at N776.60 per dollar on Tuesday, September 19, 2023.
This was against the N773.98 traded on Monday, September 18, 2023, according to data from FMDQ.
Source: Legit.ng