GTB, UBA, 2 Other Banks Rake in N774bn Forex Gains as CBN Issues New Policy Reform
GTBank, UBA, Fidelity Bank and Zenith Bank reported a significant amount they amassed in forex gains
The gains were made primarily from the new forex policy implemented by the CBN
The apex bank has been implementing several policies to save the naira from further decline
In the initial half of the year, a total of N774.46 billion in foreign exchange (Forex) revaluation gains were reported by four commercial banks, primarily attributed to the exchange rate unification policy implemented by the Central Bank of Nigeria (CBN).
The banks that reported notable Forex revaluation gains during the assessment period include Zenith Bank, Fidelity Bank, United Bank for Africa (UBA) and Guaranty Trust Holding Company (GTCO).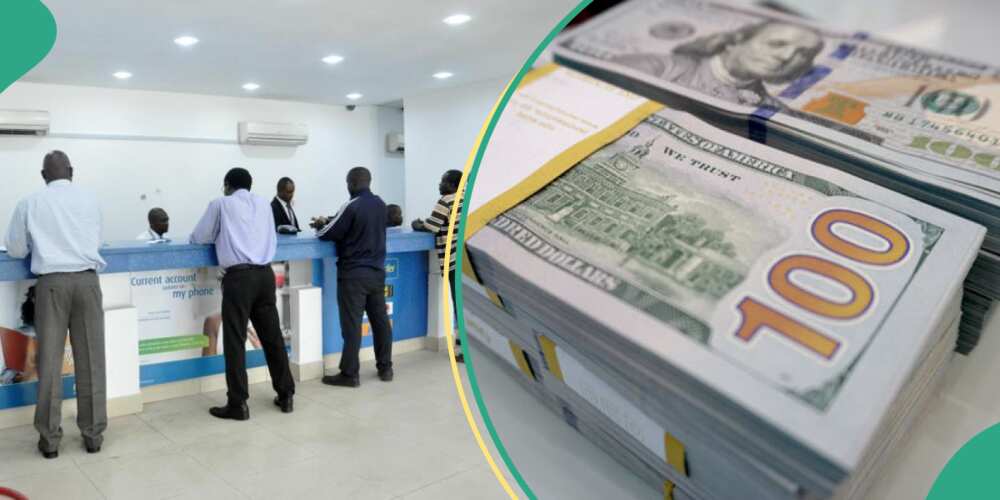 Forex revaluation gains result from the appreciation in the worth of the banks' assets and liabilities expressed in foreign currency due to fluctuations in the exchange rate between foreign and local currencies.
Legit.ng had earlier reported that the CBN issued a directive instructing commercial banks to refrain from utilising FX revaluation gains for operational expenditures or dividend disbursements.
Instead, these gains are to be utilised as safeguards to mitigate the impact of possible adverse exchange rate fluctuations.
Four banks greatly profit from FX revaluation
In June, the Central Bank of Nigeria (CBN) adopted a floating exchange rate system for the naira, ending the multiple exchange rate regime.
This move was made to combat illicit economic activities such as arbitrage, round-tripping, and rent-seeking.
An examination of the financial statements of the four banks for the six months ending on June 30 reveals significant profits resulting from Forex revaluation gains for these banks.
According to ICIR Nigeria, during the six months being assessed, GTCO recorded a gain of N357.47 billion from FX revaluation, a substantial increase compared to the N1.87 billion reported in June 2022.
Zenith Bank also announced a substantial FX revaluation gain of N355.59 billion, a significant turnaround from the N6.25 billion loss reported in June 2022.
UBA reported an FX revaluation of N29.24 billion, a marked increase from the N2.08 billion recorded in June 2022.
Having experienced a net foreign exchange loss of N1.51 billion in June 2022, Fidelity Bank reported a remarkable gain of N32.16 billion in June 2023.
Redirecting forex revaluation gains
The CBN has asserted that forex revaluation gains should function as a "counter-cyclical buffer" to protect against potential adverse movements in exchange rates.
The apex bank also emphasised that financial institutions should employ these revaluation gains to bolster their capital reserves, strengthening the banking sector's ability to withstand economic volatility and unforeseen economic challenges.
CBN issues warning to banks involved in illegal sale of forex
In related news, Legit.ng reported that the CBN had issued a stern cautionary message to financial institutions engaged in illegally trading dollars or unauthorised foreign exchange transactions.
This advisory comes in light of the unfortunate depreciation of the Nigerian currency, the naira, against the US dollar in both official and unofficial markets.
Folashodun Shonubi, currently serving as the acting Governor of the CBN, emphasised the critical importance of implementing rigorous measures to curb unlawful remittances.
He stressed the necessity of directing these remittances through legitimate channels to foster comprehensive economic growth.
Source: Legit.ng