China Leads List of Countries Nigeria Owes As Foreign Debt Increases to Over $41 Billion
Data from the Debt Management Office (DMO) website shows that Nigeria's foreign debt has increased to $41 billion
For countries, DMO data shows Nigeria has $4.46bn debt to China and four other countries
As expected, Nigeria owes more to China that the other countries including France and Germany
The Debt Management Office has revealed that Nigeria's foreign debt to countries, organizations, and investors has risen to $41.7 billion as of December 2022.
This is 8.62 percent increase from the $38.39 billion recorded at the end of 2021.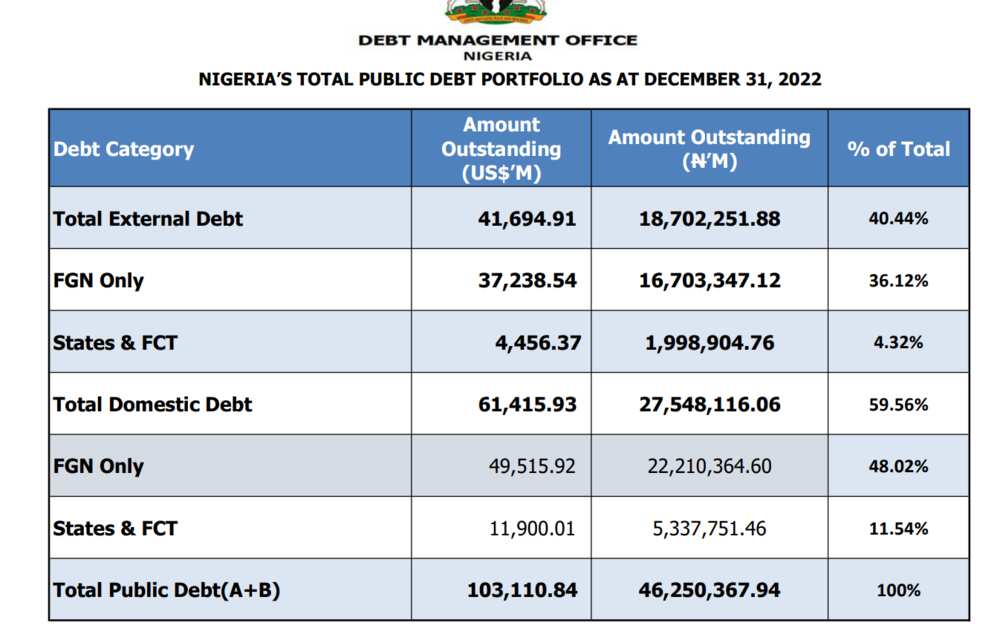 A breakdown from DMO foreign debt data shows that Nigeria is owing five countries $4.46 billion, which is N2.51 trillion in Naira at an exchange rate of N460/$.
The countries that Nigeria over the years have borrowed from are France, China, Japan, India, and Germany.
The debts to the countries were reached through various bilateral agreements with the countries' lending institutions.
How much is Nigeria owing countries?
Unsurprisingly, China through its lending institution, the Exim Bank of China, is owed the largest amount of debt.
As of the end of December 2022, Nigeria's debt to China stands at $3.63 billion (N1.66trn).
While Nigeria borrowed from France through Agence Francaise Development the sum of $561.60 million (N260.12bn).
The federal government is also owing Japan through Japan International Cooperation Agency $71.79 million(N33.34 billion).
India through its Exim Bank of India loan to Nigerian $33.48 million (N15.55bn) and Germany it was through Kreditanstalt Fur Wiederaufbua $164.27 million (N76.30bn)
How much do Nigerians owe each country?
In terms of debt per capita which is calculated as the total public debt of a country divided by the country's population, each Nigerian currently owes N10,372 to the five countries.
The population figure used for the calculation is 200 million.
Breakdown of each citizen's debts to countries
China- N8,430
France- N1,300
Germany-N381
Japan- N166.7
India- N77.75
China rejects Nigeria's $22bn loan request, lawmakers approve counteroffer
Meanwhile, in another report, the Chinese Development Bank has rejected the Federal Government's request for a $22 billion loan.
This prompted the House of Representatives to approve a counter-request for another loan.
The rejected loan was intended to fund the Nigerian Railway Modernisation Project's Kaduna-Kano segment.
Source: Legit.ng