CBN Must See This: Nigerians Spray Bundles of New Naira Notes at Parties Amid Scarcity
A trending video shows Nigerians spraying bundles of the newly redesigned naira notes at parties
The video posted on Twitter has left many saying the act is insensitive as there are many who cannot access the new notes
The Central Bank of Nigeria is insisting on the January 31, 2023 deadline for the cessation of old naira notes
While many Nigerians keep vigil at ATM points across the country over the scarcity of new naira notes, videos posted on social media show wads of the newly redesigned notes being sprayed at a party.
The video shows the insensitivity of many to the plight of Nigerians who are struggling to lay their hands on a few new notes as the deadline of January 31, 2023 nears.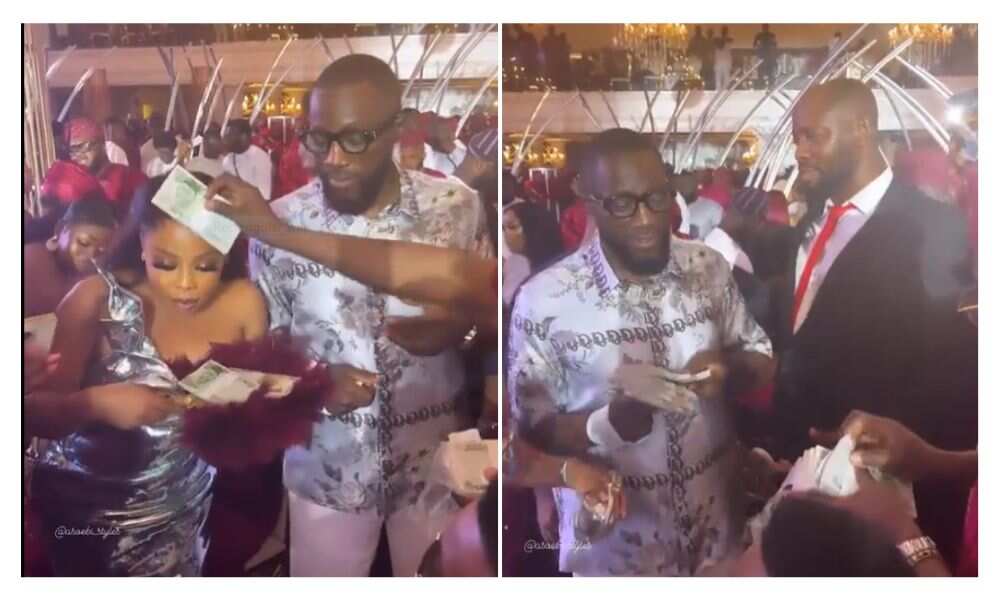 Banks corner the new notes for high net worth customers
A report by Ripples Nigeria says that banks have high net-worth customers who corner the new notes because they consider them priority customers.
Also, currency traders pay extra to mop up large amounts of the redesigned naira notes.
Many bank ATMs have run out of cash while there are queues in places with cash.
The Central Bank of Nigeria insists that the banks have enough of the new notes to go around while the banks say they do not have money.
Nigerians plead for deadline extension
The plea by Nigerians and politicians for the extension of the deadline given by the CBN has not been adhered to as the bank says the deadline is sacrosanct.
According to Emefiele, the current cashless policy enables it to monitor and drive monetary policy objectives which are sabotaged by the huge currency still outside the banking system.
Video draws anger
The video which was posted on Twitter by @madona1996 has drawn the wrath of many Nigerians.
@Emmalex_8 said:
"And nah bundle the person Dey spray oooo, they supposed to arrest the sprayer to ask an how he take get that much when most persons neva see or hold am; na yesterday I hold and spend the new 1k"
New naira notes: Cash crunch hits the Nigerian banking system, ATMs run dry, banks ration new notes
Legit.ng reported that the so-called cashless drive of the Central Bank of Nigeria (CBN) came to a head on Wednesday, January 25, 2023, when many Nigerians could not access cash from any bank or ATM.
The Nigerian banking system was hit with a massive cash crunch which left many Nigerians stranded and running from one bank ATM to another.
Findings by Legit.ng show that almost all the banks in Lagos reported being out of the newly redesigned naira notes and their ATMs were not also dispensing.
Source: Legit.ng