FG Announces First Borrowing Plan for 2023 From Nigerians, Repayment Date Set
The federal government has announced its first borrowing plan for the new year, 2023
The new borrowing was announced by the debt management office and will come in the form of savings bond
Patience Oniha, DMO director-general has announced how the first tranche of domestic borrowing will take place
The Debt Management Office (DMO) has announced the issuing of two Federal Government of Nigeria (FGN) Savings Bonds for subscription as its first borrowing for 2023.
A bond is a loan from an investor to a borrower such as a company or government. The borrower uses the money to fund its operations, and the investor receives interest on the investment.
DMO in a statement announcing the new bond said one is a two-year FGN Savings Bond due in Jan. 11, 2025, at the interest rate of 9.600 percent per annum.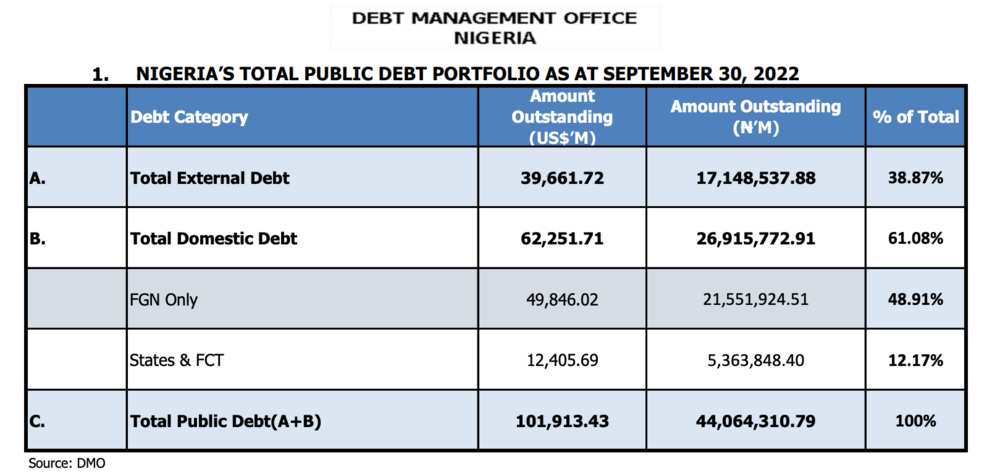 The other is a three-year FGN Savings Bond due in Jan 11, 2026, at the interest rate of 10.600 percent per annum.
Details of the saving bonds offer
The DMO said that the opening date would be Jan. 3, while the closing date would be Jan. 6, and settlement date, Jan. 11, while coupon payment dates would be April 11, July 11, Oct. 11and Jan. 11.
DMO offer reads:
"They are offered at N1,000 per unit subject to a minimum subscription of N5,000 and in multiples of N1,000 thereafter, subject to a maximum subscription of N50 million.
"Interest is payable quarterly while bullet repayment (principal sum) is on maturity."
The Punch reports that the DMO also said that FGN Savings Bonds qualified as securities in which trustees could invest under the Trustee Investment Act.
DMO stated:
"They also qualify as government securities within the meaning of Company Income Tax Act (CITA) and Personal Income Tax Act (PITA) for tax exemption for pension funds.
"They are listed on the Nigerian Stock Exchange Limited and qualify as liquid asset for liquidity ratio calculation for banks."
It noted that the bonds were backed by the full faith and credit of the FGN and charged upon the general assets of the country.
List of 63 other countries Nigeria imports fuel from
Meanwhile, in another report the Nigerian National Petroleum Company Limited has spent over N1.2 trillion importing petrol in three months.
The petrol was imported from different countries around the world which include Niger republic.
In the last few days, many Nigerians have been grappling with petrol scarcity as queues have surfaced in filling stations across the country.
Source: Legit.ng