No Longer Needed: Kenya Cancels Visa Requirement for Nigerians, Other Africans
Kenyan President has said that from 2024, Africans visiting Kenya will no longer need a visa
According to him, the development aims to increase trade with African countries
President Ruto also encouraged the reduction of customs tariffs inside the continent
In 2024, Africans planning a trip to Kenya will not require a visa.
President William Ruto announced this on Saturday, October 28, 2023, during his keynote speech at the Three Basins Climate Change Conference in Brazzaville, Congo.
He said:
"By the end of this year, no African will need a visa to enter Kenya. The time has come to understand the importance of doing trade between us."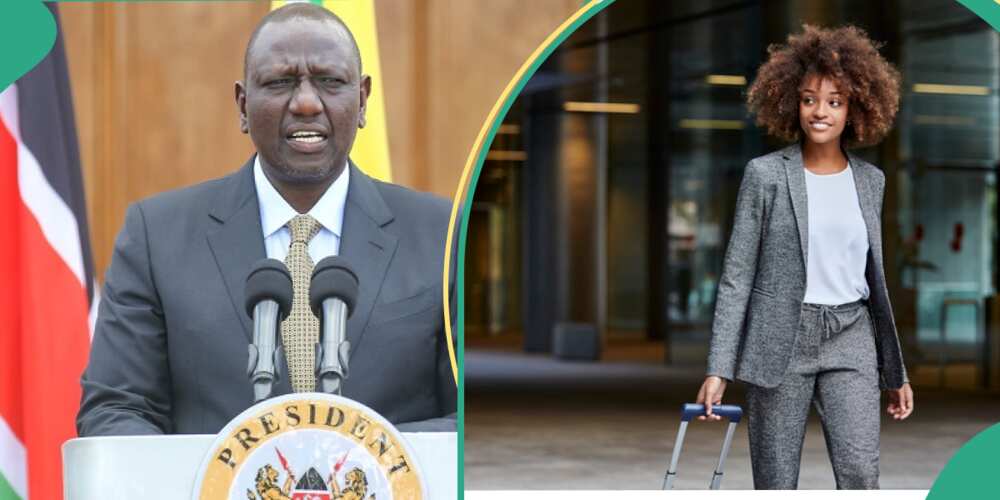 Kenya aims to increase trade with Africans
According to a Star report, the president said the initiative was informed by the need to expand trade with African countries.
Ruto lamented the low rate of intra-African business and urged the lowering of customs barriers within the continent to expedite the creation of the African Continental Free Trade Area.
He explained:
"It is time we realize the importance of trading among ourselves and allowing goods, services, people, and ideas to move freely across the continent."
The president said trade between countries that comprise the East African Community has significantly increased as a result of the removal of tariffs and visa requirements.
He also revealed rewarding countries in tropical forest basins for their efforts to protect their forests will be a prudent reaction to climate change.
Kenya cancels visas for Angola and others
Last Monday, Kenya abolished the requirement for Angolans to have visas.
Ruto hinted that this might be the last time African delegates need to pay for visas to enter the country when attending the African Private Sector Dialogue Conference on Free Trade in May.
It became the third country to do so in August when the government said travellers would not need a visa to enter the country.
Citizens of Senegal and Comoros were granted entry into the nation without a visa in July.
In February of this year, Eritrea and Kenya resolved to eliminate the requirement for visas for their citizens permanently.
In June, Kenya and Djibouti lobbied for a visa-free regime to boost trade between their nations.
Also, a new visa-free agreement between the two nations allowed Kenyans with regular passports admission to South Africa without needing a visa.
The President declared in November 2022 that South African President Cyril Ramaphosa's help had enabled the agreement to be reached.
"N15K per hour": UK releases list of 38 exciting jobs Nigerians can apply for to get easy work visa
Legit.ng earlier reported that the UK published a list of jobs for which eligible Nigerians wishing to migrate may apply for skilled worker visas.
According to the list on the UK government's website, 38 professions are approved as of right now.
There are jobs on the list that pay up to N15,000 per hour.
Source: Legit.ng