"No More N51k": Airline Operators Say Lagos-Abuja Flight Should be N250,000 Due to Naira Crash
Airline operators in Nigeria are subsidising air tickets heavily for passengers in Nigeria
The operators said considering the naira's volatility, the price of a flight ticket from Lagos to Abuja should be N250,000
The spokesman for Airline Operators of Nigeria (AON), Obiora Okonkwo, disclosed this recently
According to Airline Operators of Nigeria (AON), the current price instability in the cost of operations could cause the price of flight tickets on the Lagos-Abuja route to be priced at N250,000
Obiora Okonkwo, the spokesperson for AON, revealed this recently during a television interview as he addressed the challenges in Nigeria's aviation industry.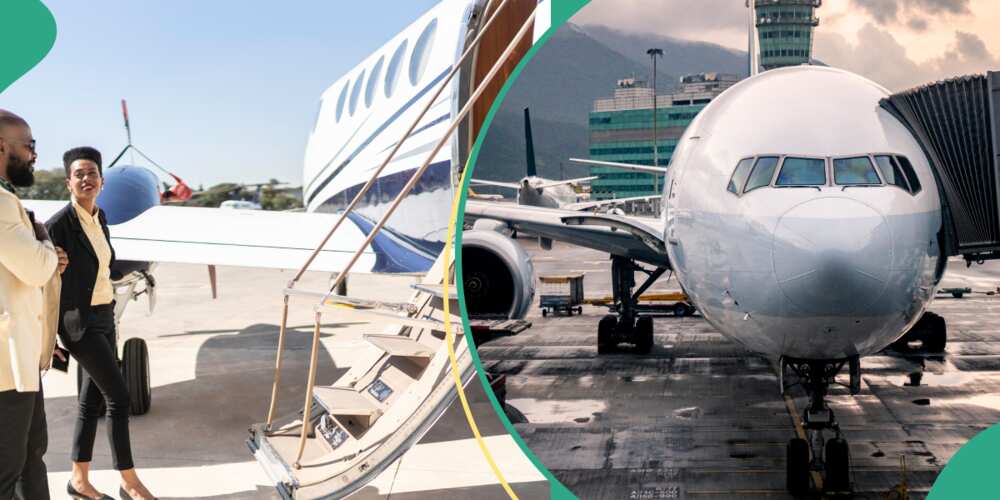 Economy class currently priced at N51,000
The current price of economy class tickets on the Lagos-Abuja flight are sold as low as N51,000 and as high as N91,000, depending on the airline.
PAY ATTENTION: Follow us on Instagram - get the most important news directly in your favourite app!
TheCable reported that Okonkwo said that local airlines make a lot of sacrifices to keep ticket prices very low.
He said those who think tickets are expensive do not appreciate the patriotism and sacrifices made by airline operators in Nigeria.
"If we have to charge the fares the way the costs are changing daily, you should be paying not less than N250,000 from Lagos to Abuja," Okonkwo said.
The AON spokesman revealed that between December 2002 and May 2023, Nigerian airlines have been losing about $2 million monthly.
He said the airlines still operate despite Nigeria's challenges and economic situation.
Naira swap and elections see operators incur heavy loss
The spokesman said the naira swap, the February election, uncertainties, and poor economic activities were some problems facing the aviation industry.
He said the operators cannot shut down the air because of cost and not to be accused of economic sabotage or even coup.
Lagos to London plane ticket now above N5m: Airlines may increase prices again after Niger Republic decision
The revelation comes amid a hike in the price of international flights in Nigeria, affecting the Lagos to London route.
International airfares, especially to European countries, are expected to keep climbing in the next few days.
The development follows the closure of the Nigerien airspace by the country's coup leader on Sunday, August 6, 2023.
National Council for the Safeguard of the Homeland (CNSP) announced the closure of Niger Republic's airspace amid threats by the Economic Community of West African States (ECOWAS) demanding that President Mohamed Bazoum be restored or there would be military action.
While checks by Legit.ng on some of the notable airlines' booking portals show that there has yet to be an adjustment, the extra hours expected to be spent on Europe-bound flights being rerouted due to the closure suggest that the increase is only a matter of time.
International Travels: Nigerians pay more than neighbouring countries, airlines give reasons
Legit.ng earlier reported that a recent viral social media post revealed how international airlines charge Nigerians more than citizens of other African countries.
According to the post, Lagos to London costs about $1,636, about N1.3 million, while Cotonou to London flight on the same airline costs about $469 or N380,000.
Investigations, however, show that almost all neighboring countries enjoy cheaper airfares than Nigeria despite the volume of travel from the country.
Source: Legit.ng