"Working Age Now 15 Years, More Women-Owned Businesses": NBS Reveals Why Unemployment Dropped
The unemployment report released by the National Bureau of Statistics said it used a new methodology
The recently released report by NBS showed that there are more women-owned businesses
The report also said more people between the ages of 15 to 64 are currently of working age
In April 2023, Nigeria's statistics agency, the National Bureau of Statistics, revealed its plans to adopt a new methodology that agrees with global standards and the International Labour Organisation (ILO) for computing labour data.
The agency said the new methodology would sharply drop Nigeria's unemployment rate.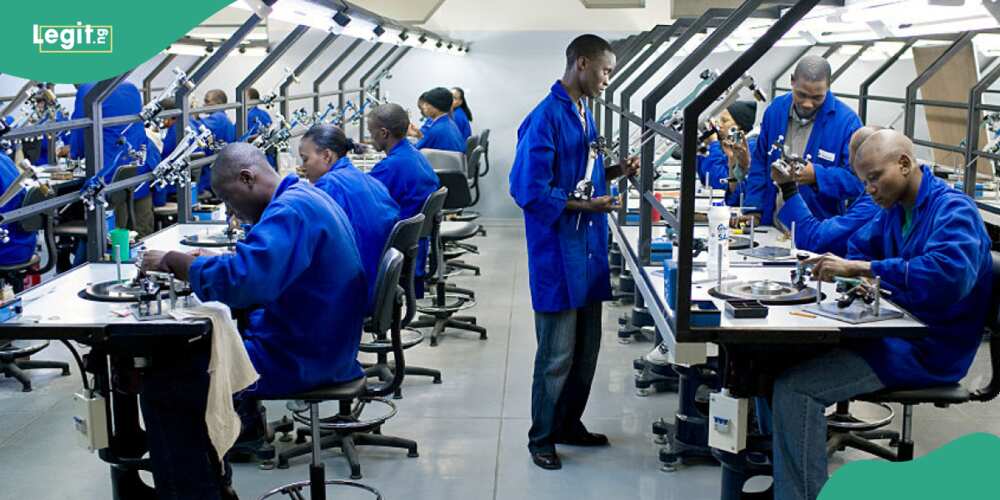 Unemployment rate drops sharply in Nigeria
On Thursday, August 24, 2023, the agency released its labour report, Nigeria Labour Force Survey (NLFS) Q4 2022 and Q1 2023.
PAY ATTENTION: Share your outstanding story with our editors! Please reach us through info@corp.legit.ng!
The NBS report said Nigeria's unemployment rate declined to 4.1% in Q1 of 2023 from 33.1% in 2022.
The NBS defines unemployed people as those working less than 40 hours weekly and making themselves available for more work.
The figure moved from 13.7% in Q4 of 2022 to 12.2% in Q1 of 2023.
NBS explained the growth of the definition of employment to include those working less than an hour weekly instead of the former requirement of 20 hours, providing a more precise picture of the true extent of the country's unemployment crisis.
NBS noted that people work in low-paying, insecure jobs or jobs that do not use their skills and abilities.
Top highlights of the report
Unemployment is down by 29% in three years
According to the report, the unemployment figure dropped by 29% in three years compared to the 2020 report.
It said that the latest data aligns with figures in other developing economies where work is essential to meeting needs, especially in the absence of social protection for the jobless.
The informal sector employs more people
The NBS report reveals that Nigeria's informal sector, comprised of businesses operating outside government regulation and supervision and largely unregistered, is put at 92.3% of the labour population in Q1 2023.
The report supports experts' opinions that the informal sector primarily drives Nigeria's economy.
These include commercial bus drivers and artisans in low socio-economic strata with soft skills and poor education.
The agency stated that informal employment among the unemployed Nigerians was 93.%% in Q4 of 2023 but dropped to 92.6% in Q1 of 2023.
Most Nigeria are self-employed
The data by NBS says Nigeria's economy is supported by micro, small, and medium-sized businesses (MSMEs), especially kiosks and nano businesses.
Per the report, 73.1% and 75.4% of employed Nigerians worked in their businesses in Q4 of 2022 and Q1 of 2032 or were engaged in farming activities as their primary jobs.
Only a few employed Nigerians were wage earners in their primary jobs, with 13.4% in Q4 of 2022 and 11.8% in Q1 2023.
Working age now 15 years old
The agency said in its previous report that the working population was defined as people aged 18 to 64.
The indicator measures the share of the working-age population in the total population.
However, the revised process adopted in the last report changed the working age from 15 years and above.
Some Nigerians outside the labour
The bureau revealed that the labour force covers those either employed or unemployed, meaning some Nigerians are outside but potentially in the labour force.
More women-0wned businesses
The report also stated that men were more likely to engage in wage jobs than employed women.
NBS defines primary job as the job people spend most of their time doing.
Data analysis shows that the share of employed men working in their businesses or agriculture was 73.1% in Q4 of 2022, while the number of women stood at 76.9%.
The report also shows that women who worked in their businesses or agriculture spiked to 78.7% in Q1 of 2023.
The data suggest that women run more businesses.
"Working for 1hr Shows you are employed": Nigeria's unemployment rate drops to 4.1% in Q1 2023
Legit.ng earlier reported that Nigeria's unemployment rate has dropped to 4.1% for the first quarter of 2023 from 5.3 percent recorded in the previous quarter.
This was disclosed in the latest report titled Nigeria's Labour Force Survey (NLFS) prepared by the National Bureau of Statistics, World Bank and International Labour Organisation's (ILO) released on Thursday, August 24, 2023.
The new unemployment figure represents a huge drop from the unemployment rate at 33.3 percent reported in the fourth quarter of 2020.
Source: Legit.ng