"Working for 1hr Shows You Are Employed": Nigeria's Unemployment Rate Drops to 4.1% in Q1 2023
The NBS in its latest report, has revealed that Nigeria's unemployment rate has reduced from 33%
The improvement follows the change in methodology used to calculate the unemployment rate in Nigeria
The federal government has consistently criticised the unemployment data, noting that its efforts put in place are not properly captured
Nigeria's unemployment rate has dropped to 4.1% for the first quarter of 2023 from 5.3 percent recorded in the previous quarter.
This was disclosed in the latest report titled Nigeria's Labour Force Survey (NLFS) prepared by the National Bureau of Statistics, World Bank and International Labour Organisation's (ILO) released on Thursday, August 24, 2023.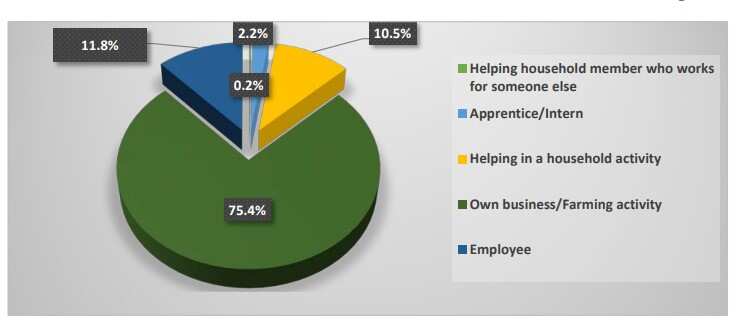 The new unemployment figure represents a huge drop from the unemployment rate at 33.3 percent reported in the fourth quarter of 2020.
Legit.ng observed that the drop in unemployment figure is not for the creation of more jobs, but redefinition of unemployment in line with the ILO guideline.
PAY ATTENTION: Follow us on Instagram - get the most important news directly in your favourite app!
The new and old unemployment methodology
In the new report, NBS stated:
"The revised methodology aligns with our contemporaries in Africa such as Ghana, Niger, Chad, Cameroon, Benin, Gambia etc is in line with international best practices.
"The revised methodology defines employed persons as individuals who are working for pay or profit and who worked for at least one hour in the last seven days against 40 hours.
"The old methodology placed a range on the working-age population- 15 – 64 years, while considering working hours between 20-39 hours as underemployment, 1-19 hrs as unemployment.
"In addition, subsistence agriculture and temporary absentees from employment work were not properly represented as well as the absence of mutually exclusiveness of unemployment and employment.
"These improvements, among others, captured in the revised computations will make Nigeria's Labour Force data comparable with other countries."
The report also defined the underemployment rate as a share of employed people working less than 40 hours per week and declaring themselves willing and available to work more
Breakdown of NBS data
Female: 5.0%
Male: 3.1%
Underemployment rate: 12.2%
Female: 15.1%
Male: 9.4%
Unemployment is highest among the educated
Post secondary: 6.2%
Upper secondary: 4.7%
Junior secondary: 4.1%
Primary: 3.3%
None: 3.2%
UK releases list of 38 exciting jobs Nigerians
Meanwhile, in another report, Legit.ng revealed that the United Kingdom's government had released a list of occupations that immigrants can use to get a skilled work visa.
There are 38 occupations available, and qualified Nigerians looking to relocate can search for companies within the sector for a job.
However, one of the conditions that must be met is that applicants must be paid 80% of the job's usual going rate to qualify for a skilled worker visa.
Source: Legit.ng