Banks Receive N30m Every Day?: CBN Official Reveals How Much New Naira Banks Receive Daily
New data shows that the Central Bank of Nigeria allocates about N1 million daily to bank branches in Lagos
Reports also indicate that the amount is not sufficient for banks which have millions of customers and hundreds of branches in the state
A CBN official allegedly said that the bank gives each bank N30 million daily to banks in Nigeria
Nigeria's apex bank, the Central Bank of Nigeria has stated that it gives N1 million in new naira notes to bank branches in Lagos.
According to reports, the amount is inadequate for bank customers in the state with millions of customers who queue at ATMs waiting for the new notes.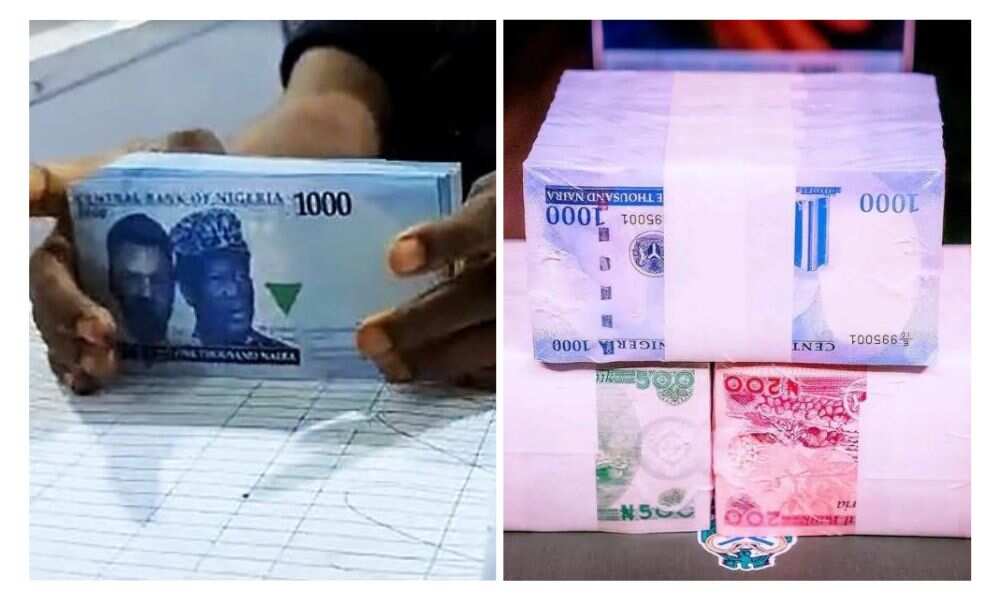 CBN keeps mute on amount of new notes sent to banks
Analysts believe that it is either the CBN is running short of new notes or is deliberately rationing them to the banks for unknown reasons.
Whatever the case, the situation has created enormous hardship for Nigerians who keep vigil at ATMs.
Also, the commercial banks have refused to disclose the amount in new naira notes given to them by the CBN weekly.
A bank staff with Sterling Bank, who refused to be named, said the bank receives one million naira weekly per branch in Lagos.
"This is the reason all our branches dispense the new naira notes every day. We have fewer bank branches than many banks, but we continue to dispense via ATMs and also pay across the counter," the source told Legit.ng.
Banks scared to disclose amount received from CBN
Some of the commercial banks are scared to disclose the number of new naira notes CBN allocates to them every week for fear of being penalised.
Also, the CBN has refused to publish the details of new naira notes sent to the banks weekly.
Abdulkadir Jubrin, an alleged official of CBN in Bauchi State says that the bank allocates N30 million new naira notes daily to each branch, the Punch report says.
The claim by Jibrin has neither been confirmed nor denied by the CBN.
CBN gives update on PoS charges, says it will work with banks to End Cash Crunch
Recall that Legit.ng reported that the Central Bank of Nigeria (CBN) has asked Nigerians to remain calm as it works with the commercial banks to review PoS charges to reduce the pain felt by Nigerians as they line up at ATM points and are charged exorbitantly by PoS operators as a result of the paucity of cash.
The CBN, Governor, Godwin Emefiele disclosed this on Friday, January 3, 2023, at a media briefing on the new naira note in Lagos.
The apex bank's governor pleaded with Nigerians for time to fix the lapses associated with the circulation of the newly redesigned notes.
Source: Legit.ng