New Naira Notes: Gbajabiamila Threatens to Issue Arrest Warrant on Emefiele
The Speaker of the House Representatives has threatened to arrest Emefiele over his non-appearance to answer questions about the new naira notes
Emefiele was summoned by the House ad-hoc committee to interface with the CBN over the new naira notes
Emefiele and members of the Bankers' Committee shunned the meeting with the Committee
The Speaker of the House of Representatives, Femi Gbajabiamila says he may be forced to ask the IGP, Usman Baba to issue an arrest warrant on the Governor of the Central Bank of Nigeria (CBN), Godwin Emefiele over his refusal to appear before the House.
Gbajabimila stated this on Thursday, January 26, 2022, in response to a report by Majority Leader, Alhassan Doguwa, chairman of the ad-hoc committee set up to liaise with CBN.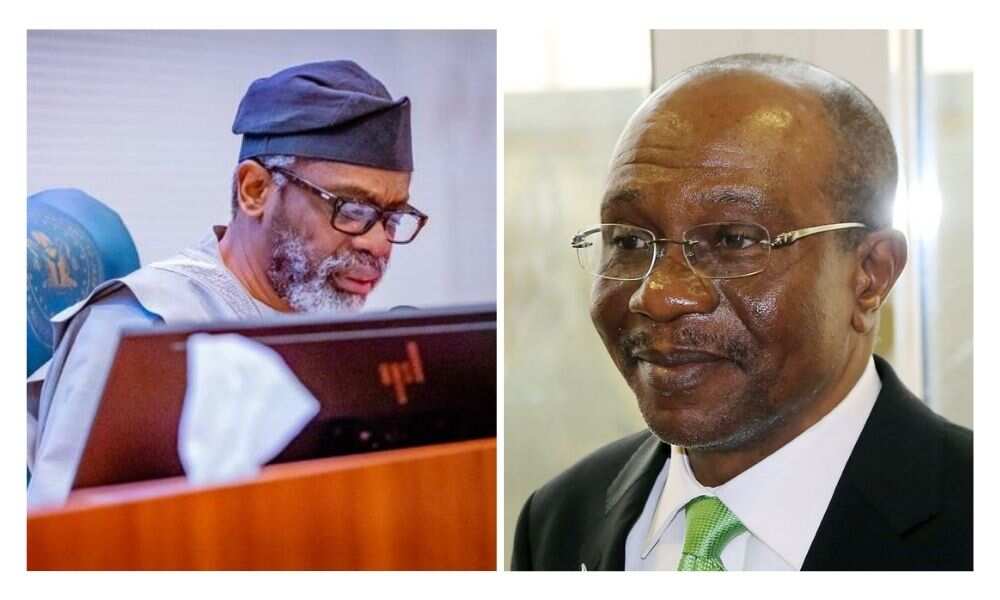 Doguwa rues Emefiele's snub
He informed the House that the CBN chief did not honour the invitation to appear before the committee on Wednesday, January 25, 2023.
Doguwa said:
"The committee invited the CBN yesterday, and we decided to take the governor specifically yesterday, we invited the CBN governor yesterday, to come with the officials of the central bank. I want to say, with all sense of responsibility, that the committee was delayed by the absence – flagrant refusal of the CBN to make an appearance.
Gbajabiamila fumes
Premium Times reports that Gbajabiamila stated that he will not waste time activating section 89 (1)(d) of the 1999 constitution which empowers the House to ask security agencies to order an arrest against anyone.
He said.
"Therefore, I will, pursuant to the authority conferred by Section 89 (1)(d) of the Constitution of the Federal Republic of Nigeria and Order 19 (2)(1) of the Standing Orders of the House of Representatives, not hesitate to issue a warrant to the Inspector General of the Nigeria Police Force to compel the attendance of the CBN or Managing Directors who fail, refuse or neglect to respond to the summons by the House of Representatives."
According to Punch, the House and Emefiele may be headed for a collision course over the redesign of the naira notes and the January 31 deadline issued by the CBN for the exchange of old notes for new ones.
The House is seeking an explanation from the CBN over the scarcity of the new naira notes which have caused an immense cash crunch in the system and threatening to paralyse commercial activities across the country.
New naira notes: Cash crunch hits the nigerian banking system, ATMs run dry, banks ration new notes
Legit.ng reported that the so-called cashless drive of the Central Bank of Nigeria (CBN) came to a head on Wednesday, January 25, 2023, when many Nigerians could not access cash from any bank or ATM.
The Nigerian banking system was hit with a massive cash crunch which left many Nigerians stranded and running from one bank ATM to another.
Findings by Legit.ng show that almost all the banks in Lagos reported being out of the newly redesigned naira notes and their ATMs were not also dispensing.
Source: Legit.ng