I Pray To Return Nigeria Economy to Where it Was When I Was Still a Boy, Says CBN Governor Godwin Emefiele
Godwin Emefiele, the Governor of the Central Bank of Nigeria has revealed his one wish when he leaves his position
He claims that if he can view the Nigerian economy as he did when he was young at the conclusion of his term as a policymaker, he will be extremely satisfied
CBN under the leadership of Emefiele has introduced no less than 37 intervention programmes to boost the economy
The Governor of the Central Bank of Nigeria (CBN), Godwin Emefiele, has indicated that when he leaves office, his top priority would be to see Nigeria's economy back to where it was when he was a teenager.
Emefiele revealed this while speaking on Arise TV on Tuesday Morning.
During the interview, he expressed optimism Nigeria have the resources to succeed, and restore the country to its former glory.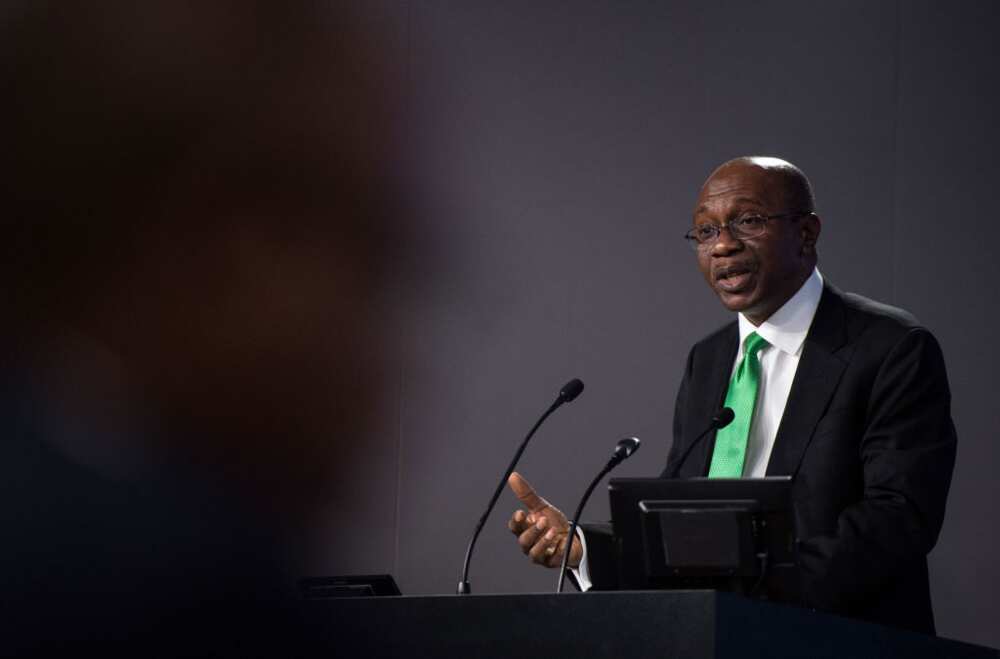 Emefiele said:
"If through our policies we can just return or move Nigeria close to what it was when I was growing up, then I can leave office look back and thank God that we left something for our children.
"Nigeria is a great country, with resources enough to be self-sufficient and no need to rely heavily on oil to provide for the economy this is why we are focusing on diversifying the economy."
Emefiele, who just celebrated his 60th birthday, also spoke about some of the CBN's attempts to ensure the country's return to its former grandeur.
One of the policies Emefiele revealed is the "100 for 100 PPP – Policy on Production and Productivity" which he said will bring about economic growth, jobs creation, and social impact.
"The project is designed to help achieve President Muhammdu Buhari push to create 10 million jobs in 10 year as 80 per cent of jobs created by funded projects under the policy must be for Nigerians while 50 per cent of raw materials for the project must be sourced locally.
He also noted that any firm interested in participating must have considerable potential for foreign exchange revenues as well as the capacity to improve the ease of doing business in the country.
Emefiele added:
"We are going to supervise all selected firms. In fact in all of our initiatives, we visit at least twice a year to guarantee that the money given out as a loan is used for its intended purpose."
He also revealed that over N3 trillion has been disbursed to the Ministry of Micro, Small, and Medium Enterprises to boost the economy.
Court unfreezes two Nigerian companies bank accounts blocked by CBN
Three months after the Central Bank of Nigeria (CBN) urged a federal court in Abuja to freeze accounts of some fintech firms in the country.
Another federal High Court sitting in Abuja has instructed the accounts of two fintech firms held in Zenith and Guaranty Trust Bank to be unfrozen.
CBN had approached the court in August 2021 to get an interim order to freeze the accounts which it said are owned by individuals and organizations based in the United States.
Source: Legit.ng