VFD Group Plc Lists on Nigerian Exchange, Commemorates with Closing Gong Ceremony (NGX)
VFD Group Plc, a sector-agnostic proprietary investment company, is pleased to announce its listing on the Main Board of Nigerian Exchange Limited (NGX), the sustainable Exchange championing Africa's growth. On Friday, October 6, 2023, the official listing was celebrated with a Closing Gong ceremony and a Fact Behind the Listing Presentation, marking a key milestone in the company's history.
The listing of VFD Group's shares has added over N45 billion to the market capitalization of NGX, further boosting liquidity in the Nigerian capital market and providing opportunities for wealth creation.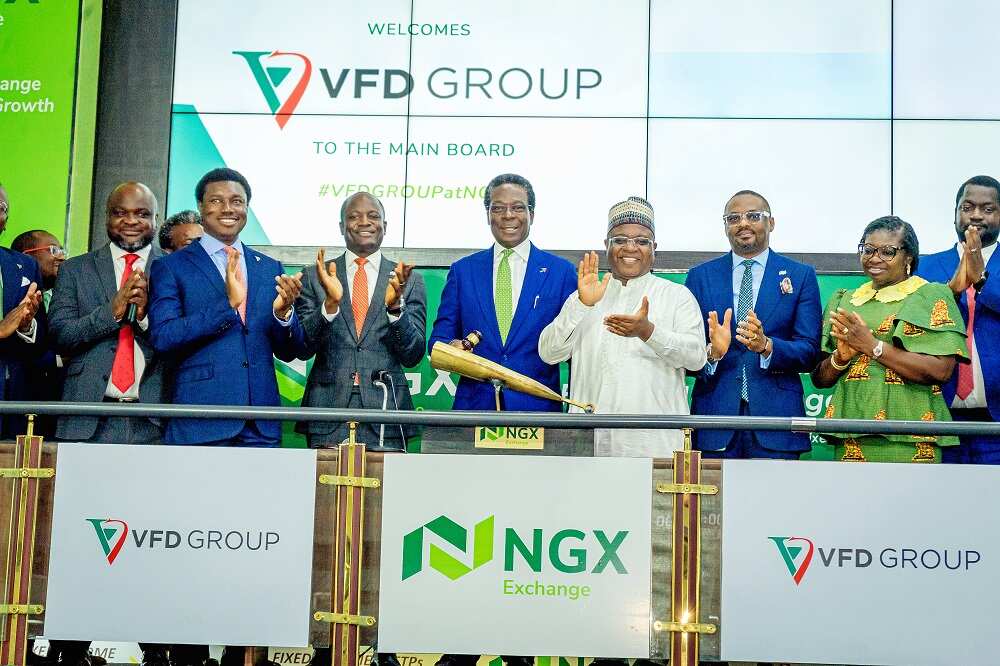 VFD Group is a proprietary investment company that focuses on building positive and socially conscious ecosystems by aggregating potentially viable businesses to create innovative products and solutions accessible to the everyday Nigerian citizen and entrepreneur. This listing on NGX is a strategic move to increase VFD Group's visibility, enhance its access to capital, and improve its liquidity, ultimately benefiting its valued investors and stakeholders.
Olatunde Busari SAN, Chairman of VFD Group, stated proudly, "We are excited to join the distinguished ranks of companies listed on the Exchange, and we are confident that this step will provide us with the resources we need to continue our growth trajectory and serve our shareholders even better."
Nonso Okpala, Group Managing Director/CEO of VFD Group Plc, expressed his excitement about the listing, saying, "This is a momentous occasion for VFD Group. Our journey from a boutique investment firm to a publicly traded company on the Nigerian Exchange reflects the dedication and hard work of our entire team. We are excited about this new chapter and the opportunities it brings to further strengthen our market position."
"We will continue to work toward our strategic goal of creating Africa's first diverse business ecosystem. When compared to where we started, what we set out to achieve, and economic realities, the Group's performance has been outstanding on all fronts. Our focus on business expansion has yielded results, particularly in sectors other than financial services, and we have significantly increased our balance sheet." He continued.
Alhaji (Dr) Umaru Kwairanga, Chairman, Nigerian Exchange Group Plc stated, "We must recognize the unwavering commitment of the Board and Management of VFD Group in making this listing a reality, as well as the pivotal roles played by all the professional parties involved in the transaction. Securing a listing on the NGX Main Board entails a steadfast commitment to elevated standards of disclosure and corporate governance. This significant listing heralds a fresh chapter for VFD Group plc to leverage NGX's value-added services and capital market products to fulfill its strategic objectives."
Temi Popoola, CEO of NGX, stated, "We extend a warm welcome to VFD Group as it joins our prestigious market. The decision to list on NGX not only promises to augment VFD Group's liquidity but also strategically positions it to attract investments from the global arena. Additionally, this move is poised to elevate the organization's market value whilst further advancing transparency and corporate accountability.
"Our marketplace is a highly reputable platform for raising capital and facilitating sustainable growth for national development. As the preferred listing platform in the region, we are dedicated to collaborating with companies at different growth stages to explore diverse capital market opportunities that align with their business goals."
Last month, the Group voluntarily delisted its 190 million shares previously traded on the NASD Securities Exchange in order to be quoted on NGX.
For more information on VFD Group Plc and our listing on Nigerian Exchange, please visit our website at www.vfdgroup.com or contact our Investor Relations team at investor-relations@vfdgroup.com.
About VFD Group
VFD Group, a proprietary investment company with a diverse portfolio that includes banking, non-banking financial institutions, market infrastructure, technology, real estate, hospitality, media, entertainment, and energy, recently announced the successful redemption of its Series 1 commercial paper valued at N4.2 billion.
The redemption demonstrates VFD Group's commitment to maintaining a strong financial position, fostering investor confidence, and meeting its obligations on time. With an unwavering focus on innovation and excellence, VFD Group has consistently demonstrated resilience in an ever-changing market landscape, positioning itself as a leading player in Nigeria's investment sphere.
About NGX:
NGX is the leading securities exchange in Nigeria, providing a platform for trading in a wide range of financial instruments, including equities, bonds, ETFs, and derivatives. NGX is committed to promoting transparency, liquidity, and efficiency in the financial markets and has a strong track record of supporting companies in raising capital and achieving their financial goals.
Source: Legit.ng