'Mother Nature needs money,' Lula tells rich countries at summit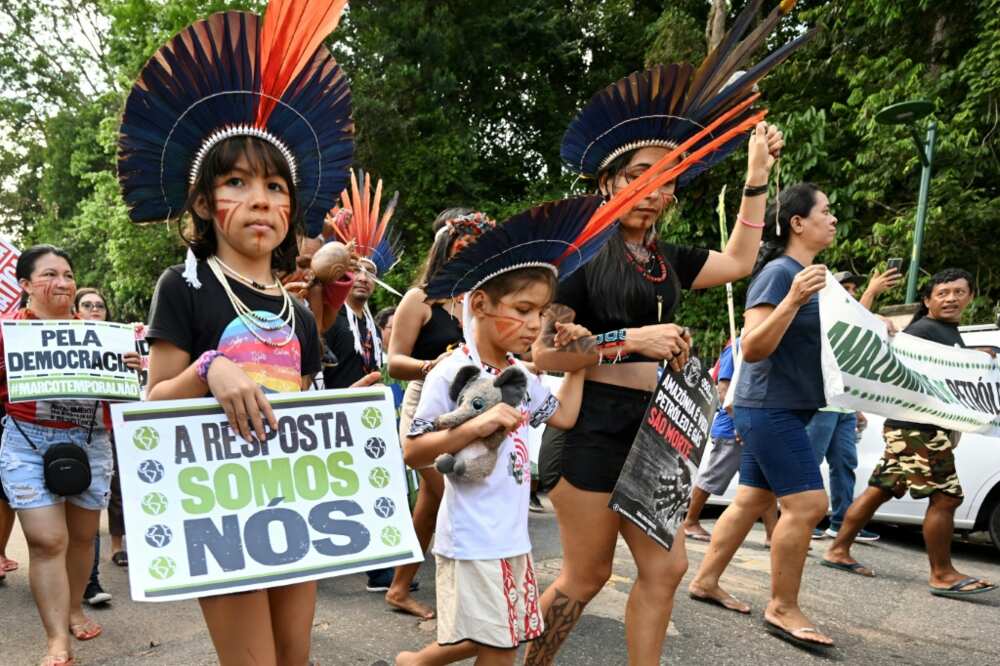 Brazilian President Luiz Inacio Lula da Silva urged wealthy nations Wednesday to fulfill their unkept promises to fund developing countries' fight against climate change, at a summit on saving the world's tropical forests.
Vowing to act as a bloc in future climate negotiations, the eight South American countries that share the Amazon basin and nations from the Caribbean, Africa and Asia called on the industrialized world to do more to protect Earth's disappearing tropical forests, vital buffers against global warming.
"It's not that Brazil needs money. It's not that Colombia or Venezuela need money. Mother Nature needs money, it needs financing, because industrial development has destroyed it over the past 200 years," Lula told a news conference.
But he and other leaders at the summit faced criticism themselves over their failure to adopt a pledge to stop illegal deforestation in the Amazon by 2030 and ban new oil exploration, as climate campaigners and Indigenous groups had urged.
The World Wildlife Fund (WWF) expressed its "great concern at the lack of a common goal to end deforestation" at the closely watched summit.
Brazil's main Indigenous organization meanwhile chastised leaders for not doing more to protect native lands, which experts say are one of the best defenses for forests.
"We hope all this effort at dialogue won't come down to empty words," said the Association of Brazil's Indigenous Peoples (APIB).
Competing views
The two-day summit was a key test for veteran leftist Lula, who returned to office in January vowing "Brazil is back" in the fight against climate change, after four years of destruction in the Amazon under far-right ex-president Jair Bolsonaro.
The meeting started Tuesday with an agreement by the eight countries of the Amazon Cooperation Treaty Organization (ACTO) to launch an alliance to fight deforestation.
But they stopped short of adopting a timeline.
Colombian President Gustavo Petro meanwhile called in vain for the region to adhere to his pledge to ban new oil wells.
"If we're on the verge of extinction and this is the decade when the big decisions have to be made... then what are we doing, besides giving speeches?" he said.
Despite Brazil's vows to chart an ambitious roadmap to save the Amazon, the summit instead wrapped up with a rebuke of wealthy nations by the participants -- ACTO members Bolivia, Brazil, Colombia, Ecuador, Guyana, Peru, Suriname and Venezuela, plus invitees the Democratic Republic of Congo, Congo-Brazzaville, Indonesia and Saint Vincent and the Grenadines.
"We express our concern regarding the non-fulfillment by developed countries of their commitments," including annual aid equivalent to 0.7 percent of GDP and $100 billion a year in climate financing for developing countries, they said.
They also lashed out at "protectionist trade policies disguised as environmental protection," an apparent swipe at the European Union's new law banning imports that fuel deforestation.
Eyes on UN talks
Home to an estimated 10 percent of Earth's biodiversity, 50 million people and hundreds of billions of trees, the vast Amazon is a vital carbon sink.
But scientists warn its destruction is pushing the world's biggest rainforest dangerously close to a tipping point, beyond which trees would die off and release carbon rather than absorb it, with catastrophic consequences for the climate.
Deforestation in the Amazon is driven mainly by cattle ranching, though it is fueled by a murky mix of corruption, land-grabbing and organized crime including illegal drugs, arms, gold and timber trafficking.
In Brazil, the world's top exporter of beef and soy and home to 60 percent of the Amazon, the destruction has already wiped out around one-fifth of the rainforest.
Held in Belem, Brazil, at the mouth of the Amazon river, the summit was also something of a dress rehearsal for the 2025 UN climate talks, which the city will host.
The United Arab Emirates, which will host the next UN climate talks in December, sent its special envoy for climate change, Sultan Ahmed al-Jaber.
Al-Jaber, chief executive of the Abu Dhabi National Oil Company (ADNOC), vowed to "keep the pressure on donor countries" to meet their unfulfilled climate finance pledges, in his first major statement on the need to protect and invest in nature as a core pillar of climate progress.
Source: AFP