- Staggering figures have emerged of the number of children that lost their lives in Borno state in 2015 as a result of malnutrition
- The Borno Emergency Management Agency urges the FG to enable proper supplementary feeding for the kids in IDP camps
- About 6,444 severe cases of malnutrition have been recorded in IDP camps
At least 450 children died of malnutrition in 28 Internally Displaced Persons' camps in Borno state in 2015.
This was disclosed by Sule Mele, the executive director of the board of the Borno Emergency Management Agency, in an exclusive chat with the News Agency of Nigeria in Maiduguri.
According to Mele, the victims were aged between one and five years.
Mele noted that more than 209,577 children were screened for various illnesses, including malnutrition, malaria, diarrhoea and vomiting.
READ ALSO: Dangote, Bill Gates Pledge $100M To Malnutrition In Nigeria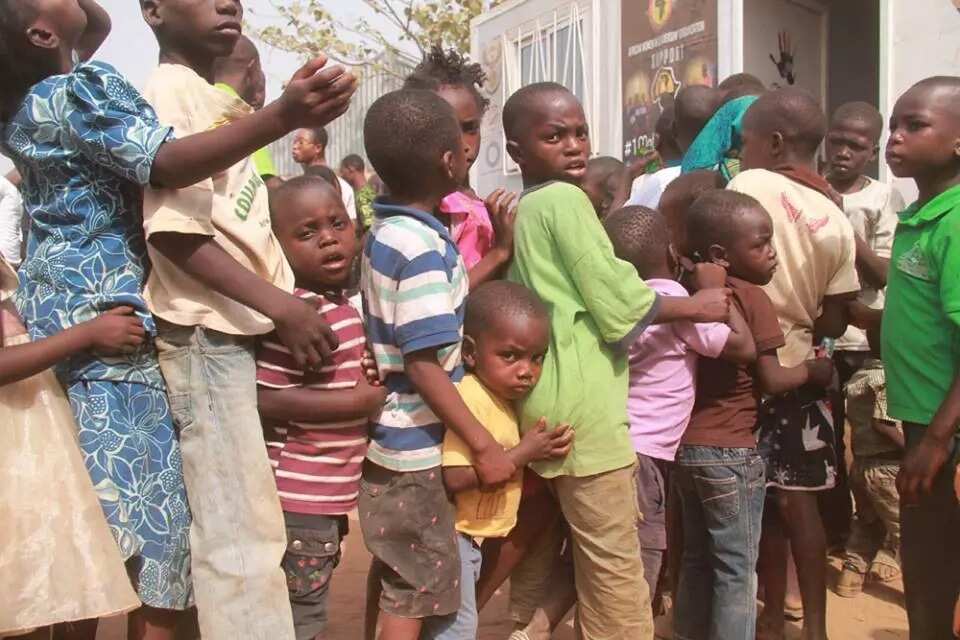 READ ALSO: WHO To Remove Nigeria From Polio Lists
"About 6,444 severe cases of malnutrition were recorded in the camps, 25,511 have mild to moderate symptoms, while 177,622 among them were not malnourished," Mele said.
He said: "The large number of malnourished children is as a result of the lack of access to highly nutritious foods in the camps.
"Poor feeding practices, such as inadequate breastfeeding, offering the wrong foods and not ensuring that the child gets enough nutritious food also contribute to malnutrition.
"The food that is mostly served in the camps is always adults in nature which affect the health, growth and physical development of the children.
"Even if the children get enough to eat, they will become malnourished if the food they eat does not provide the proper amounts of micro-nutrients, vitamins and minerals to meet daily nutritional requirements.
"The children should at least be fed with an enriched groundnut pap, crayfish, periwinkles, millet, soya beans, moi-moi, fishes, pap, ugba and a whole lot of others.
"The effects of inadequate nutrition and malnutrition include stunting and recurrent infections or chronic diseases.
"Poor nutrition in terms of foods and feeding behaviours, especially during the first two years of life can lead to low immunity, significant illness, late development and death."
However, Mele has revealed that the Borno state government is partnering with an NGO, Community-Based Management of Acute Malnutrition , in treating children with severe acute malnutrition in the camps.
He urged the Federal Government to adopt the U.S. Special Supplemental Nutrition Programme for Women, Infants and Children (WIC), for healthcare and nutrition to enable proper supplementary feeding for the kids in IDP camps.
Mele's report comes just after the United Nations Children's Emergency Fund (UNICEF) revealed that a staggering 300, 000 Nigerian kids may lose their lives this year.
According to the organization, the death could come as a result of malnutrition without intervention to save them, just as stakeholders are of the opinion that the Nigerian government has not helped fund or implement its nutrition policy since it was passed two years ago.
Thousands of people have been displaced by the Boko Haram insurgency that has plagued Northern Nigeria since 2010. About 20,000 people have also died during the crisis.
Despite rapid economic growth, Nigeria is home to the highest number of stunted children in Africa and the second highest globally. Almost one in five Nigerian children is acutely malnourished and more than one in three children suffers from stunting.