TY Bello and the magical photo shoot with bread seller-turned-'model'
– While on a visit to Nigeria, British-Nigerian music star Tinie Tempah is photographed on the Lagos streets by ace photographer TY Bello for This Day Style
– Interestingly, a road seller gets captured on the set of the shoot and is fast becoming a 'star'
– A documentary on life story of lucky road seller is reportedly being worked upon 
A few weeks back when Tinie Tempah visited Nigeria, ace photographer TY Bello met up with the British-Nigerian rapper for a This Day Style magazine photo shoot and it was quite a refreshing look.
It was done on the streets of Lagos and along the line a bread-seller was somehow caught in the mix. She has since found her way into the glossy pages of magazine fame and Nigerian social circles discussions.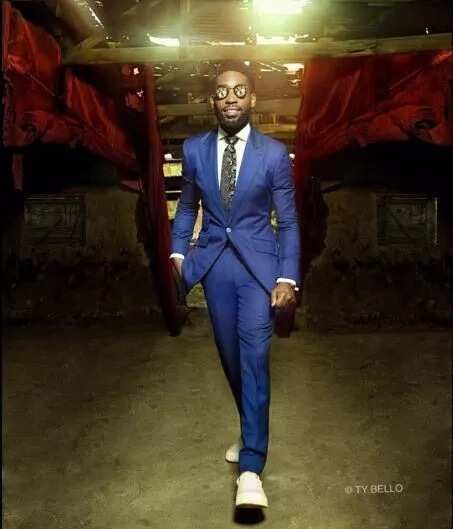 On Instagram, TY Bello said of the photo session and how the pretty bread seller that stepped in at the right time, though unplanned, bringing magical brilliance to the set:
READ ALSO: What 2face Idibia said in response to Blackface's copyright allegations
"I've photographed so many international celebrities in this town.. From Beyonce to Arnold Schwarzenegger … I was looking through my archives the other day and said to my self .. Never again..! Never in some fancy hotel room that could have been anywhere else on the planet . There's no where like Lagos and If they ever cross my path again I'll drag them out to where they can touch and feel My Lagos . .. And fall in love with it.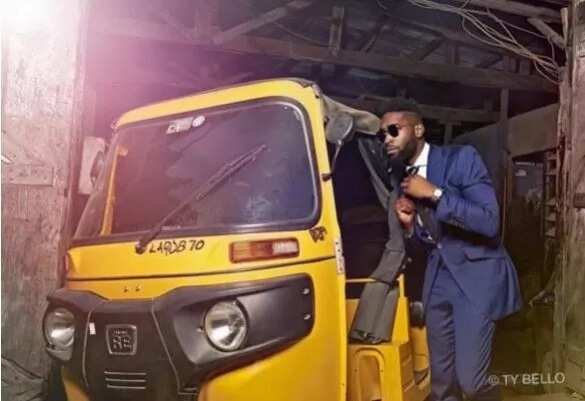 "So of course when I was asked to meet up with @tiniegram at his hotel I was like ..Lai-Lai!! Abeg bring the man to Yaba and let's shoot this something!
"I love lagos..I won't lie.. The streets are a literal Photographer's paradise .. Every where you turn there's a story waiting to be told, textures waiting to be shot and characters waiting to be explored..it's hard for me to make a bad picture when my spirit is really open on the streets..I can just stand there and magic walks into my frame.
"The beautiful bread seller in the red dress in one of my edits for instance ..You know her Abi? That one that everyone on the street wants to marry .. She's fine and she knows it. its all over how she walks and I know you've seen her before.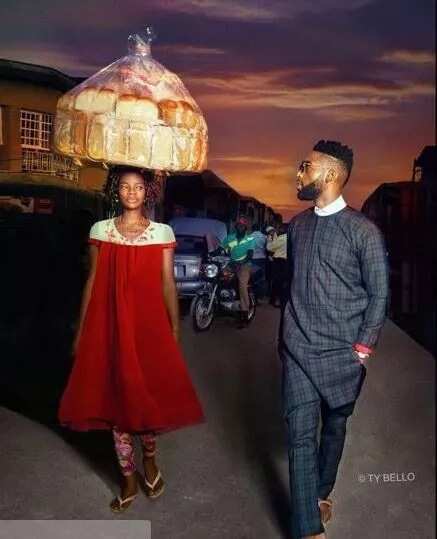 "She walked onto our set and magic happened ..it wasn't planned at all ..I didn't even know I nailed the narrative until I edited a few days later."
In the wake of this, TY talked about the coincidence of shooting with the bread seller especially in the wake of the buzz it has recently generated online.
She went on to explain that the lady happened to walk past when the shoot was going on and it all happened so fast.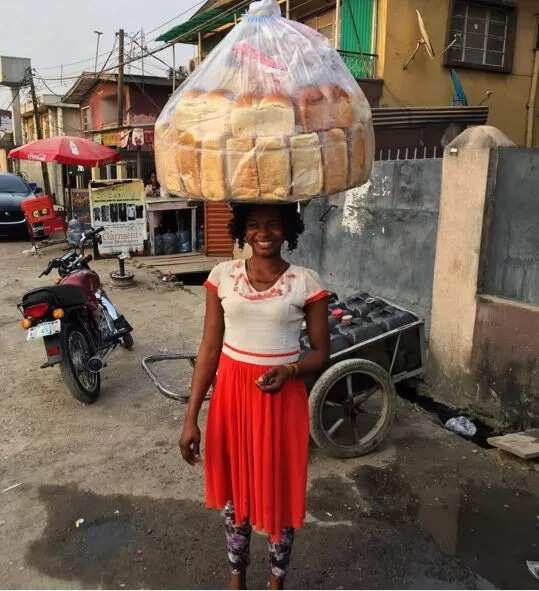 She also explained how she would go on to try and find the lady as she is so beautiful and fitting she should be a model.
As luck would have it, a few days later she found the lady – a 27-year-old mother of two.
TY immediately shared details of this on her Instagram on Wednesday February 3 saying:
"So I found her …our beauty from the @tiniegram shoot and boy have I got a fantastic story to share with you all. Right here is an amazing 27yr old mother of two , Jumoke Sunday with an incredible life story .I called on three amazing artists @bimpeonakoya for beautiful makeup .. @zubbydefinition for hair and @emaedosio to make a short documentary about her .. Every one gave a yes !on the spot.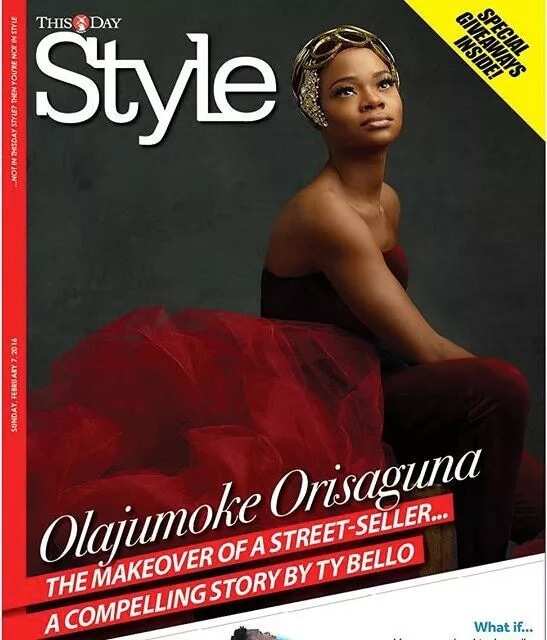 "They were all at the studio within an hour and we had the most amazing shoot with her. I've also spoken to a few people about the best way to help move her forward and reunite her with her family.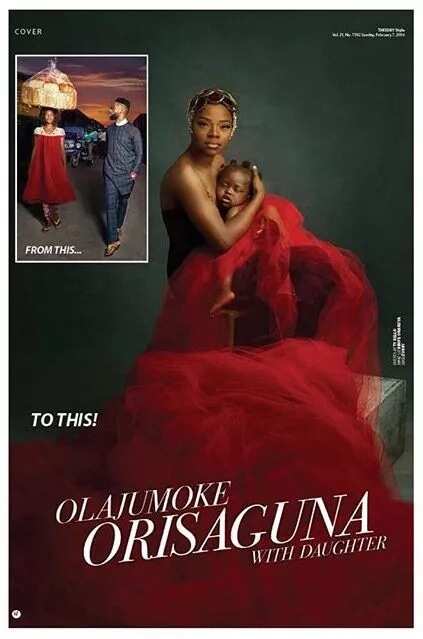 "The process has already begone and I'll figure out the best way to have anyone who wants to be part of the journey .Meeting and photographing her has inspired us all and we can't wait for the good that will come to her from all of this to unfold . She doesn't speak English well but here ,she was explaining how she found us.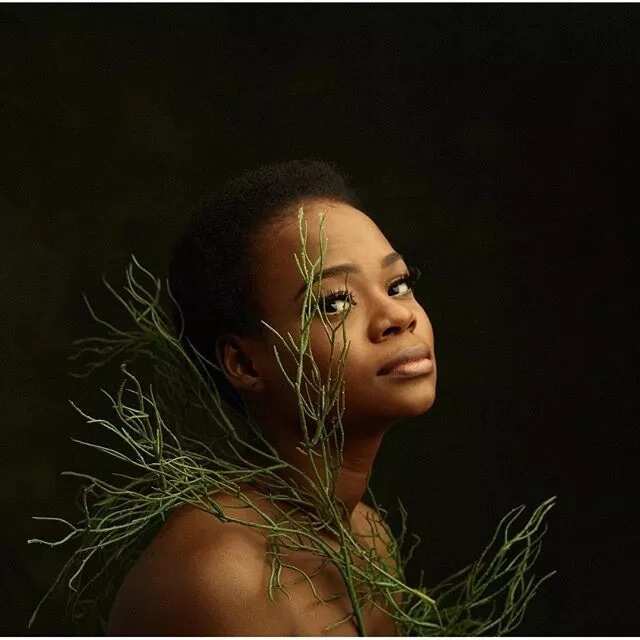 "I had sent an assistant , as many of you advised ,to leave a message with the people in the area where we photographed her… So here she is .. #Olajumoke #tybellophotography #findingjumoke #thebeginning."
The story kept gaining momentum and the buzz kept simmering into a delicious meal of sorts online, something like a Nollywood classic.
READ ALSO: What my grandmother did for me to get fame – Nollywood veteran
Today, Sunday February 7, Olajumoke Orisaguna the street seller turned 'model' is on the path to further prominence as she has appeared on the This Day Style magazine cover.
Reports also say a documentary on her story thus far is already in the works, it is reportedly being handled by Ema Edosio.
Olajumoke's has been quite an interesting journey so far, don't you think?
Source: Legit.ng