Supporters of Biafra took to the street today, October 20 to protest the detention of Mazi Nnamdi Kanu who is the director of Radio Biafra.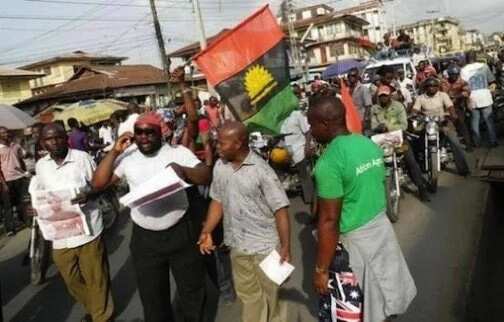 [article_adwert]
Kanu was arrested by operatives of the Department of State Services when he returned from the United Kingdom on Saturday, October 17.
He was granted bail on Monday, October 19 although he was still held as he had not met the term of his bail.
PM News reports that protesters took to the street of Port Harcourt, Rivers State waving Biafra flags. Their activity made movement of vehicles impossible in the area. The protesters moved to the government house
Vanguard reports that protesters also went to the government house in Delta state to condemn the arrest and continued detention of Kanu.
READ ALSO:Is Radio Biafra Overstepping Its Boundaries?
The protester under the umbrella of the Indigenous People of Biafra (IPOB), Delta state chapter who were mostly women demanded the release of Kanu.
They displayed placards with different inscriptions like "Freedom for Biafra, free Nnamdi Kanu", "We are not terrorists, we are freedom fighters", "We are tired of intimidation and harassment by Nigeria Government", "Biafra on the move"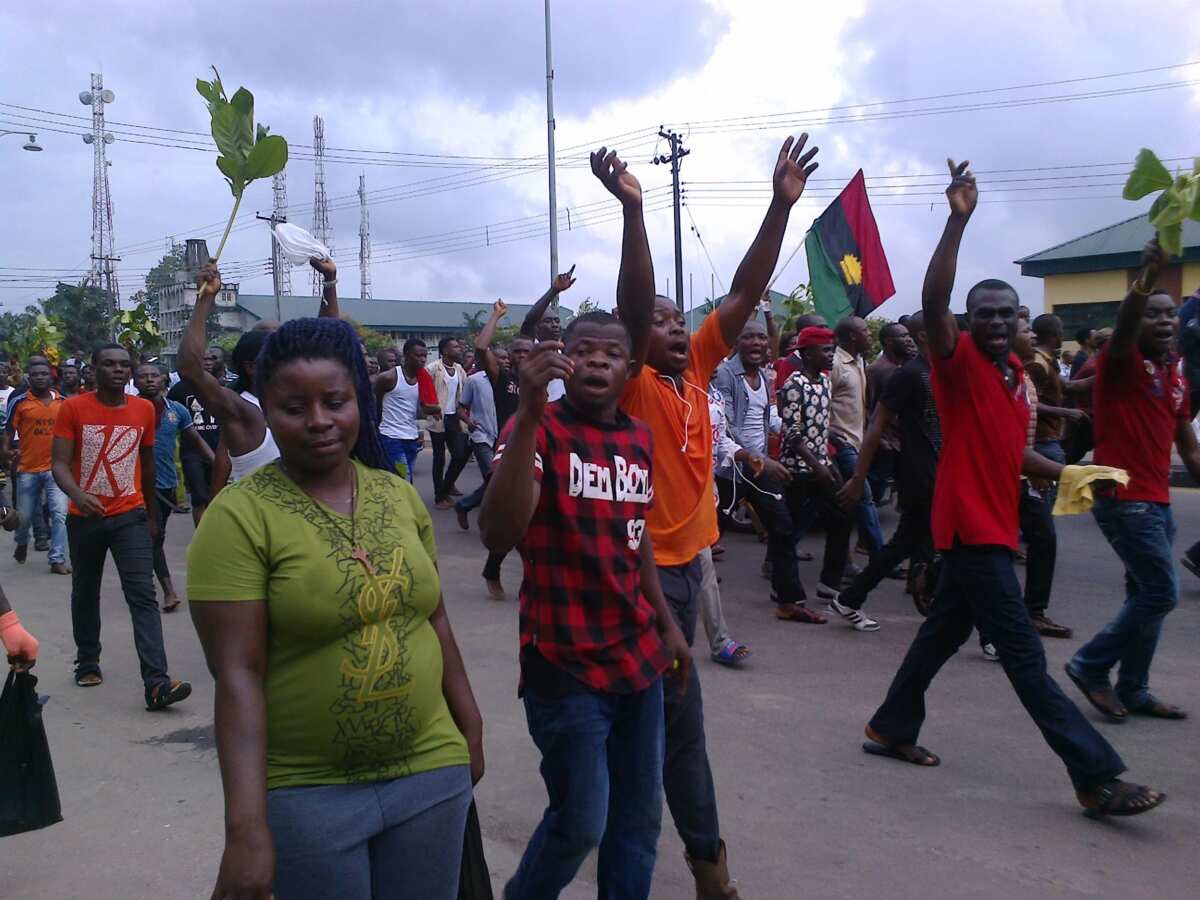 Nnenna Nwaoha, the secretary of IPOB in Delta said the group had suffered enough in the hand of the federal government.
"The reason for the protest is for Nnamdi Kanu to be released; we have suffered enough in the hands of the Nigerian Government and we are no more comfortable with it.
"We want our freedom that is why we are here. We are not comfortable with the Nigerian government, the intimidation, killing and all that; that is why we want our freedom. We feel very bad about his detention and it is affecting each and every one of us. We are not comfortable, we want to go.
"The federal government should release our Director, Dr. Nnamdi Kanu and we also want our freedom. As a nation that is due for freedom, we want to go; we are tired; the suffering is too much; it is not a crime to want our freedom; we want to go."
Another protester, Chineye Udeoba said: "We are bitter and we are giving them a strict warning and order to release him.
"We are not Nigerians, we are Biafrans. My father is seventy-two years old and he is older than Nigeria. He is a Biafrian, I am a Biafran and we all here are Biafrans. We the indigenous people of Biafra are ready to go. We want to be on our own.
"The British came and amalgamated us with these Oduduwa and Arewa people, we are not one; we were never one, we are totally different in terms of tradition; we are Biafrans. We want to be on our own as indigenous people of Biafra. We want our freedom.
Mrs. Judith Ihebiehi said Kanu was a hero who had come to save them from what they perceived as the injustice perpetuated by the federal government.
READ ALSO:  MASSOB Disowns Radio Biafra Boss
"This man is our voice, he is our mentor. We have been in darkness all these while, so this man has been speaking for us, so the Nigerian government has no right to detain him; he has done nothing.
"Have they ever asked themselves if what this man has been saying is false? Have they bothered to verify what Nnamdi Kanu has been saying? So detaining Nnamdi Kanu will bring problems; we have been calming our husbands down, we have been saying 'wait' we women will go to the government, we will talk to them and say this is what we want; we don't want problem that is why we are here.
"Our reason of coming here is to tell the Governor Ifeanyi Okowa to help us take our message to the federal government. He is not the one detaining him but we are here to tell him to take it to Abuja."
Another faction of MASSOB threatened to lead a world wide demonstration over the arrest of Kanu. The group  taggedthe arrest as cowardly and threatened to take serious action.
Source: Legit.ng