Governor Wike Dissolves 22 LGA Chairmen
Governor Nyesom Wike of Rivers state has on Thursday, October 8, sacked 22 caretaker committee chairmen out of the 23 local government areas of the state.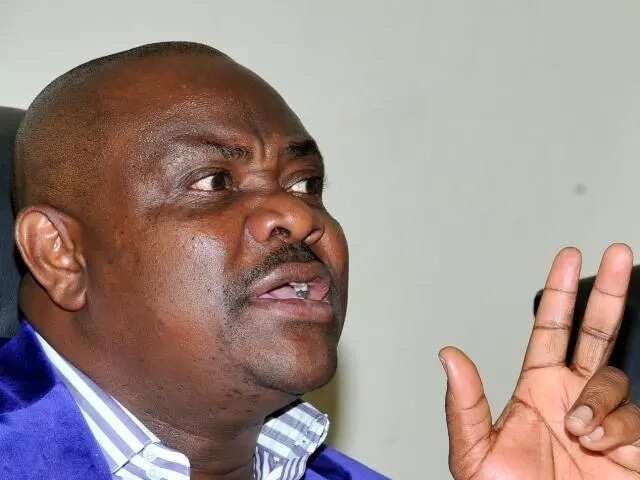 In a statement at the Rivers state government house signed by Opunabo Inko Tariah, the senior special adviser on media and publicity to the governor, Wike said: "The dissolution is with immediate effect. The twenty two caretaker committees are to handover to the various heads of local government administration."
The fired caretaker committee chairmen had spent the statutory three months allowed in office by the constitution and the state government law. The three-month tenure of the chairmen expires today.
READ ALSO: Buhari's Ministerial List: PDP Warming Up For A Showdown
[article_adwert]
He said: "The statutory three months tenure for Caretaker committees expires today."
Wike had in the night of Thursday, July 9, sworn in the 22 caretaker committee chairmen to replace the elected council executives of the All Progressives Congress who were dissolved by a federal high court ruling delivered by Justice Lambo Akanbi.
The governor said then that he had vowed to respect the rule of law when he assumed office on May 29 stressing that it was the reason why he did not dissolve the APC led councils which he said was illegally put in place by the Rotimi Amaechi-led government.
He noted that some state governors who inherited local government councils dissolved them immediately they came on board but he had to take time to allow due process to prevail.
However, it was not specified when a new caretaker committees would be constituted and sworn in to avoid any vacuum in government.
READ ALSO: 2nd Ministerial List: Buhari Weighing His Options
The 22 All Progressives Congress local government chairmen who were previously sacked by the court had taken their case to the industrial court in Yenagoa, Bayelsa state capital.
They had challenged the legality of their sack having been elected on the platform the APC.
Governor Wike also described the allegation that he was sponsoring a public protest in Abuja and Port Harcourt against the appointment of his predecessor as minister as not only spurious, but fatuous and malicious.
Source: Legit.ng