Buhari Confirms Submitting Ministerial List To Senate
Following the apprehension that trailed the long delay in the release of the ministerial list, President Muhammadu Buhari on Thursday, October 1 confirmed to Nigerians that he has submitted the first set of the ministerial nominees he would want in his cabinet to the Senate for confirmation.
[article_adwert]
READ ALSO: Find Out What Has Happened To The Ministerial List
Speaking at a broadcast in Abuja to mark Nigeria's 55th Independence Day anniversary, Buhari who said told Nigerians that the 'wait is over' said another list will be sent to the Senate at the appropriate time.
NAN reports that the president said he knew about the anxiety that had emanated following his delay in setting up his cabinet both home and abroad.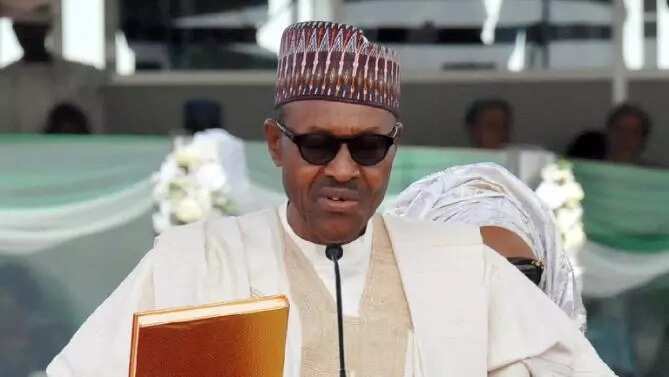 "Fellow Nigerians, there have been a lot of anxiety and impatience over the apparent delay in announcement of ministers. There is no cause to be anxious. Our government sets out to do things methodically and properly. Anyway, the wait is over. The first set of names for ministerial nominees for confirmation has been sent to the senate. Subsequent lists will be forwarded in due course. Impatience is not a virtue. Order is more vital than speed. Careful and deliberate decisions after consultations get far better results. And better results for our country is what the APC government for Change is all about," he said.
The president also used the ceremony to reassure Nigerians on his government preparedness to complete projects that would transform the lives of Nigerians.
President Buhari tasked Nigerians to clinch to the attitude of 'change' for the general wellbeing of the country.
READ ALSO: Amaechi, Onu, Others Make Ministerial List
"I would like to end my address this morning on our agenda for Change. Change does not just happen. You and I and all of us must appreciate that we all have our part to play if we want to bring CHANGE about. We must change our lawless habits, our attitude to public office and public trust. We must change our unruly behavior in schools, hospitals, market places, motor parks, on the roads, in homes and offices. To bring about change, we must change ourselves by being law-abiding citizens," he advised.
It was reported that the name of the former governor of Anambra state, Chris Ngige was added to the ministerial list at the eleventh hour after the likes of Babatunde Fashola, Rotimi Amaechi, Kayode Fayemi have already made the list. The list was submitted to the Senate on September 3o.
Source: Legit.ng