Jonathan Must Not Be Probed- Bishop Kukah
A hint of what transpired between President Muhammadu Buhari and the National Peace Committee led by the former head of state, Abdulsalami Abubakar, has been revealed by the prominent Catholic priest and social critic, Bishop Matthew Hassan Kukah.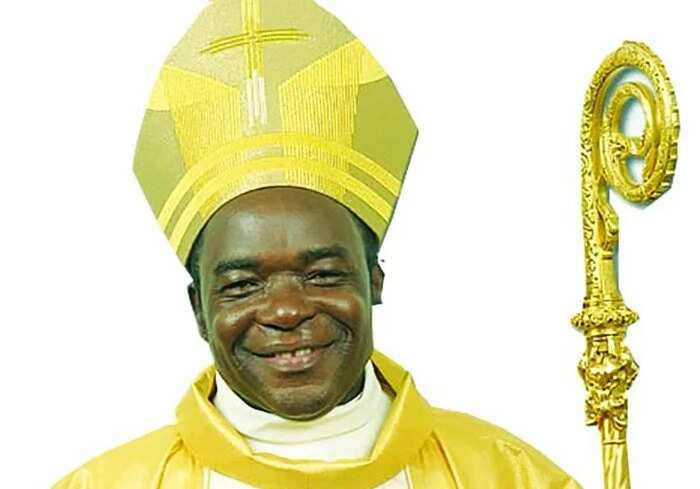 Kukah was one of the members of the committee which recently met with the president at the Aso Villa.
The bishop, who spoke during a programme monitored by our correspondent, gave reasons why the former president Goodluck Jonathan should not be investigated by his successor Buhari and the current administration in Nigeria.
He said Jonathan must be accorded respect for deciding to relinquish power after his defeat in the 2015 presidential election.
READ ALSO: Anti-Corruption War: Stop Demonizing Jonathan's Government – Reps Member To Buhari
Kukah said Jonathan made the country the first of his priorities and even kept the nation above personal interests by the "singular" decision to accept defeat, even against opposition from his party members.
He warned President Buhari to be conscious that he would one day leave power and could be subjected to the same probe that he has decided to carry out against Jonathan and his administration.
Kukah, the bishop of Sokoto Diocese, however, said that Jonathan had never met the committee or pleaded with them to stop any probe of his government, adding that he (Kukah) just felt it was time to stop the probe.
He said that unfortunately, the government was yet to commence any true government of the country and that this had resulted in an air of uncertainty across Nigeria.
"The business of governing the country belongs to politicians; our own business is just to offer moral directions and encourage the political class to get on with governance.
"APC has come into power to govern. Even the political class appreciates the fact that the world is waiting for Nigeria. Nigerians are waiting for a new nation.
"How we are going about it and the roles we all have to play need to be clearly spelt out," he said angrily.
Continuing, the bishop, who was asked various questions ranging from the country's current situation and the reasons his committee met with Buhari, added: "I don't want to say there is a feeling of anomy, but there is a feeling of uncertainty in the air and I think the government needs to develop a communication strategy to keep Nigerians busy on what would effectively change our attitudes so that a real nation can truly be born.
"People were elected and not appointed and there had been these speculation of hitting the ground running. Nature abhors a vacuum. It is in the interest of the party in power to map out how to engage Nigerians.
"We are three months down the line and I think that only a hypocrite can pretend that we are not anxious to have a sense of direction about where we are going and what exactly needs to be done.
"There's nothing new about what this nation needs to do. The laws are there, everything is there and if we don't take time, three, five years down the road, we would still be whining and complaining about basically the same thing."
Asked why he would not support the decision to probe the immediate past administration, Kukah said: "Franky, there is a limit which you go under the doctor just receiving diagnosis.
"We are going to wait till September before ministers are appointed and from what one is thinking, I'm not sure those ministers are going to come from outer space; they are going to be the same Nigerians with the same foibles. We need to see an assignment of roles.
"This is the best moment for Nigeria and people don't have all the time to wait for us. What we clearly need now is a roadmap to keep Nigerians busy.
"There is no way I or any member of the committee can be told to go and beg General Buhari for a favour in anything relating to corruption. His body language does not suggest that and only a fool can undertake that kind of a mission.
"Before we went to see the President, at 9 o'clock of the same day, we spent about an hour with (former) President Jonathan.
"And please, let us not loose sight of what has happened in this country."
Kukah said when the committee met with the PDP board, the members were told that not all of them supported the "singular" decision of Jonathan to relinquish power.
"And I think that as Nigerians, we must become sufficiently serious and realise that, that singular act is what has kept us as a nation.
"So I think that even for that singular act alone, Nigerians must be appreciative of what President Jonathan did.
"And for how this country is going to move forward, President Jonathan himself was eloquently clear in saying he was not afraid of probe.
READ ALSO: How I Escaped Death 12 Times – Obasanjo
"He wasn't saying he was not ready to be probed, but we are saying if you are going to a forest to catch monkeys, you don't go blowing a whistle or beating a drum.
"I don't think we should be pre-occupied with who is going to be probed or how this probe is going to be undertaken. There are no charges before President Jonathan or even anybody for that matter.
"It may be Jonathan today, and we don't have a case against Jonathan, but even if we do, this public lynching is not going to help anybody. Nobody knows if when Buhari steps aside, he might face the same thing.
"What we are talking about is that we are not in a military regime, we are in a democracy and somebody said that in democracy, there are no probes, but only investigations," Kukah averred.
[article_adwert]
Kukah also advised President Muhammadu Buhari not to abandon the report of the national conference.
Source: Legit.ng