Dikwa Recaptured From Boko Haram
The Nigerian military have today captured the town of Dikwa, Borno state, in a strategic mission accomplished by the army and airforce operating in tandem.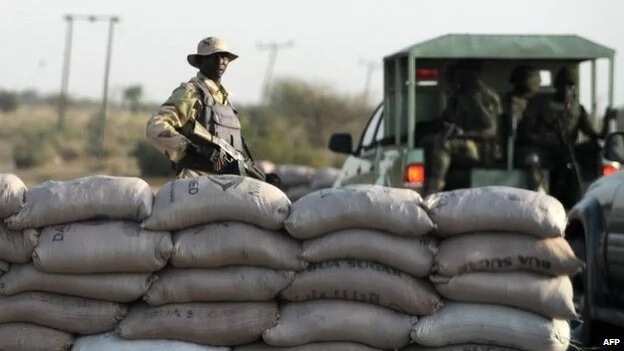 This was revealed by the spokesperson for the air force, Dele Alonge who said that the air force's alpha jet and surveillance aircraft jointly destroyed three ambush points heavily fortified with vehicle-mounted anti-aircraft guns.
READ ALSO: Nigerian Army Retires Major-Generals, Brigadier-Generals
The operation by the air force helped the ground troops to move in and clear the town without much resistance.
At present the army is carrying out cordon and search operations in the town.
The chief of air staff, Air Vice Marshal Sadique Abubakar, has already finished his tour of operational units to ascertain the state of equipment and morale of troops, especially those involved in the counter-terrorist operations against Boko Haram terrorists in north-east Nigeria.
READ ALSO: Fake Army Recruitment Ring Busted
Abubakar had revealed that the reason for his attendance was to gather information regarding the readiness of the personnel and equipment with a view to enabling the NAF to requip and re-strategise for operational efficiency and effectiveness.
The vice marshal had also visited the 64 Air Defence Group, Makurdi, the 75 Strike Group, Yola, the 97 Special Operational Group, Port-Harcourt, and the 99 Air Combat Training Group, Kainji.
Source: Legit.ng