Nigerian Army Retires 11 Generals
Some generals in the Nigerian Army Ordinance Corps in Lagos State were on Friday, July 24, pulled out of service. 
The officers were eight Major-Generals and three Brigadier-Generals who retired between 2013 and 2015. The Major-Generals are Mahmud Yerima, Abiodun Amao, Olayemi Abidoye, Boniface Azurunwa, Adekunle Martin's, Christian Ugwu, Bode Ogini and Mashudy Adekanye.
The Brigadier-Generals are Kachallah, Godfrey Nwafor and Gabriel Oladipo.
In his parting speech, Major General Mahmood Yerima, the former Chief of Training and Operations, Defence Headquarters, expressed appreciation for the gesture.
Yerima assured the Nigerian army that the retired officers would continue to keep the Nigerian flag high.
He admonished the serving military personnel to continue to be loyal and be extra-vigilant.
"Your loyalty to the Federal Republic of Nigeria can best be given through vigilance and security consciousness.
"You must continue to demonstrate total commitment to your duty to the nation just as you have exemplified in your recent successes in the fight against terrorism in the north-east.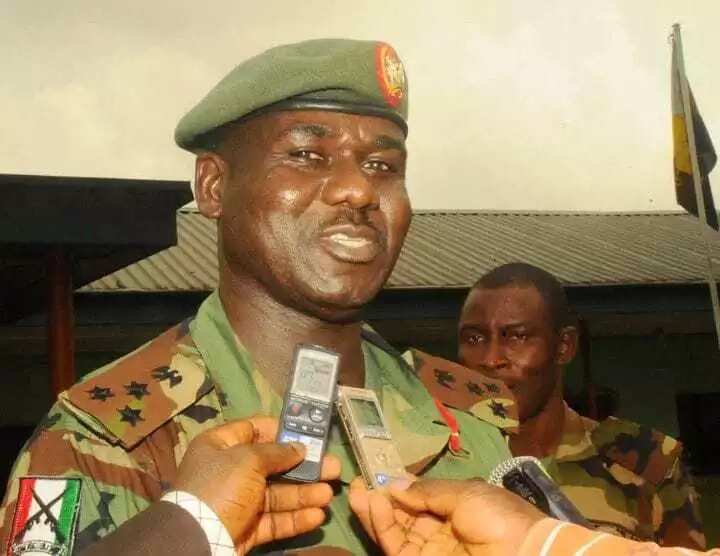 "The Nigerian people, especially the retirees, are expecting a lot from you in the face of the current insurgency.
"Your secondary role is to assist the government in ensuring internal peace and your involvement in internal security duties demand all of you to be non-partisan,'' he said.
READ ALSO: Don't Expect Miracles From Buhari's Service Chiefs – Aliyu
He expressed his belief that the Nigerian military would overcome the current security challenges facing the country.
Other retired officers also expressed their appreciation to the army and Nigerians for the opportunity to serve the country.
The Chief of Army Staff, Maj.-Gen. Tukur Buratai, who was represented at the event by the General Officer Commanding (GOC), 81 Division of the Nigerian Army, Maj.-Gen. Tamunomiebi Dibi wished the retired generals well in their post service years.
On Monday, July 13 President Buhari appointed new service chiefs after sacking the military service chiefs appointed by the Goodluck Jonathan's administration.
Source: Legit.ng