Meet Two Year Old With Guts To Kiss 15FT Snake
Not everybody love snakes, and not everyone would like to have snakes as a pet, especially not when it happens to be a 15ft python.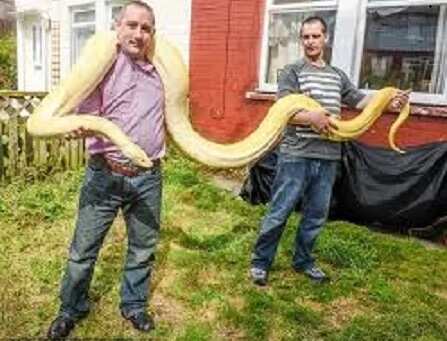 But Rob Cowan, a 35-year old , who keeps serpents, says his 2-year-old daughter Alisha-Mae, loves his 15ft Burmese python so much she even kisses it goodnight at home in Bradford, West Yorks.
The beloved serpent is said to be called 13-stone Austin by the family.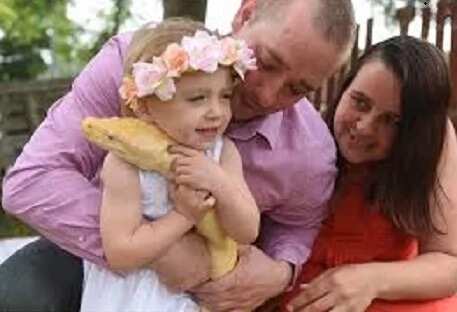 Rob who has about 19 snakes says his serpents are so much part of his family that little Alisha-Mae and 10-month-old tot Cameron love them like brothers and sisters.
READ ALSO: 14 Pilgrims Bitten By Poisonous Snakes While In Worship
Reports have it that the 35-year-old has collected snakes since his teens and his 'family' include nine reticulated pythons, three Burmese pythons, five royal pythons and even two anacondas.
It was gathered that gentle giant' Austin - a 15-foot Burmese python - enjoys nothing more than relaxing in the garden with Rob, his fiancee Stacey and Alisha-Mae.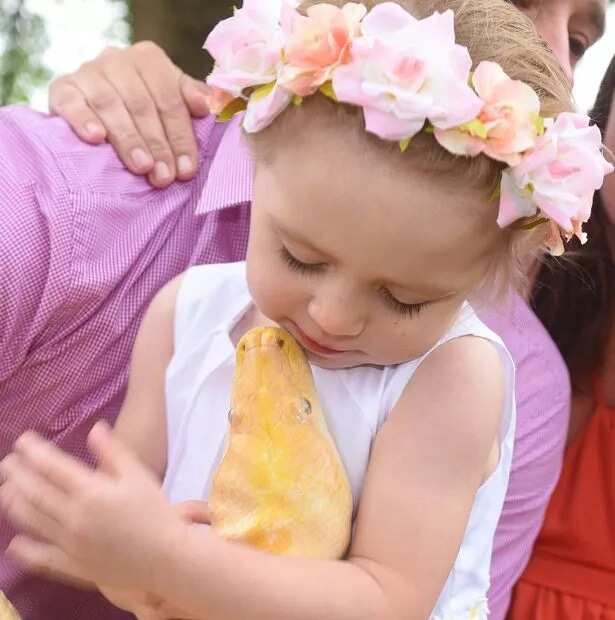 The father-of-two said he believes reptiles get a bad rap and people's lack of knowledge causes them to fear and even hurt snakes.
He said: "My snakes are part of my family, they are the most amazing creatures and make brilliant pets.
READ ALSO: Snake Found In Magistrate Chambers
"Despite you being more likely to be seriously hurt by the family dog than a snake, people are really scared of them."
"If someone were to come round to my house and be so scared of my snakes that they wouldn't go near them I'd show them how my two-year-old daughter is with them," he added.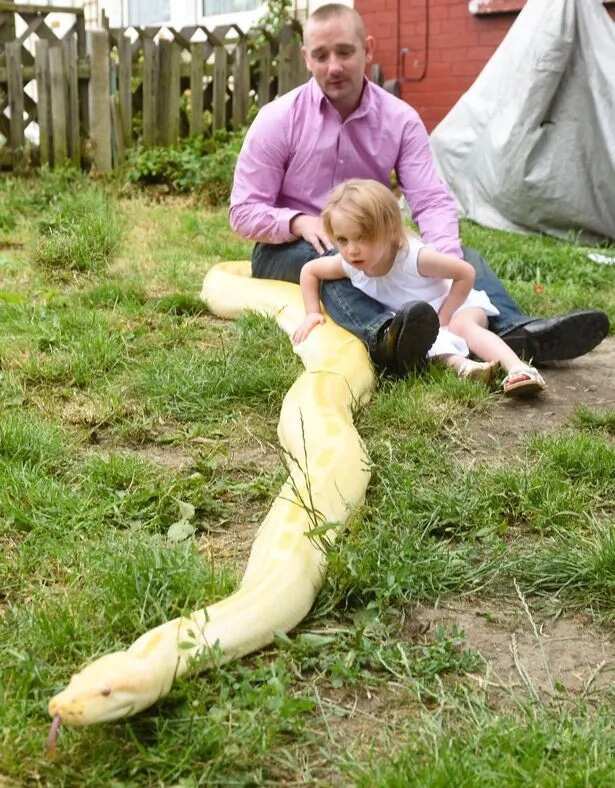 Gentle giant Austin enjoys nothing more than lounging around in the back garden or exploring the patio.
Rob gets Austin out only on his own rather than with his sibling snakes, due to his size and weight, despite him being very docile.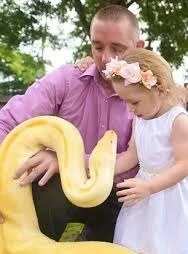 In a related development, a few hours ago, a huge snake was killed at Opebi Roundabout, Ikeja Lagos. The sight of the snake gathered a bit of attention from passers-by.
Source: Legit.ng