BVN Deadline Triggers Reactions, Long Queues
As the deadline for Bank Verification Number (BVN) exercise elapses today, June 30, 2015, customers who are yet to obtain BVNs have besieged banks in thousands to beat the deadline.
This medium found out that the last-minute rush for BVN has consequently triggered long queues in most banks across the country.
Our correspondents, who visited some banks in Lagos, found out that customers were trooping to banks as early as 7am this morning to beat the deadline.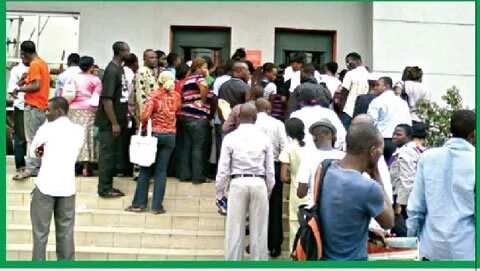 Speaking with Legit.ng, some of the customers who claimed they were not informed earlier lamented about the delay experienced due to the congestion in the banking halls.
A woman who identified herself as Aisa said she left home as early as 5am in order to get the BVN . She expressed her dismay when she got to her bank; Guarantee Trust Bank( GTB), Oba Akran branch, Lagos, at about 6;45am and met dozens of customers already on queue; waiting for the bank to resume operation for the day.
Despite leaving home early, she said she couldn't get her BVN until 8;30am due to the large number of people yearning for same service.
Emeka Ugwu, a business man, though was able to get his BVN at Zenith Bank, Allen Avenue branch, he feels the initiative is unnecessary. ''I don't know why the CBN would make this BVN thing compulsory. I have to leave my business now to do this and you can imagine the time/ money loss'' he said.
Ugwu is of the opinion that the CBN might need to extend the deadline to accommodate more customers.
While bank officials were overwhelmed by the desperate customers, BVN registrations seemed to have been the main task for all banks today.
READ ALSO: PHOTOS: Bank Customers Panic As BVN Deadline Nears
The fact that most banks planned to close early today; 2pm for mid-year evaluation makes today's task more cumbersome for bank officials.
Customers were seen scrabbling for the BVN forms as bank officials were compelled to produce more copies for the agitated customers and delegated more staff to the task.
BVN was initiated by the CBN in February, 2014. This to create unique customer identification irrespective of bank.
The benefits also include easy and fast credit check, authentic means of identification and more efficient way of fraud management.
To register, customers are obliged to present means of identification and fill enrollment forms.
READ ALSO: BVN Deadline: No Going Back - CBN
BVN officially closes today; by 2pm in most banks. CBN had initially vowed not to extend the deadline but latest report says the CBN has decided to extend the exercise till October, 2015.
READ ALSO: BREAKING: CBN Extends BVN Registration
Source: Legit.ng