Osinbajo's Younger Brother Opens Up On Family Secrets
Pastor Akin, the younger brother of Nigeria's vice president, Professor Yemi Osinbajo, in an interview granted to The Sun has dished out family secrets. 
Akin was the attorney general and commission­er for justice in Ogun state between 2003 and 2011.
In the interview he spoke about how their father brought them up on the princi­ples of integrity, about their childhood, and about the marriage of the vice president to Dolapo Awolowo's grand­daughter.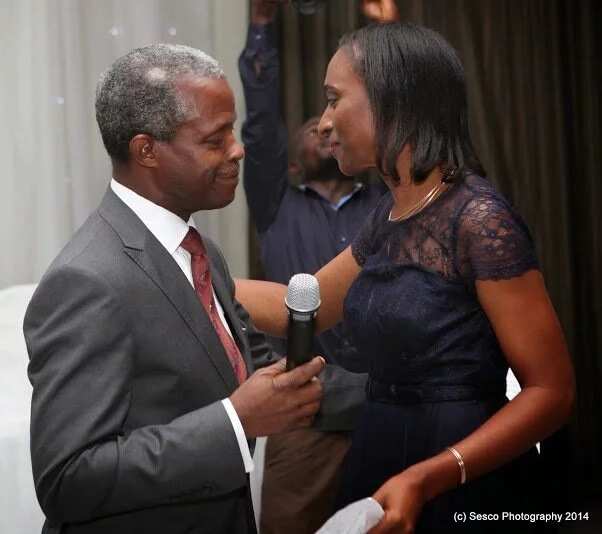 "When we were all younger, there was a time we were all worshipping in the same church in Ikenne," Akin started the touching story about how Dolapo and Yemi had met.
He continued: "And Papa Awolowo would sit in front row and my own parents would sit in the next row behind him. And one day we were all coming; you know during the Christmas we have thanksgiving.
"We the chil­dren, when it was time for thanksgiving, we were all asked to come out for thanksgiving. So, when we were coming back, because we four boys, all dressed in suit, and as teenagers we were all dancing, looked very gorgeous, and likewise the girls.
READ ALSO: Meet Wife Of Buhari's Running Mate
"Papa stood up and faced our parents and said one of the boys should marry one of his girls (that's granddaughters) And Mama said that can't happen. But Papa said in Israel cousins do marry. That was about 15 years before they actually married. By the time they were marrying Papa had passed on. When the two of them came to say they want to marry later and the family said they could not marry because they are blood relations, Mama said Awolowo said they should not stop them from marrying, that Papa had said it while he was alive that they would marry."
Akin also tells things Ni­gerians probably do not know about Nigeria's vice president since he knows him well.
He said: "Well, the Vice President, Professor Yemi Osinbajo, is somebody I know all my life. He is an extremely brilliant and gifted person. He is somebody who has great integrity, who has impacted in every area that he had served all his life. Wherever he worked he has made very great impact."
Akin described his brother as a very serious-minded person.
"We are five children, with one girl, who is the last of same father and mother. We have an elder brother. He is number two. And we have a younger brother before the girl, who is the last," he added.
"He has always been a very serious person, even when we were young. He was doing very well in school, coming home to study very well. He used to study very hard. We were very close. Even when­ever we went to a party, he would come back home and study hard and perform very well in school. He was very disciplined and could be very hard on you if you are trying to go out of line. He is a disciplinarian."
Read some excerpts below:
How did you receive the news of your brother's election?
I was dumbfounded by that singular hon­our that the party had done for him. I am grateful to God that they found him worthy for such high position. I am very grateful to God and I see it as something that God Him­self has done, because just a few hours before I heard about it, we were talking. He was in Abuja for a court case coming up the fol­lowing morning. We were talking about that case, and sharing ideas on how to handle that particular matter. He didn't even know that he was going to be called on phone, because it was some time after 2am while he was still preparing for the case that his phone rang. And he was told that he would have to come to Abuja in the morning because he has just been nominated for the post of the Vice Pres­ident. They told him they were going to send a plane to come and bring him to Abuja in the morning. They didn't know he was already in Abuja . And that is to tell you that God had already ordered his steps to the place. And that it was not something that he planned for or schemed for. It was God's arrangement. It was just by God's grace. After the election and he was declared Vice President-elect, it was like a watershed. I mean, we now discovered that this is serious o. We realised that he has been called upon, General Muhammadu Buhari and Prof Osin­bajo have been called upon to lead over 150 million Nigerians. As it were, it means they have handed over their destinies in the hands of these people for the next four years. This is very serious. This is no joke. Not something you do for fun. It is something that needs a team of serious minded people. It was the outcome of the prayers of Nigerians who re­ally wanted change. You know, people want something to happen. They really want that change. So I was very overwhelmed that someone who is very close to me was now being asked to come and take such position of honour. You see this is really incredible.
READ ALSO: Osinbajo Advises Nigerians To Prepare For Permanent Change
How did your mum feel when she heard about the news?
I am sure she must have been very elated. She is a very blessed person who has spent all her life working for God. She is very fer­vent in serving the Lord. Herself and dad are people who served the Lord in the Anglican Church. I am sure, to her this is just God's reward for her faithfulness. I know that she is very grateful to God for all that had hap­pened. And she would continue to praise God and be grateful to God. She is 82 years old now. And she is somebody who is still very agile, very active and full of praise daily.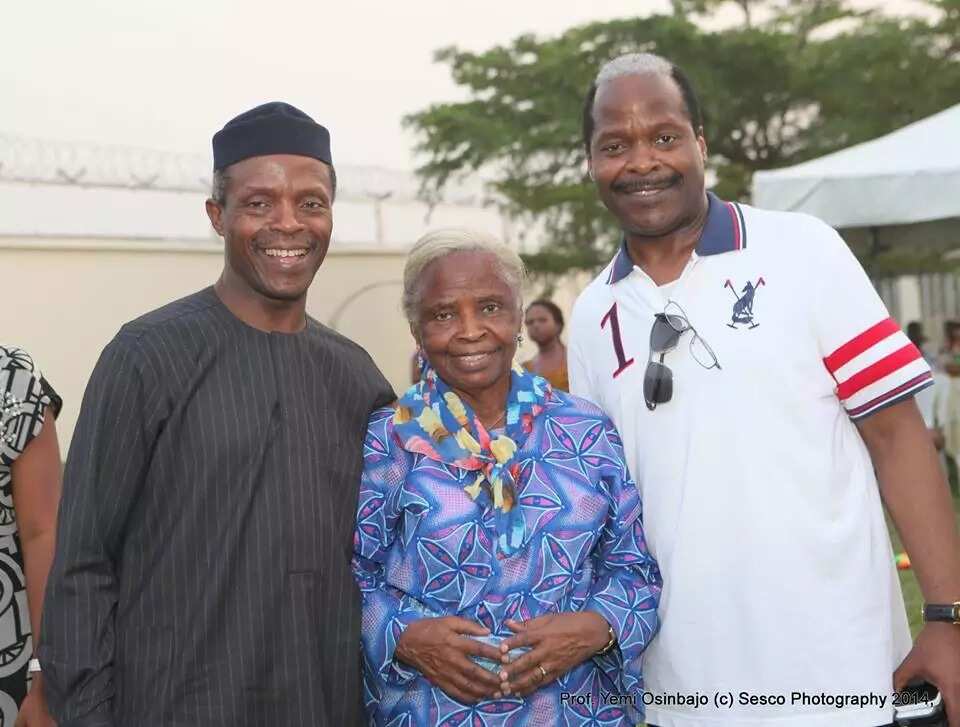 Was he the quiet type, the easy go­ing type who would always keep to himself; what was his personality traits like?
No! He was not the quiet type. He could argue from morning till night. He could argue on any topic. He was like our father when it comes to argument. My father was somebody who liked great argument. We are all used to arguing.
I guess that was the reason why both of you studied Law?
In fact, he could argue.
Can you share with us how you spent your early life, as young brothers, did you exhibit some tru­ancy or fighting each other, or some­thing like that?
We used to argue and fight a lot, you know, as brothers. But not the terrible fight, or the ones characterised with hatred. No! We love each other very much. It was those type of fight peculiar with children (laughed) You know. We were all brought up in a Christian home and trained in a Christian manner.
Was your father a polygamist?
No! Not at all. I told you earlier that my fa­ther was a very strict Christian. He had only one wife. He was a very disciplined person. A man of integrity and a very strict Christian. He could stand on his own against the whole town once he is sure that he is on the side of the truth on any matter. He won't compromise because a lot of people are saying otherwise. He was legendary on the issue of integrity.
Why did both of you study law, be­came Commissioner for Justice, be­came pastors, was it out of competi­tion or what?
I didn't want to study law . He too start­ed off not wanting to study Law. He wanted to study Medicine and I too wanted to study Medicine. But we ended up studying law and became lawyers.
Was it that you were not good in science or what?
No.! We were good in science. But we just wanted to try something else rather than what came naturally. That was why we wanted to study medicine. All the things that could make us become lawyers were things that came to us naturally. Something we had passion for. We just wanted to try something else since we were good in science. I am talking of A/ Level. If you are not good in science how would you have gone to do A/Level in Science. We did very well in science. But the thing is that when you have a calling; you see.
READ ALSO: VP Osinbajo: Doormat Or Matador?
When both of you were commission­ers for justice in Lagos and Ogun State simultaneously, how did you feel then that two sons of same par­ents were in charge of justice then?
I used to joke that God has sense of humour because it was very unprecedented. It had nev­er happened before then and has not happened since then, that you have siblings as Attorney General and Commissioners for Justice in two states simultaneously. It was different politi­cal parties, you know. It was totally unprece­dented. But then we thank God because it was total grace of God. Not something anybody planned and strategized that it must happen that way. So we give God all the glory.
What do you have to say on this issue of Ogun State producing Pres­ident, Vice President, Head of State, each time such position came to South West?
It must be that God is from Ogun State (laughed). This is because you can see that God is like a little bit biased towards Ogun State. It means God lives in Ogun State (laughed) That is why Ogun State is so famous in Nigeria.
Has your brother ever talked of having a dream of holding leader­ship positions or becoming what he is today when he was young?
Oh yes! During the visit to Mama HID Awolowo at Ikenne, she reminded my mother and His Excellency that when he (Yemi Osin­bajo) was less than six years old and came to Ikenne with my mum and dad to visit Papa Awolowo then, when Papa was the Premier of the Western region, he (Yemi) told Papa to hurry up and vacate the seat because he is already preparing to become Prime Minis­ter. Mama HID said that day; Papa stood up, laughed and called everybody around that they should come and hear what this young boy is saying, he should hurry up to become whatever he wants to be, because he is already getting set to become prime minister.
That was a strong prophetic state­ment?
Yes. Very prophetic indeed.
Some people are saying can he han­dle the nation's economy effectively to really help the President in reviv­ing the dwindling economy?
Of course. You have heard him speak of recent. I am sure by now, Nigerians who are credible and discerning would know that the Vice President we have now is an all rounder. He is somebody who is extremely intelligent. He is extremely learned. And therefore, I have no doubt that he is capable of handling the economy as the vice president, in accordance to the statutory roles apportioned to him. He was once the Attorney General of Lagos State and he did very well for eight years. If the government policy has not been favourable the economy would not work. You heard him when he was challenging the existing eco­nomic theory and saying that it has to be ap­plied effectively to take care of the common men. As a brilliant lawyer, I want you to know that economic policy can not be applied effec­tively without proper laws that guide its opera­tions and make the environment conducive for its implementation. If you have good econom­ic policy but there is no justice, no good laws regulating taxation and all areas of human en­deavours, and corruption is not reduced and there are a lot of impunity through weak judi­cial system the economy won't work. He is a man who is capable of making our laws work more effectively, and take care of corrupt practices that make our economy suffer. That is why I am for Buhari that he has somebody like him. He is a loyal man, who is reliable and would never be involved in shady deals.
When he received the call to be the Vice Presidential candidate did he discuss it with the family members, and if yes, what was the reaction of the family?
He told his wife, myself, our mother and others. We all know him and so encouraged him to go for it. We know he is a man of integ­rity. We know he can't disappoint us and the nation. We prayed that God will help him and the presidential candidate, General Muham­madu Buhari.
Looking at the way politics is al­ways being played in this country do you have any reservation or fear?
Let me tell you clearly, I have no fear at all. Instead I believe he is going to make a lot of positive impacts. He will rise above the dirty politics in Nigeria. He is going to bring a lot of decency into politics He is somebody who is strong willed. He is somebody that is reliable. He is the kind that Nigerians have not seen for a very long time. You will see the difference. His combination with Buhari is very good for this country. With President Buhari and him as Vice President Nigerians are going to see a lot of impact. We are all going to see serious changes if we cooperate with them. He will never be found wanting by the grace of God.
When he received the call to become Vice President did he consult the family, and what was the reaction of your family members?
He told his wife, myself and others. He also called his spiritual father, Pastor Adeboye for prayers and his blessings. He told our moth­er and other brothers and we all wished him the very best. There was no hesitation at all because we know the stuff both of them are made of. I mean Buhari and him.
What advice did Pastor Adeboye give him and what was his attitude towards it when he told him about the offer?
I wasn't there when he told Pastor Adeboye. But from what I heard. He said Pastor Ade­boye encouraged him to take the offer because we need to have people who have character and pedigree in high places in Nigeria and as­sured him of his support. That was what he said. I was not there.
How did your late dad bring you up? Was it a kind of flogging and beating or how did he instill disci­pline in you?
Our father was a teacher and an Engineer.
He was a Civil engineer. He was trained in the United Kingdom. My father was the first automated saw-miller in Nigeria. He introduced automated saw-milling into Ni­geria. He brought it from the UK with late Mr. Herbert in the late 1950s.
READ ALSO: Aisha Buhari, Dolapo Osinbajo, Toyin Saraki And Amaechi Dine In Aso Rock
They brought automatic saw-milling to Nigeria. Before they came they used to saw log by digging pit. Somebody would be down and another person on top, using the big saw to cut the log. But he brought automation into the trade. So, he was the first automatic saw-miller in Nige­ria. He was a big timber merchant who settled in Mar­ket Street, Ebute-Metta, Lagos. That was where his office was.
Before then, he was a teacher. He taught many students Mathematics and Physics. I think in Eko Boys High or so. Many of his past students once came to us and spoke about his integrity and the way he taught them to be men of good character and uphold integrity. We came from a family where integrity is valued and celebrated. My fa­ther was the type that would always stand by the truth, even if the whole town is going the other way. He would maintain his stand.
That means he must be a graduate?
Of course, yes. I said he was an engineer. He had BSc in Engineering. He was a very brilliant man too. He was Engr. Opeolu Osinbajo.
Can you shed light on how he trained you?
Yaeh! He really used cane to beat us. He would occa­sionally use his slippers to beat you on your hand, on your palms. If you do anything wrong he would allow you to express yourself and defend yourself. If after you present­ed your case, you were guilty you will be punished for it. He was very just. He would give you fair hearing. I think that is the reason we all love justice and studied Law. He would allow you to present your case and argue it out on why you should not be punished for what you are accused of.
Apart from you and the Vice President, is there any other member of your siblings who studied Law?
My younger sister, Mrs. Okulaja also read Law. And our elder brother read Politics and Economics at the Univer­sity of Ife (now Obafemi Awolowo University, Ife), Osun State.
Source: Legit.ng