Three Nigerians, a Foreigner Who Turned Complex Society Problems Into Millions of Naira
- Nigeria is a country filled with problems hindering development, these problems have been turned into revenue opportunities
- Companies like Appzone, Flutterwave, Cars45 and Kwik Delivery were created due to the challenges experienced in the country
- The individuals behind these companies are Iyinoluwa Aboyeji, Romain Poirot-Lellig, Etop Ikpe, Obi Emetarom
PAY ATTENTION: Join a community of CEOs, founders, and decision-makers: subscribe for a free monthly business newsletter Digital Talks and succeed BIG!
In terms of development, Nigeria is years behind western countries. This gap consists of problems many entrepreneurs, both local and foreign, have turned into revenue opportunities as they proffer solutions that contribute to the development of the country.
Entrepreneurs are deploying technologies to solve these problems - and with these great challenges comes enormous capital investment that has made millionaires out of individuals bold enough to take on these problems head-on.
Legit.ng gathered that entrepreneurs like Iyinoluwa Aboyeji, Etop Ikpe, Obi Emetarom and Romain Poirot-Lellig have used the difficulty of operating in Nigeria's business environment to secure about $700 million within six years.
Entrepreneurs using Nigeria's challenges to make a million-dollar venture
Appzone
When Nigerian banks were still stuck in only brick and mortar services, demanding paper works from customers who had to visit branches for banking services, Emeka Emetarom, Obi Emetarom and Wale Onawunmi saw a problem that needed Solving.
The three created Appzone in 2008 to take banking services online. The tech startup provided technology software that enabled customers to access financial services digitally without visiting banking hall and created the world's first blockchain network for interbank transactional processing.
These innovations by the Ematarom brothers and Onawunmi has attracted $15 million from several foreign Venture Capitalists. Appzone has provided fintech software to over 500 plus financial institutions.
In an interview with Obi, he told Legit.ng that:
"Not to say that there are no challenges with say infrastructure and particularly expertise, however from an entrepreneur's point of view, the potential benefits from the opportunities within the environment will always far outweigh the down sides associated with the challenges."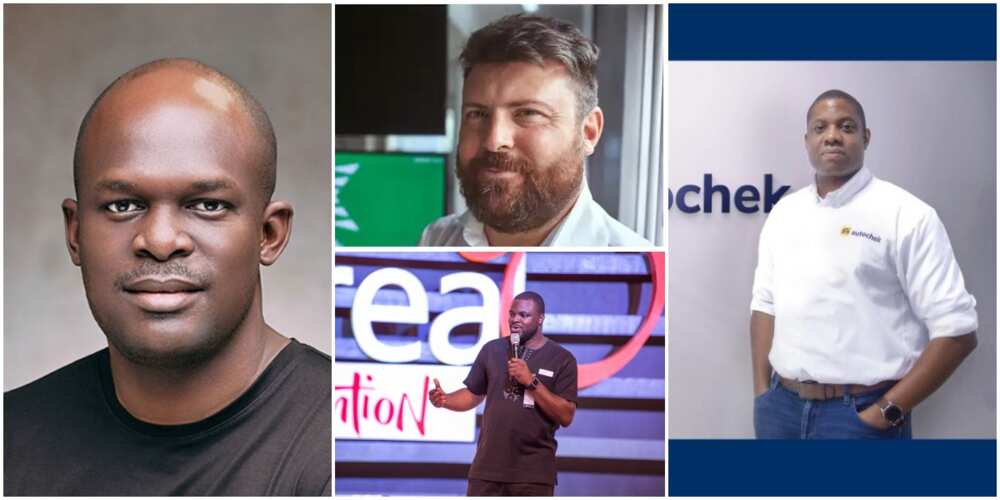 Flutterwave
Founded by Iyinoluwa Aboyeji and Olugbenga Agboola in 2016, Flutterwave was created to solve payment problem between businesses, merchants and their customers at a time people had to visit the bank to make payments.
This culture delayed transactions between businesses and their clients. To hasten transactions, the firm provided payment solutions that are now being used in thirteen African countries, as well as the United States.
In the process of solving payment problems of businesses, Aboyeji and Agboola have secured $234.7 million from investors since their establishment, and couple with their financial growth, this has made Flutterwave a billion-dollar company.
Aboyeji had told Legit.ng that:
"So the whole idea is if you could make it easier fr people to transact without being present, which is what cash is, how much of the economy will that be?"
Cars45
While he has left the company to create another, Etop Ikpe, created this online marketplace for car sellers and buyers to bridge the gap between them over four years ago.
Ikpe changed the culture of Nigerians having to visit offices of automobile car sellers by bringing the cars online and enabling customers to make purchases or pre-order conveniently from any location.
Before his exit, Ikpe's company received million dollar capital infusion from Frontier Car Group, which is backed by a $400 million investment from majority investor, OLX.
Speaking to Legit.ng regarding the company's growth, the Chief Executive Officer of Cars45, Soumobroto Ganguly, said the auto marketplace continues to experience growth in its margin as it responds to the car needs and problems of Nigerians.
Kwik Delivery
Nigerians were not the only ones that saw revenue opportunities in the lack of development in the country. Foreigners like Romain Poirot-Lellig saw the delay in the delivery of products in Nigeria's commerce business.
While there were big trucks delivering products nationwide, community or intra-state delivery service was missing, thereby increasing the wait time of customers, which often causes disagreements.
While payment has been made faster by Flutterwave, merchant delivery was slow. Poirot-Lellig decided to set up Kwik to help merchants hasten their delivery of goods by utilising various intra-state logistic firm on its platform - his initiative attracted $2.2 million from investors
Weighing up Nigeria's logistics market, Poirot-Lellig said:
"Logistics anywhere in the world is a volume business. But the value of last-mile is phenomenal for any large international player that wants to enter the Nigerian market, the largest and most diverse market in Africa, set to double in size in the next 20 years."
Meanwhile, Legit.ng had previously reported that Lagosians face various exploitative agents while seeking apartments they could rent. House caretaker and agents are taking advantage of rising interest to live in Lagos.
Some of the residents shared various ways they were financially exploited by agents, with one of the house seeker losing over N100,000 to his house caretaker who increased his house rent without the landlord's approval.
Also, some agents collected money from several residents for one apartment. These agents were nowhere to be found following the discovery by the prospective tenants.
Source: Legit.ng