Digital Talks: Legit.ng Hosts Webinar for Entrepreneurs on How to Make Small Businesses Successful
Running a successful business in Nigeria is no walk in the park; it requires a gamut of strategic planning/ actions.
In a media report, Ugochukwu Chris-Aladum, a Branch Manager with Stanbic IBTC Plc, stated that about 80% of Small and Medium Enterprises (SMEs) in Nigeria fail within the first five years of their existence.
PAY ATTENTION: Join the exclusive community for MDs, CEOs, CMOs, Marketers, Managers and decision-makers!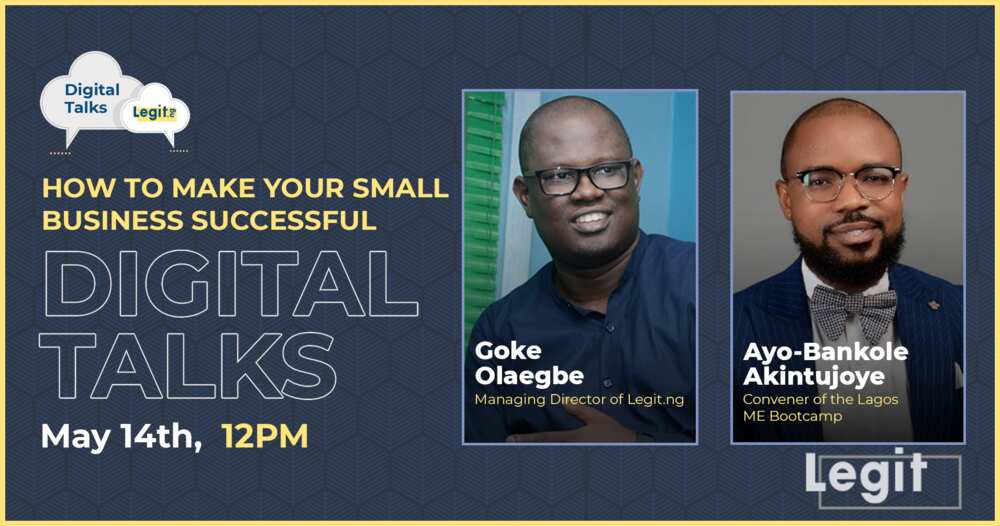 How do you ensure your own business does not crash and burn and end up being one of those listed in the failure statistics?
What are the tips and tricks you need to know as small business owners to operate successfully in Nigeria?
These and many other strategic questions are what Legit.ng, Nigeria's #1 news and entertainment website, will be addressing in its next edition of Digital Talks which will hold on Friday, May 14.
Digital Talks, a new project aimed at connecting business professionals in the country, includes a webinar series which is hosted by Legit.ng's Managing Director, Goke Olaegbe.
Mr. Olaegbe is an experienced Chief Marketing Officer with a demonstrated history of working in the digital media, information technology, banking, and services industry.
He is skilled in Marketing & Business Development, Marketing Communications and Digital Strategy among others.
In the forthcoming edition, meet Ayo-Bankole Akintujoye, a 34-year old Strategy & Transformation professional with over a decade experience that covers leadership roles as the Head of Strategy Groups in the financial markets, insurance, and oil & gas industries.
Mr. Akintujoye, the guest speaker, is a Strategy Consultant who has led many strategy projects across sub-Saharan Africa, working for KPMG, PwC, Phillips Consulting, and C2G Consulting.
He has provided strategy advice to over 120 companies with revenues in excess of $6 billion, governments and multilateral institutions, with transactions value of over $120 million.
His consulting experience cuts across strategy & execution, change management, process improvement, due diligence, merger & acquisition, etc.
Mr. Akintujoye is also an entrepreneur, an advocate for good governance and the growth of MSMEs as the key to unlocking Africa's development. He is the Convener of the Lagos SME Bootcamp, a platform he founded to help enhance the business management skills of SMEs to reduce their risks of failure and contribute to the achievement of Sustainable Development Goal 8.
This event is part of Legit.ng's efforts to give back to our community of readers with the aim not to only inform and entertain but to also educate and share with them important knowledge to successfully navigate the nation's business ecosystem.
Why do I need to watch?
- To join the exclusive group of decision-makers at Digital Talks
- To learn important business tips you need as small business owners to operate successfully in Nigeria
- To interact directly with the strategy expert, Ayo-Bankole Akintujoye
The Live interview will take place on Facebook on Friday, May 14 at 12pm.
How do I participate?
The webinar is free. All you need is to click on this link to register and this link for the Facebook event.
Source: Legit.ng