Insecurity: Serious Fireworks as PDP Drops Bombshell on Buhari, Tinubu, APC, Shares Video
- The terrible security situation of Nigeria has forced the PDP to speak again on the perceived position of the APC and President Buhari
- In its opinion, the PDP on Wednesday, April 28, said the ruling party and the federal government have failed the masses
- The opposition also slammed Senator Remi Tinubu for allegedly berating Smart Adeyemi who spoke truth to power at the floor of the Senate on Tuesday, April 27
PAY ATTENTION: Join Legit.ng Telegram channel! Never miss important updates!
The Peoples Democratic Party (PDP) has gone fiery over the unthinkable and worsening security situation bedevilling most parts of Nigeria.
First, Nigeria's foremost opposition party is calling on President Muhammadu Buhari to drop the long silence and do the needful to stem the tide of deadly attacks by bandits and terrorists.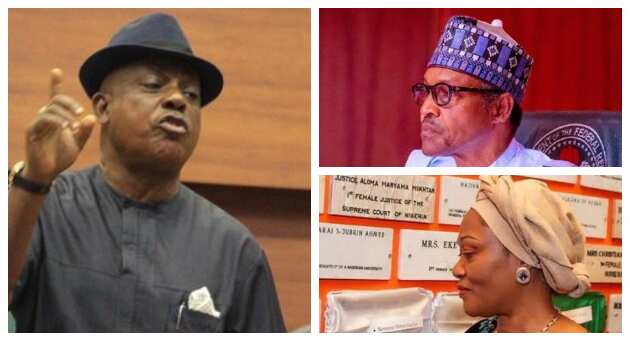 The PDP in a statement shared on its Twitter page said while the nation is under fire, the Nigerian leader is expected not to reside in the safety of the Presidential Villa, but to act fast.
The party went on to state that it is shameful that the All Progressives Congress (APC) is unconcerned when insurgents hold sway over many parts of the northern region, having hoisted their flags in Shiroro, Niger state, a distance of not more than 200 kilometres from the Federal Capital Territory (FCT), Abuja, Nigeria's seat of power.
It drew attention to a recent drama that unfolded at the Senate when an APC senator, Smart Adeyemi, opened up on the worsening security situation and asked tough questions but was reportedly slammed by a female colleague, Remi Tinubu, for his openness.
Concerning this, the PDP said:
"From the comment of Senator Tinubu, it is instructive to note that the @OfficialAPCNg and their leaders had turned their backs on Nigerians and that it is only the senators, members, and other leaders elected on the platform of the @OfficialPDPNig that are concerned about the plight of citizens at this critical time.
"Our party urges Nigerians not to resign to fear and despondency but brace up and work together as a people in the defence of our nation as the @MBuhari presidency and the @OfficialAPCNg have shown that they are not committed to the security and wellbeing of our nation."
Meanwhile, Senator Clifford Ordia of the PDP called on the government to overhaul Nigeria's security architecture, warning that no one was safe anymore in the country.
Ordia said this after an armed gang attacked his convoy while he was returning from Edo to Abuja on Monday, April 26.
According to him, the gunmen opened fire on his convoy along the Okene-Lokoja road in Kogi, injuring three of his security aides.
Source: Legit.ng