Coca-Cola, Pepsi, Other Soft Drinks Increase Price amid Bigi's Distribution cut
- Amid inflation and declining purchasing power among consumers, Nigerian soft drink manufacturers have increased prices
- Pepsi, Coca-Cola, Sprite prices have gone up again for the first time since 2016 when Nigeria was in recession
- While inflation has contributed to the high price, retailers said the shortage in Bigi's distribution caused the price hike
PAY ATTENTION: Join a community of CEOs, founders and decision-makers: subscribe for a free monthly business newsletter Digital Talks and succeed BIG! 
Beverage companies are beginning to increase their product price in the Nigerian market in response to rising inflation within the country. Since the disruption in global trade by COVID-19 in 2020, companies have been pushing cost burden on their customers.
They have been seeking ways to recover revenue lost to the pandemic between the second quarter and fourth quarter of last year. Their most effective strategy is increasing the price of their product while also reducing the quality.
This isn't a new tactic employed by food and beverage companies in Nigeria, especially among soft drink brands - it is the first and final resort employed during a financial crisis, economic depression, or rising inflation rate.
During these periods, consumers are often held at ransom, with the consumer market holding buyers at the jugular, squeezing as much naira from the customers amid falling purchasing power.
In 2016, household brands, Coca-Cola and Pepsi, had employed this strategy to force customers to pay more for less quantity and reduced quality. Both brands increased PET bottle prices to N120 and N150 respectively during the recession.
This strategy eventually became their undoing as it paved way for Rite Food's Bigi drinks and Big Cola, both of which sold their PET bottle at a reduced price of N100. Their brand received huge acceptance among Nigerians who were dissatisfied with Coca-Cola and Pepsi's monopoly.
The entrance of Bigi and Big Cola drastically cut the market share of Coca-Cola and Pepsi, forcing both companies to return to the old price of N100, with the latter threatening to obliterate Bigi for daring to change the status quo - the Nigerian Senate had to intervene in the market rivalry.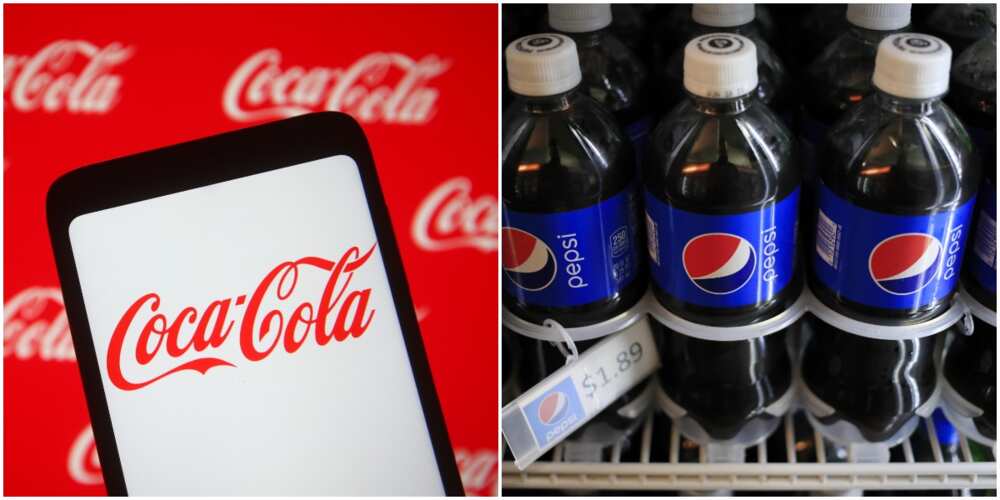 As Nigeria struggle with rising inflation after exiting another recession of Q3 2020, the product price of Pepsi and Coca-Cola have again been increased. In market research, it was discovered that the companies are taking advantage of a low distribution from Rite Food.
According to some retailers, Rite Food has not been distributing Bigi drinks as usual, so Pepsi and Coca-Cola are cashing in on the low distribution by raising their price.
It was learnt that the reduction in Bigi's distribution has been on for more than one month, causing a drop in the availability of Bigi products in the market. According to the retailers, once Bigi starts distributing its products, as usual, the price of Pepsi and Coca-Cola will crash.
Meanwhile, Legit.ng had previously reported that the Chief Executive Officer of Cars45, Soumobroto Ganguly, explained why Innoson is struggling against foreign brands which have saturated the Nigerian market.
Ganguly said the Nigerian auto manufacturer needs the support of the government in patronage and import of materials for production. He said the Nigerian government's patronage of Innoson will increase volume sales.
He also stated that stereotype is affecting the company among prospective customers, who prefer foreign brands to local brands in Nigeria.the economic
Source: Legit.ng