CEO, Soumobroto Ganguly, Revealed Why Cars45 Lost 10 Senior Executives to Etop Ikpe's Autochek
- Chief Executive Officer of Cars45, Soumobroto Ganguly, has reacted to the poaching of senior executives by Autochek
- The senior staff left the company following the exit of the founder and former ceo, Etop Ikpe who established another company
- Ganguly also addressed the decision by Ikpe to set up Autochek, a competing company in the same market with Cars45
PAY ATTENTION: Join a community of CEOs, founders and decision-makers: subscribe for a free monthly business newsletter Digital Talks and succeed BIG!
The former chief executive officer of Cars45, Etop Ikpe, shocked the digital auto market when he set up a competiting firm, Autochek, shortly after leaving Cars45. The decision birthed speculations of a bad blood between Ikpe and the former company he founded.
Questions were raised, one of which was possible fallout between the investors and Ikpe. Another speculation was, did the company force out the founder as he launched Autochek two months after leaving in July 2020.
Senior executives Cars45 lost to Autochek
A month after his exit, 11 senior executives left Cars45 unceremoniously, with the company posting their images and warning the public that the executives are no longer authorised to deal in the name of Cars45.
"They are not authorised to represent the company in any matter whatsoever. Anyone dealing with them on behalf of Cars45 is doing so at his own responsibility." the company posted on its Instagram page.
Findings by Legit.ng showed that the senior executives all joined Ikpe at Autochek:
Chetan Seth (Director of Technology - CTO) left for Autochek, Mayokun Fadeyibi (VP Commercial), Egwu John (VP Operations), Timi Ologunoye (Director Corporate Services - COO), Olajide Ademolakun (CFO) also joined Ikpe's new company.
Iyamu Muhammad (VP, New Markets) joined Ikpe to establish Autochek, Ayodeji Olabisi (Regional Operations Manager - Head of Retail Operations), Mandela Oniemole (Manager - VP, Business Compliance & Government Relations).
Kunle Martin's (Area Manager - Retail Operations), Aisha Hussaini (Executive Assistant to CEO - Marketing Operations Associate).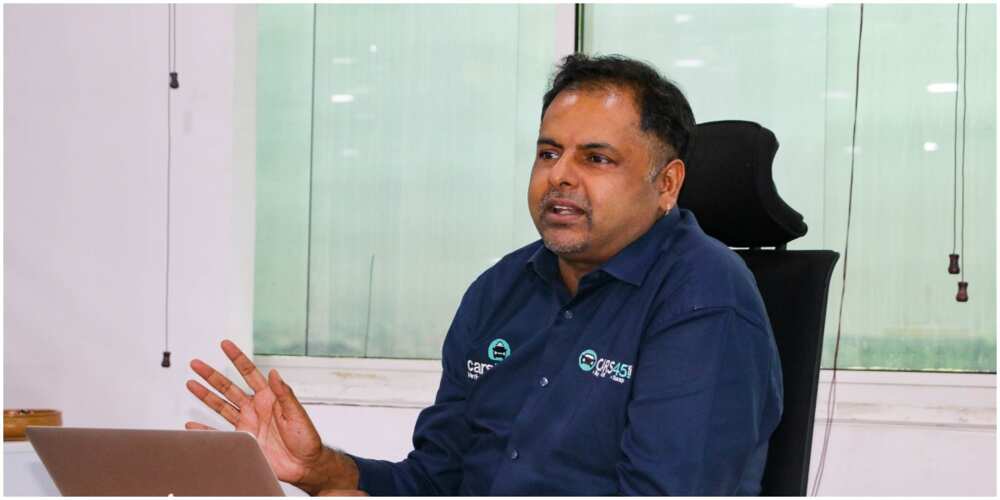 Competitors are needed to grow the market
The current CEO of Cars45, Soumobroto Ganguly, spoke to Legit.ng about Ikpe's decision to set up a rival two months after exiting the company he founded. With questions raised over the relationship with the former CEO, Ganguly stated that there's no bad blood.
He said there's need for more companies like Cars45 to enter the digital auto space in order to adjust the size of the market. Ganguly said it has been a burden being the only company meeting market demands:
"I think we need companies that are similar to cars 45, we need like just 12 of them to adjust the size of market; for us to do it alone has been a burden and we're trying to change the choosing behaviour, purchasing behaviour all on our own."
In his response to the exodus of senior executives at Cars45 to Autochek, the CEO said the multiple exit was caused by change in company operation:
"You know as I said since our parent company became OLX autos the nature of the company became a start up small entrepreneur company and people have their views of working in such companies.
"So when that changed alot of people left the company and they probably want to embark on an entrepreneurial journey. So those are the people that left and we still have over three hundred people interested in working with us." Ganguly said.
Meanwhile, Legit.ng had previously reported that the Egypt government is demanding for $900 million from the owner of the Ever Given ship that got stuck in Suez Canal and cost the country millions of dollars per day.
The ship had blocked the pathway on the sea, disrupting movement of about 400 ships which got stranded for about six days. For each day, Egypt lost between $12 million and $15 million in March.
Negotiations are ongoing between the government and Shoei Kisen, the company that owns the ship. According to insurer, Aliianz, the downtime caused by the seize leads to $6 billion to $10 billion losses each day.
Source: Legit.ng