Becoming Africa's richest: 4 businesses Owned by Aliko Dangote, How He Started them with Loan
Aliko Dangote is a brand that transcends the shores of the continent of Africa. Many understand that the billionaire businessman and philanthropist is the richest person in Africa, but not everyone is aware of how the Nigerian man made his money.
Pay attention: Join a community of CEOs, founders and decision-makers: subscribe for a free monthly business newsletter Digital Talks and succeed BIG
On the basis of the foregoing, Legit.ng highlights Dangote's four businesses and how the wealthiest person in Africa started his empire with a loan from his uncle.
Life in Kano
Aliko Dangote's grandfather, Sanusi Dantata, became his guardian after he lost his father in 1965. He learnt so much from this guardian angel as he grew up.
Dangote's interest in business dates back to his childhood when he would buy cartons of sweets and start selling them just to make money.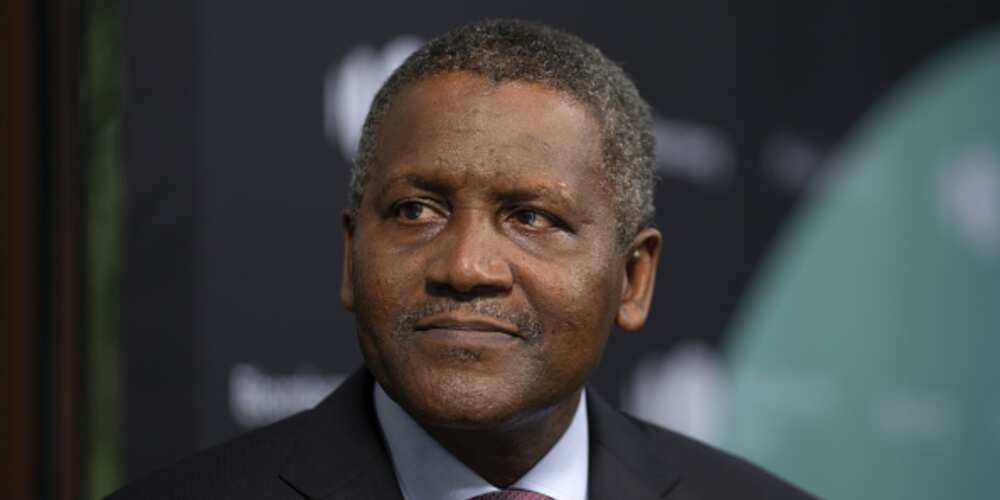 Took a loan from his uncle to build his empire
After graduating from tertiary institution in 1977, Dangote took a loan of $3,000 (N1,143,000 as per the current rate) from his uncle to start a business, Investopedia reports.
He was importing rice from Thailand and sugar from Brazil which he sold in small quantities to consumers in his village.
According to the businessman, on his best days, he was realising a daily net profit of $10,000 (N3,810,000 as per the current rate). That allowed him to repay his uncle in only three months.
The billionaire was able to turn his business into a multi-billion dollar empire when he stopped importation and started producing what he was importing.
Dangote stopped importation in 1997 and built a plant to produce what he had been importing and selling for the previous 20 years: pasta, sugar, salt, and flour.
His wealth has afforded him the opportunity to impact lives as he is one of the largest employers in Africa.
According to Wikipedia, Dangote Group has 30,000 employees.
His four businesses
His manufacturing divisions include:
1. Dangote Sugar Refinery PLC
This company was founded in 1999. It's sugar refining facility in Apapa is the largest in Sub-Saharan Africa, with 1.44MT per annum installed capacity.
2. National Salt Company of Nigeria PLC.
Founded in 1973 as a salt refining establishment, the company has since evolved with additional business lines to include vegetable oil, tomato paste and seasoning.
3. Dangote Flour Mills PLC.
Dangote Flour Mills Plc is involved in the milling of wheat and production of wheat products. It was founded in 2006.
4. Dangote Cements PLC.
Founded in May 1981, Dangote Cements PLC is into production of cement, and the company operates in ten African countries.
Legit.ng previously reported that Dangote topped the list of 7 richest people in Africa.
Dangote is the richest person in Africa with a net worth of $12.1 billion (N4,608,527,000,000). He founded the largest cement producer in Africa called Dangote Cement.
The business mogul has a refinery that has been under construction since 2016 and is expected to be one of the world's largest oil refineries once completed.
Source: Legit.ng