Can Burger King Survive Nigerian Market As Former Domino's Nigeria Handler Takeover Franchise
- Burger King plans to start operation in Nigeria soon, competing against Domino's Pizza
- The American company will operate in Nigeria through a franchise managed by Allied & Wow
- This is not the first time Burger King announced it will start operation in Nigeria, but failed to do so
PAY ATTENTION: Legit.ng is on a mission to support vulnerable children of Calabar – join the initiative
Antoine Zammarieh, the former chief operating officer of Eat'n'Go, the franchise company managing Domino's operation in Nigeria, has announced plans to bring the hamburger quick-service outlet into the local market.
This isn't the first time Burger King made such a move for the Nigerian market. Daniel Schwartz, chief executive of Restaurant Brands International, the parent company of Burger King, made a similar statement three years ago, but the company failed to show up.
Zammarieh said Burger King will start operation in Nigeria soon after a development agreement was signed with the United States fast-food giant. In his announcement on the entry of the hamburger giant, Zammarieh said:
"It is with great pleasure that we announce our signing of a development agreement with Burger King for the Nigerian market.
"I believe this would be a tremendous step towards giving more confidence into the Nigerian market and consumers in general, specially during these hard times.
"I always believed in Nigeria and in its people. I am confident this venture will go a long way and prove successful for Burger King, Nigeria and our company."
PAY ATTENTION: Legit.ng is on a mission to support vulnerable children of Calabar – join the initiative
Can Burger King survive the current Nigerian market?
Several foreign QSR has been operational within the country for years, but only Burger King had distanced its service from Nigeria. The American food outlets have about 17,000 restaurants, with none in Nigeria.
Kentucky Fried Chicken, Domino's Pizza, Debonair Pizza, and few other international on-the-go outlets have become household brands in Africa's largest economy despite the hostile business environment.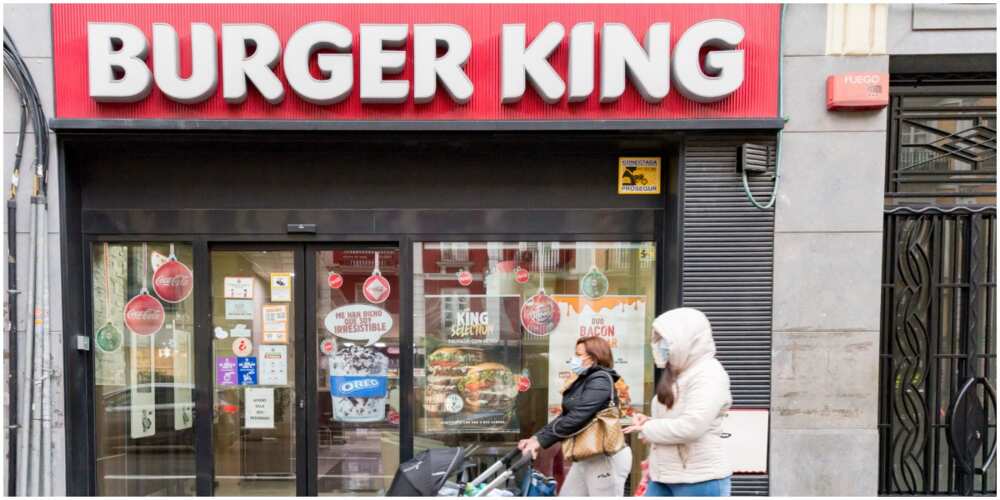 Their growth within the years seems to have woken Burger King to the revenue opportunities it is losing in Nigeria. As of 2015, quick service outlets is said to worth over one trillion naira according to the Association of Fast Food and Confectioners of Nigerian.
Aside from local brands, most foreign fast-foods are operated through franchises, limiting the level of their risk exposure. That's how Burger King will come into the Nigerian market. Allied & Wow, where Zammarieh act as the group managing director, will be the franchisee.
But this isn't the first time Burger King will announce its readiness to compete in Nigeria's business environment. It had disclosed in 2018 that it will start operation in Nigeria, but three years after, the company is yet to have an outlet.
It is not known if Burger King chickens out or just considered the time wasn't right in the last two years. The economic situation was better then than it is now in Nigeria. Today, inflation is at its highest of 16.47%, cost of living has doubled due to food inflation and transportation cost.
Nigeria's economy just exited recession, and it is weaker than the 2018 economy. These factors have weighed negatively on the purchasing power of Nigerians. The current economic situation will most likely force Burger King to situate in highbrow location - if the hamburger eventually starts operation in Nigeria - ignoring low-income communities.
Zammarieh's experience might come in handy as he played a crucial role in Domino's Pizza for four years. So if Burger King dares to compete in the Nigerian market, Eat'n'go former COO's knowledge will be its secret weapon.
Fakoyejo Olalekan is a Business and Financial Journalist with over three years of experience in covering finance and business activities within Nigeria and offshore. Prior to joining Legit.ng, he worked at Nairametrics where he wrote financial and investment analysis articles. Olalekan is a resourceful and result-driven journalist with a track record for conducting extensive research and interviews to produce articles that provide different perspectives to market activities.
Source: Legit.ng