- Shaha community residents are counting the losses after a little disagreement degenerated into full-blown violence
- The disagreement led to a clash between Yoruba and Hausa residents, with many people killed and several businesses/properties burnt
- However, tales of how some Yoruba residents saved their and neighbours and vice versa remain a source of hope for peaceful inter-ethnic relationships in the country
PAY ATTENTION: Join Legit.ng Telegram channel! Never miss important updates
On Thursday, February 11, Shakirudeen Adeola, a cobbler in Shasha market in Ibadan decided to intervene in a disagreement between a woman and a cart pusher.
Little did he know that that simple action would end his life and many others' and cause destruction of properties and businesses worth millions of naira.
One account said the cart pusher stabbed Adeola with a knife, another said it was a blow with his fist. Whichever one is true, Adeola landed in the hospital and was pronounced dead the following day; Friday, February 12.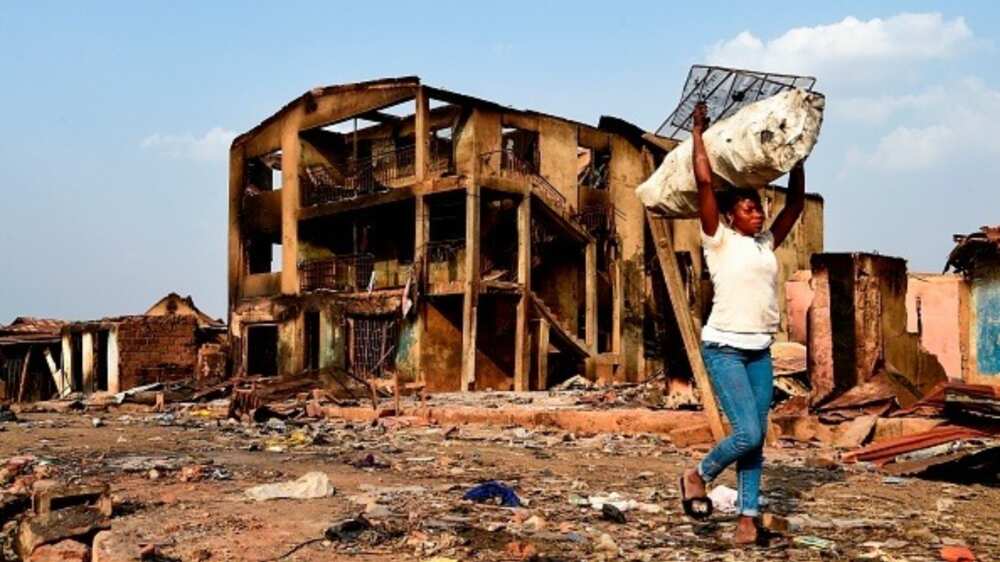 Though one account said the cart pusher is Nigerien, the news of Adeola's death ignited the violence that pitted some Yorubas against some Hausas in the area, after several years of peaceful living.
Many properties, houses, shops, vehicles, were destroyed and looted. Many were reportedly killed. Some allegedly died from the shock of seeing their businesses/means of livelihood completely destroyed; bitter tales everywhere.
However, amid this gloom, it is heartwarming to note that humanity was not completely shattered and destroyed.
A report by Premium Times details how "some people of Yoruba descent shielding their Hausa neighbours from attacks and vice-versa."
Aliyu Adamu, a Hausa foodstuff dealer, save by Yoruba neighbours
Aliyu Adamu, a Hausa foodstuff dealer, who has lived in Sasha for about 20 years shared his experience during the riot with the newspaper.
Though his duplex was burnt down, Adamu recounted how his Yoruba neighbours protected him from being killed by Yoruba hoodlums during the crisis.
According to him, it was also his Yoruba neighbours who took him to a hospital after he fainted upon seeing the remains of what used to be his duplex.
One of his neighbours was quoted to have said:
"Alhaji is a good man. He is nice to all the children in the neighbourhood. We made sure he was safe during the crisis."
Ronke Aremu, a Yoruba trader saved by Hausa neighbours
Another Yoruba resident of the Shasha area, Ronke Aremu, also said her Hausa neighbours saved her from being lynched during the riot.
Mrs Aremu who owned grinding machines in a shop located in the midst of Hausas said it was one of her Hausa neighbours who dragged her into one of their shops and locked her there when the riot started.
Sadly, the Hausa man who saved her was "shot in the head when he stepped out" to check if the situation was calm so she and others could run for their lives.
Governors' forum pledges to rebuild Shasha market, calls for calm
Meanwhile, the Nigerian Governors' Forum (NGF) has pledged to help rebuild Shasha market.
A delegation of the NGF led by the Governor of Kebbi state, Abubakar Atiku Bagudu, made the promise after a tour of the troubled spot on Tuesday, February 16.
Bagudu, who was joined by his colleagues from Zamfara, Kano, and Niger states, however, noted that contrary to the pictures being circulated on social media, calm had been restored in the city.
*******
Nurudeen Lawal is a Legit.ng journalist passionate about fact-checking/verification journalism. He holds a Bachelor of Arts degree in Literature-in-English from Obafemi Awolowo University, Ile-Ife, Osun State. As Politics Editor, Nurudeen mostly writes on Nigeria's political and socio-economic developments. He has attended different workshops, conferences and training on fact-checking and digital reporting, among others. Learn more about him on Twitter, @Nurudeen Lawal_