Disabled man shares what happened when a Nigerian pastor tried to make him walk
- Life in Nigeria is not really easy for an average able-bodied Nigerian, and the same is the case for the disabled
- A disabled man has taken to social media to tell tales of his experiences with pastors in Nigeria
- He said they all claim to have the ability to heal him but end up getting embarassed
PAY ATTENTION: Join Legit.ng Telegram channel! Never miss important updates!
Nigerian life is one filled with daily experiences that seem to be akin to the Nigerian geographical location, everyone has a handful of tales to tell.
Debola Daniel is a Nigerian with some real experiences as well. Despite his disability on both feet, he is doing well for himself as a banker and is also championing a cause to end the stigma attached to persons with disability.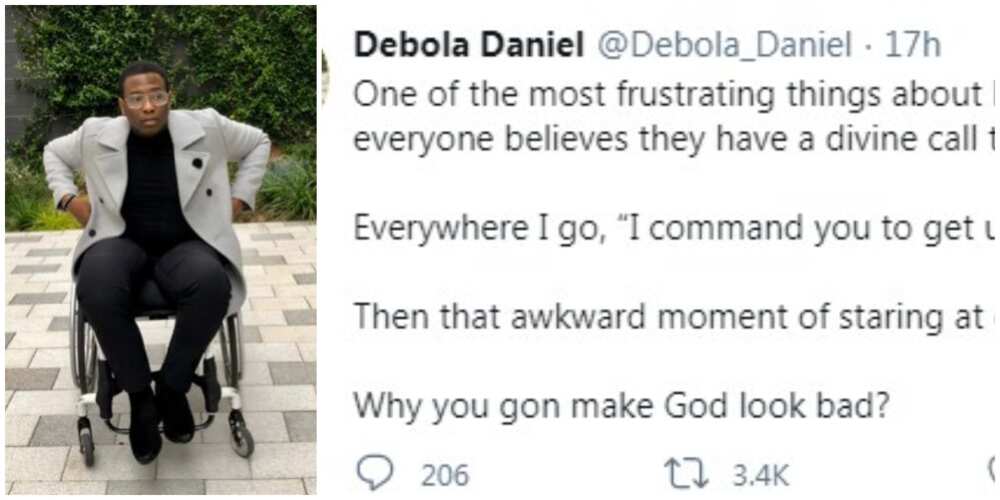 Though it is still unknown how he came to lose the use of his legs or when it occurred, Deola has refused allowing his physical challenges relegate him to the background of things.
In a recent Tweet on his handle, @Deola_Daniel said he has had his fair share of experiences at the hand of Nigerian pastors.
He admitted that being disabled in Nigeria can be frustrating, as everyone thinks they can restore the use of your legs.
According to him, his many encounters with Nigerian pastors always have the same embarrassing ending.
It usually begins with prayers and at the end of the day, nothing happens, making it appear God is bad.
He said:
"One of the most frustrating things about being disabled in Nigeria, is everyone believes they have a divine call to heal you.
"Everywhere I go, "I command you to get up in the name of Jesus".
"Then that awkward moment of staring at each other.
"Why you gon make God look bad?"
PAY ATTENTION: Click "See First" under the "Following" tab to see Legit.ng News on your Facebook News Feed!
Meanwhile, Legit.ng had earlier reported about a Nigerian man who shared screenshots of how he was allegedly scammed by a pastor.
He shared the post with the caption:
"Scammers everywhere… But this guy scam has a lot of spices, he sends you bible verses and sermon daily. He apologizes after scamming you, this scammer has principles and he follows the code of conduct very well. Let me give the intro. I met this guy on one NYSC WhatsApp group chat like that and he told us on how to make money selling recharge cards daily so he caught my fancy and I started private chatting him."
Source: Legit Newspaper