Amazing Tombstone quotes from an underrated movie classic
What are some of the best Tombstone quotes you have heard? From Doc Holliday's funny and dry lines to Wyatt Earp's quotes, the film contains very memorable lines.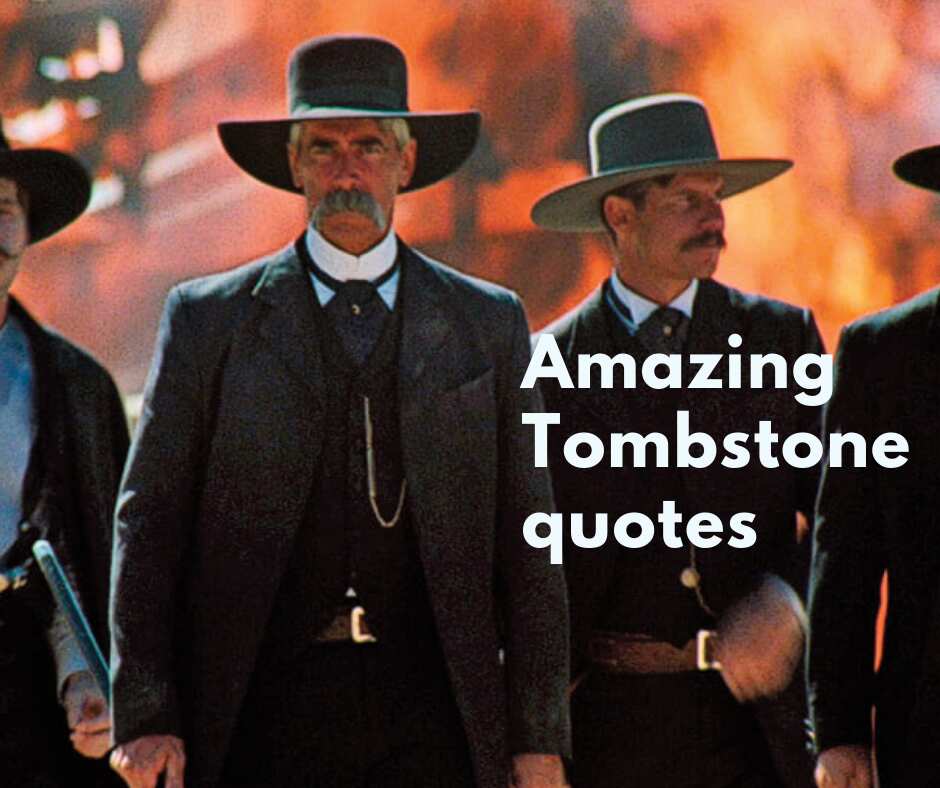 Val Kilmer steals the scene in the movie. His name never fails to be mentioned when people are discussing their love for the Tombstone movie, and and his character Doc Holliday memes have also flooded the internet. His brother is also an interesting character.
Tombstone quotes
Tombstone is one of the most popular films ever made. The film's storyline revolves around a legendary character called Wyatt Earp and his brother Doc Holliday and focusses on their time in Tombstone, Arizona. Here are some Tombstone movie quotes by the cast members in the movie.
Doc Holliday Tombstone quotes
The former dentist turned p*oker playing gunfighter Doc Holliday comes out as the centre of focus when people discuss the movie. The amazing dialogue, delivered with ease by him, elevates the character to icon status. Here are Doc Holliday quotes from the movie.
I have two guns, one for each of you.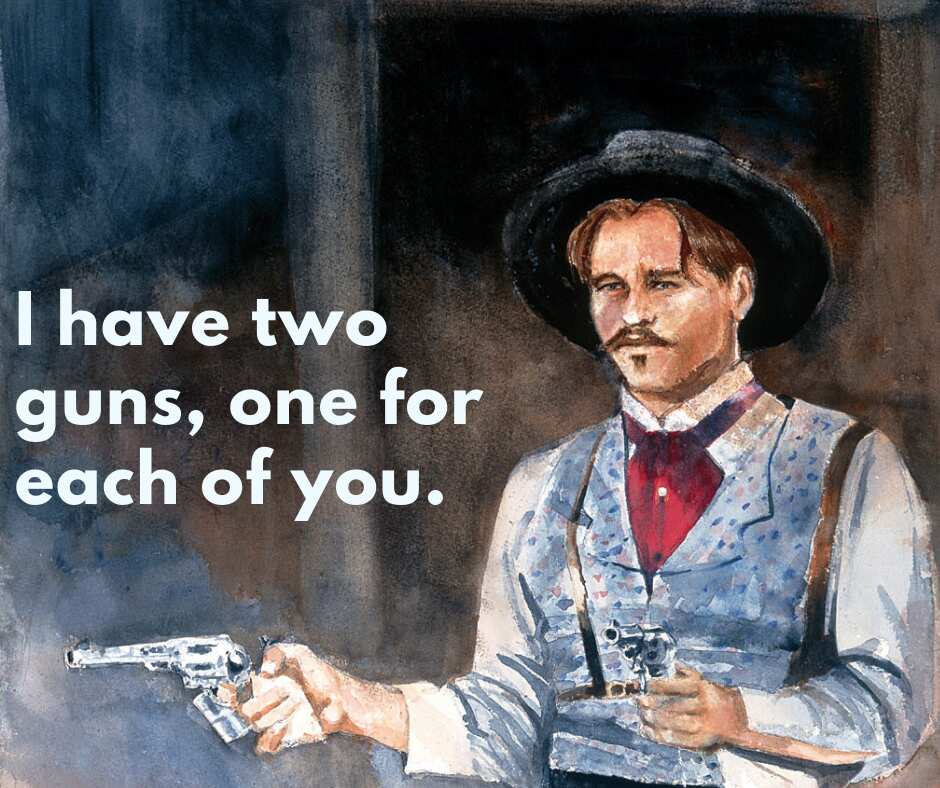 I have not yet begun to defile myself.
It appears he missed an excellent chance to keep his mouth shut.
You're no daisy. You're no daisy at all!
Indeed sir, the last charge of Wyatt Earp and his immortals.
Make no mistake, it's not revenge, he's after. It's a reckonin'.
Why should I obtain by force, that which I can obtain by cheating?
Down by the creek, walking on water.
I'm afraid the strain was more than he could bear. Oh, I wasn't quite as sick as I made out.
Well, this happens to be a nocturne.
I stand corrected, Wyatt. You're an oak.
I'm your huckleberry.
Say when.
To Johnny Ringo: Why Johnny Ringo, you look like somebody just walked over your grave.
Why, Kate, you're not wearing a bustle… How lewd!
And this time... it's legal.
I said p*oker's an honest trade. Only suckers buck the tiger. The odds are all with the house.
Why Ed does this mean we're not friends anymore? You know Ed, if I thought you weren't my friend… I just don't think I could bear it!
Credat Judaeus Apella, Non-Ego. The Jew Apella may believe it, not I.
Not me. I'm in my prime.
Run. Take that girl and start running. Run and don't look back. All your life you been running and looking back and just barely existing and calling it getting by. This time run and don't look back and call it living. Live every second, live it right up to the hilt. Live, Wyatt, Live for me.
Maybe p*oker's just not your game Ike. I know! Let's have a spelling contest!
I don't know; there's just something about him. Something around the eyes. Reminds me of… Me. Nope, now I'm sure of it. I hate him.
Well, that is a hell of a thing for you to say, Wyatt.
You're the only human being in my entire life that ever gave me hope.
And you, music lover, you're next.
Look, darlin'. Johnny Ringo. The deadliest pistol since Wild Bill, they say.
My dear, it appears that we may have to re-define the nature of our relationship.
It appears my hypocrisy knows no bounds.
There's no normal life, Wyatt. It's just life. Get on with it.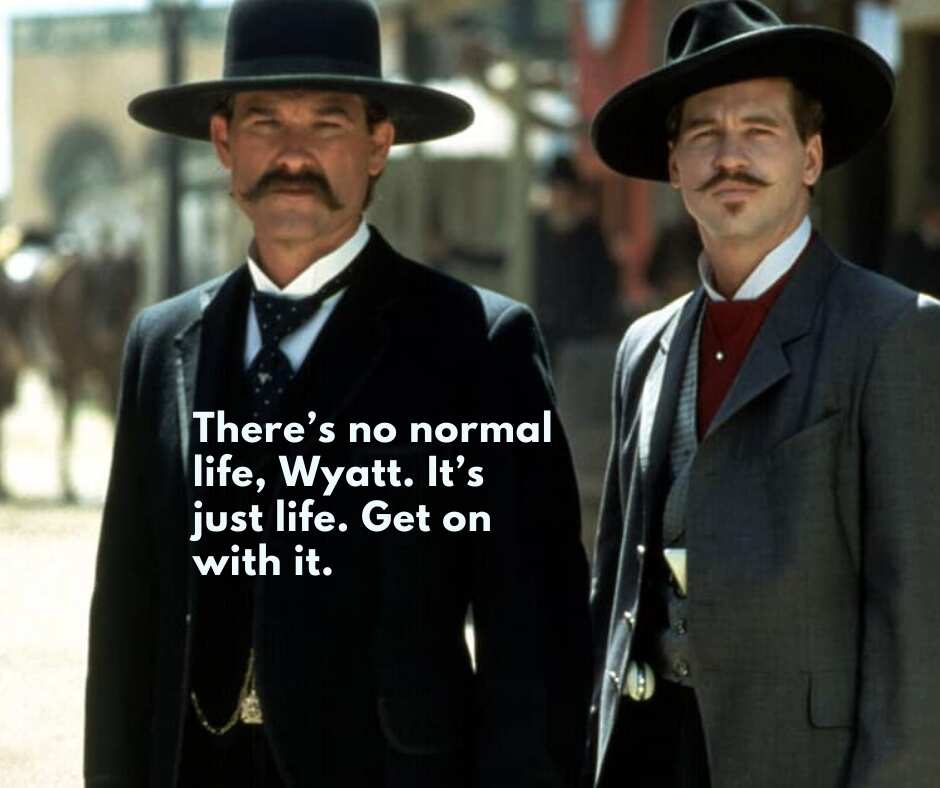 That's what I love about Wyatt. He can talk himself into anything.
Weave a circle round him thrice, and close your eyes with holy dread, for he on honey-dew hath fed, and drunk the milk of paradise.
Nonsense. By all means, move.
Poor soul, you were just too high strung.
Evidently, Mr Ringo's an educated man. Now I really hate him.
Forgive me if I don't shake hands.
Yes, but there's just something about him. Something around the eyes, I don't know, reminds me of… me. No. I'm sure of it. I hate him.
You're the doctor… Sad news friend, you lose.
Doc to Johnny Tyler: Johnny, I apologise. I forgot you were there. You may go now.
I beg to differ. We started a fight we never got to finish. Play for blood, remember?
A man like Ringo has got a great big hole, right in the middle of him. He can never kill enough, or steal enough, or inflict enough pain to ever fill it.
(After killing Johnny Ringo) It would appear that the strain was more than he could bear.
Doc about Wyatt: He's down by the creek, walkin' on water.
You know why I'm here. My hypocrisy only goes so far.
When will you wake up? You wouldn't know a normal life if it bit you in the *ss.
D*amn it; you're the most fallible, stubborn, self-deluded, bullheaded man I've ever known in my entire life.
My sweet, soft Hungarian devil.
Five hundred… must be a peach of a hand. (responding to Ed Bailey's Faro challenge)
Yes, it's true. You are a good woman. Then again, you may be the Antichrist.
Indeed, sir. The last charge of Wyatt Earp and his immortals.
Wyatt Earp Tombstone quotes
Other than Tombstone quotes Doc Holiday said, Wyatt Earp also captures the attention of most viewers. Here are some of the memorable Tombstone quotes from the character.
I spent my whole life not knowing what I want out of it, just chasing my tail. Now for the first time, I know exactly what I want… and who… and that's the damnable misery of it.
I'd just like to let you know that you're sitting at my seat.
Take a good look at him, Ike… 'cause that's how you're gonna end up!
Don't need to go heeled to get the bulge on a dub, like you.
Your friends might get me in a rush, but not before I make your hand into a canoe. Do you understand me?
Skin that smoke wagon and go to work!
You ain't as stupid as you look, Ike.
Really? What about hell? They got a sign or what?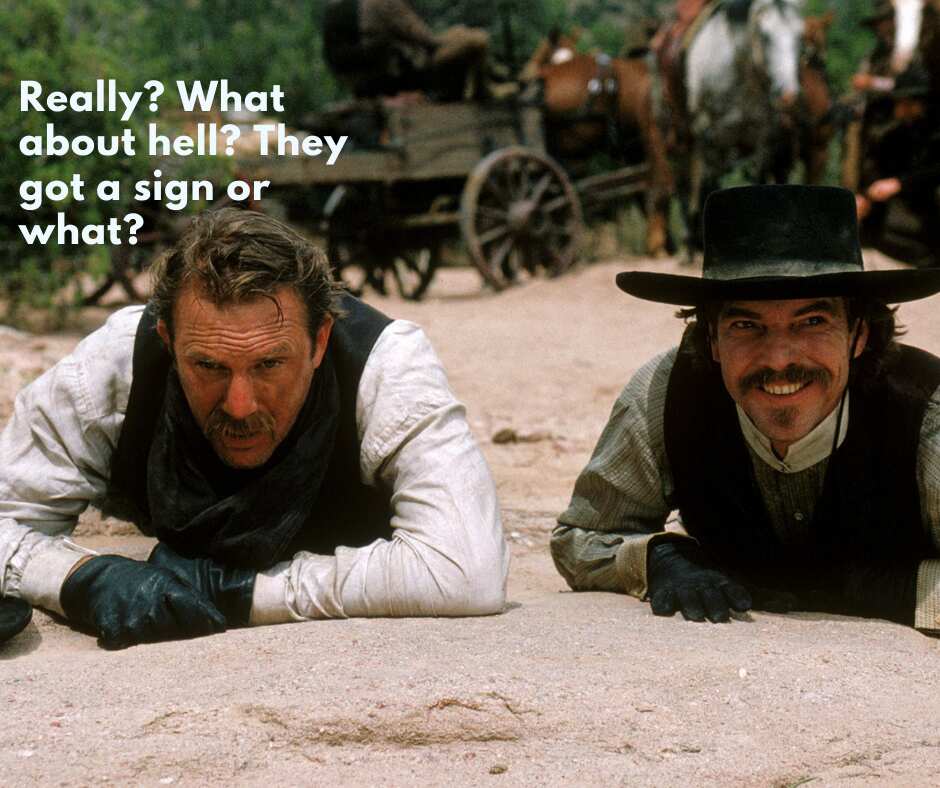 You could have been busted up back there, or killed.
I wonder who the devil was?
From now on I see a red sash. I kill the man wearing it. So run you cur. And tell the other curs the law is coming. You tell 'em I'm coming! And Hell's coming with me you hear! Hell's coming with me!
I told you we weren't getting involved.
I said throw down, boy!
You gonna do somethin' or just stand there and bleed?
I won't fight you, Ringo. There's no money in it.
In all that time workin' those cow towns, I was only ever mixed up in one shooting, just one. But a man lost his life, and I took it! You don't know how that feels and believe me, boy, you don't ever want to know. Not ever!
Oh, no need to go heeled to get the bulge on a tub like you.
Go ahead, skin it. Skin that smoke wagon and see what happens.
I'm gettin' about sick of your gas, now j*erk that pistol and go to work!
The fight is commenced! Get to fightin' or get away!
You called down the thunder, well now you've got it.
I don't think I'll let you arrest us today, Behan.
No need to go heeled to get the bulge on a tub like you.
Wyatt to Josephine: You're different. No arguin' that. But you're a lady. I'd take my oath on it.
I did my duty; now I'd like to get on with my life. I'm going to Tombstone.
I'm gettin' tired of all your gas, now j*erk that pistol and go to work!
The Cowboys are finished, you understand? I see a red sash; I kill the man wearin' it!
Already got a guilty conscience, might as well have the money too.
I never saw a rich man that didn't wind up with a guilty conscience. I already got a guilty conscience. Might as well have the money, too.
How the hell did we get ourselves into this?
There you have them. These are some of the most fantastic Tombstone quotes from your favourite characters Doc Holliday and Wyatt Earp. They might just give you several reasons to watch this particular movie if you haven't already.
READ ALSO: Famous Will Rogers quotes on wisdom, leadership and politics
Legit.ng recently published an article on the famous Will Rogers quotes on wisdom, leadership and politics. William Penn Adair Rogers was a man who wore many hats. He was a popular film actor, author, social commentator, cowboy, humorist, and vaudeville performer.
Will became famous all over the world because of his witty character and wisdom as characterised in some of his quotes. Unlike most people, he did not shy away from voicing his thoughts on various controversial issues in society. Nowadays, many people, such as leaders and celebrities, consider his quotes a valuable source of wisdom.
Source: Legit.ng