AYCF decries campaign of calumny against Onyema, says blackmailer's claim is false
- AYCF has warned against the campaign of calumny against Air Peace boss, Allen Onyema
- Yerima Shettima, the group's national president, said the blackmailer was bent on tarnishing Onyema's reputation
- Shettima also noted that Onyema got his start-up capital for the business through legitimate bank loans
PAY ATTENTION: Click "See First" under the "Following" tab to see Legit.ng News on your Facebook News Feed!
The Arewa Youth Consultative Forum (AYCF) has warned blackmailers to desist from making any further campaign of calumny against a major employer of labour in the nation's aviation industry, and chairman of Air Peace, Allen Onyema.
In a statement signed by its national president, Alhaji Yerima Shettima, and sent to Legit.ng, the group said it has found out that the attacker has been a professional blackmailer.
Shettima said the blackmailer used an old news report about alleged financial mismanagement by a former chairman of the presidential amnesty programme, Kingsley Kuku, and mixed up facts while trying in vain, to insert the Onyema's name in the tirade.
The statement read: "It has come to our notice that an enemy of progress has come up with a fresh campaign of calumny designed to rubbish a major private employer of labour in the Aviation industry in Nigeria, Mr. Allen Onyema. We have found out that this attacker has been a professional blackmailer.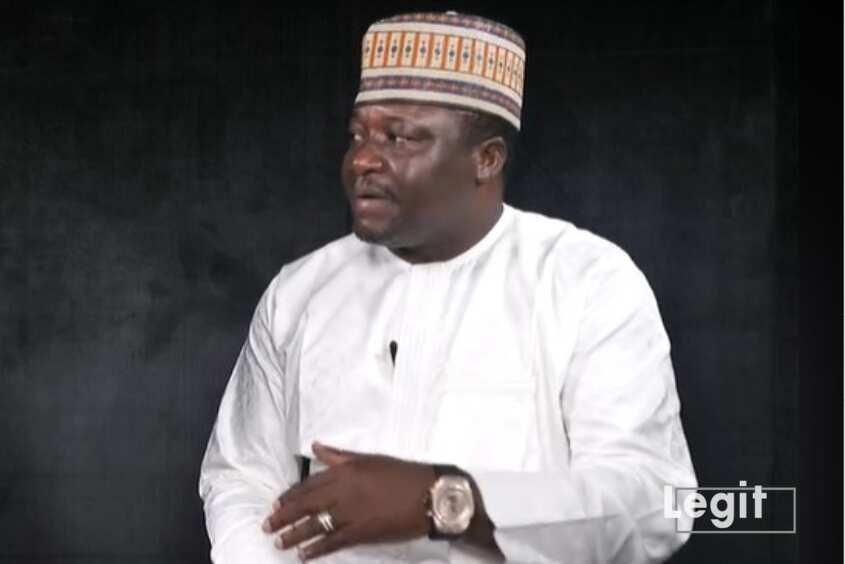 "Using an obscure online newspaper, the blackmailer used an old news report about alleged financial mismanagement by a former chairman of the Presidential Amnesty Program, Mr. Kingsley Kuku and mixed up facts while trying in vain, to insert the Air Peace CEO's name in the tirade. This blackmailer who is based in the United States is well-known for this dirty game and he is no other than Mr. Austin Ogannanah.
"In view of this false-flag attack on Air Peace CEO, a company that has employed thousands of Nigerians, made Nigeria proud during the evacuation program during the worldwide lockdown, sponsored the evacuation of stranded compatriots in South Africa free of charge and elsewhere as corporate social responsibility, we feel duty-bound to call a spade by its real name."
The AYCF, therefore, declared that its independent checks as a CSO have revealed that Onyema got his start-up capital for the business through legitimate bank loans, adding that no Nigerian bank gives out loans without thorough paperwork.
"This also means that if Mr. Ogannanah was not out for cheap blackmail, he would have confronted Mr. Onyema with questions on how he got start-up capital. This is simple information Ogannanah would have got by asking any Desk Officer at Peace Air, but he would not because of the real intention to bring down this airline and the man.
"Truth is that those of us at AYCF who ventured to investigate this matter thoroughly will not buy into cheap blackmail narratives. And those who know Mr. Allen Onyema would neither buy into this crap," he said.
The group also noted that it established that the unsubstantiated claims in the news story targeted at Onyema was entirely false, as it said its independent investigations have confirmed it, saying that the blackmailer and his media collaborators seem very hopeful that he would dash them funds to stop the white lies they attempted to cook in a relatively unknown online media platform.
"We condemn this cheap and dirty means of extortion through painting innocent compatriots in black by mixing up wrong information and tying it to an individual investor and his investment.
PAY ATTENTION: Install our latest app for Android, read best news on Nigeria's #1 news app
"The online media collaborators of the blackmailer have left too many loopholes in their dirty campaign. They said the CEO struggled for money as a start-up for Peace Air and gave the year he started the purported struggle as 2015 but admitted elsewhere that the company started operation in 2013. This is quite ridiculous and it exposed the underbelly of the blackmailer and his media associates in this easy money-spinning venture.
"We call on the men and women of good conscience in this country to rise to the occasion by exposing the cartel of blackmailers who specialize in picking out successful businessmen and women that are providing jobs for compatriots and committing hundreds of millions to help the needy as a strategic corporate social responsibility," the statement added.
The AYCF warned the professional blackmailers against picking on big-time investors as targets for fake online media campaign of intimidation and harassment.
It said: "We wish to state categorically that this abhorrent culture of cheap blackmail for extortion should be fought against by all Nigerians of a good conscience before it creates unnecessary confusion and dent the corporate and personal image of the patriotic investors in our midst."
Meanwhile, Legit.ng had previously reported that Nigeria's indigenous airline company, Air Peace, issued a clarification regarding reports (not published by Legit.ng) linking the company with an aircraft that was seized in Atlanta, United States.
It was reported that the airline owned by Allen Onyema said on Thursday, December 12, that none of its aircraft was seized in the US as the reports claimed.
Who's the better leader between President Buhari and Dr Goodluck Jonathan? | - on Legit TV
Source: Legit.ng