Civil society group condemns attack on RevolutionNow protesters
- Centre for Democracy and Development has condemned the attacks and arrests of RevolutionNow protesters by security agencies
- The centre strongly warned against the constant breach of trust and the abuse of human rights by Nigeria's security agencies
- CDD also called for the unconditional release of all arrested protesters who are still in custody
PAY ATTENTION: Click "See First" under the "Following" tab to see Legit.ng News on your Facebook News Feed!
A civil society group, the Centre for Democracy and Development (CDD), has condemned the attacks and arrests of protesters affiliated with the RevolutionNow movement.
Operatives of various Nigerian security agencies arrested some of the protesters who marched in Abuja, Lagos, and Osun on Wednesday, August 5.
The CDD said photographs, videos, and reports from the field corroborate unarmed protesters in Osun, Abuja, and Lagos were accosted by security operatives, and subsequently subjected to inhumane treatment.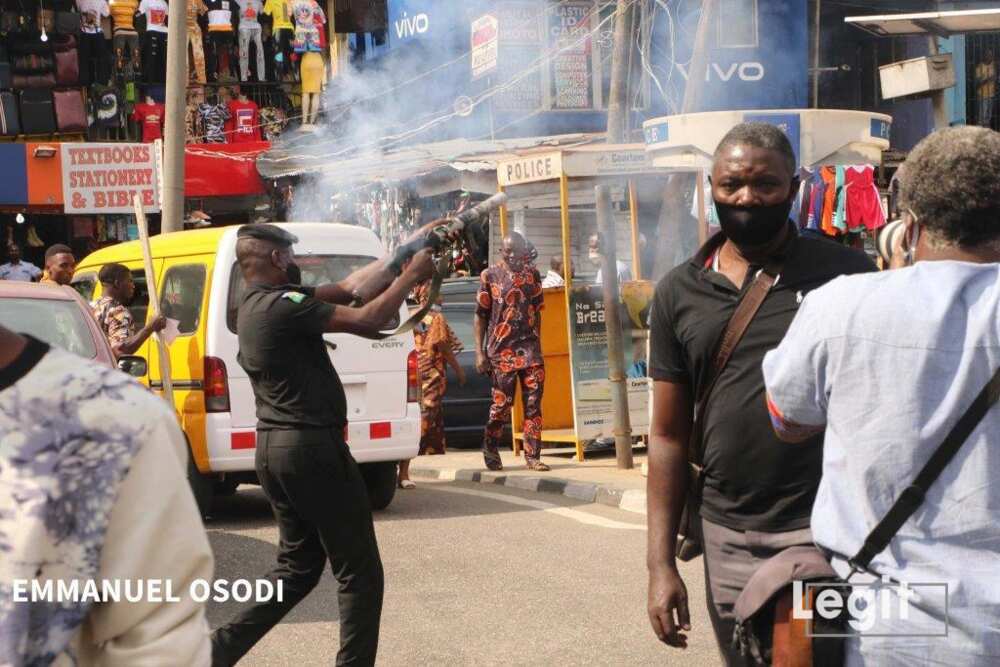 In Osogbo, Osun state, the protesters were reportedly arrested at the chapel of the Nigerian Union of Journalists while addressing the members of the press.
The CDD added that protesters ain Abuja were either dispersed or arrested while the surrounding streets were cordoned off by soldiers, thereby restricting citizens' mobility.
Also in Lagos, protesters who gathered at the Ikeja, under-bridge were also dispersed or arrested by security operatives, the organisation noted.
The centre strongly warned against the constant breach of trust and the abuse of human rights by Nigeria's security agencies, noting that the protesters were exercising their fundamental human rights.
"It is alarming that security operatives saddled with the responsibility to protect citizens have turned against the people and have contradicted the letter of the nation's sacred law.
The Centre strongly warns that the use of lethal force and tear gas, and the abuse of the people's rights - as seen at the #RevolutionNow Protest - can no longer be condoned, particularly from those called to serve," the CDD said.
The CDD also warned the federal government against using the coronavirus pandemic as an excuse to shrink the civic space.
"A people-oriented government would focus on engaging its citizens, rather than abusing an opportunity to listen, learn, and most importantly, to engage with the issues of governance raised by peaceful protesters," it added.
The CDD commended the release of protesters in Abuja and Lagos and called for the unconditional release of all others arrested during the course of the protest.
Meanwhile, the Nigerian government has finally broken silence on the RevolutionaNow protest in the country, describing the demonstration as "irritating and child's play".
Legit.ng recalls that there was outrage and a show of displeasure on Wednesday, August 5, as members of RevolutionNow staged a protest in some states.
Nigerian security agents, however, used maximum force on peaceful protesters in the commercial city of Lagos and the country's capital, Abuja with some of the demonstrators arrested and allegedly harassed.
RevolutionNow: Nigerians protest in Abuja, ask for better governance | Legit TV
Source: Legit